Baby Cafe is a safe space where breastfeeding mothers can go to share stories, triumphs and have a friendly ear to lean on.
The third Baby Cafe program offered by Novant Health UVA Health System hosted a ribbon cutting with the  Culpeper Chamber of Commerce Monday at Raven's Nest Coffee House in the upstairs meeting room. The international program is a free resource for pregnant and breastfeeding mothers to get support from International Board Certified Lactation Consultants (IBCLC) and to share experiences with other moms.Sessions are held every other Monday from 10 a.m. to noon. Raven's Nest Coffee House provides space for the Baby Café with free snacks and drinks for program participants.
Ashley Carter, Senior Director of Professional and Support Services - Prince William Medical Center, and a new mom herself, sang the praises of the Baby Cafe.
"It provides breastfeeding support to local communities, free of charge, and we are excited to offer that right here in our organization in Culpeper," Carter said. "For me personally, being a team member of Novant Health UVA Health System I'm very proud to work for an organization that offers wellness to our community. Baby Cafe was very important, being on maternity leave can be very isolating. Breastfeeding can be very isolating and scary as well. To be able to come to a place where you are talking with other moms is so welcoming."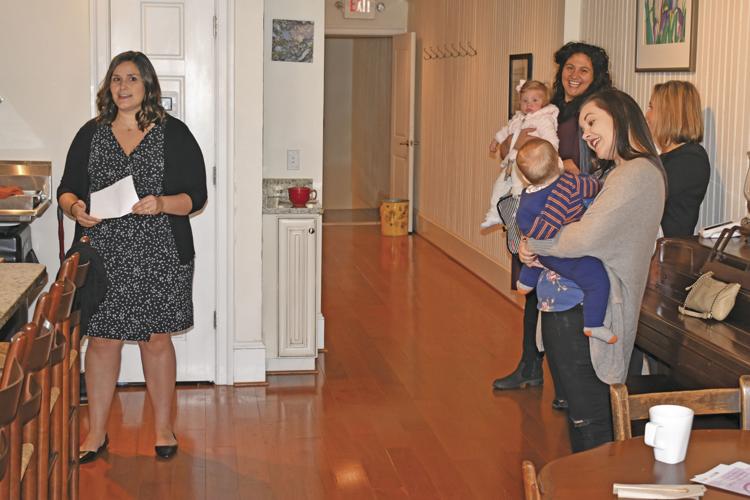 Culpeper Mayor Mike Olinger welcomed the group to the chamber and the town by stressing how important breastfeeding is to fighting obesity in our community. 
"Baby Cafe is unique in the care provided by Novant Health UVA Health System amd  is offered in the convenience of their own neighborhood in a coffee house that is comfortable in an environment where they can share their mutual experience," Olinger said.
Baby Café USA, established in 2011, is a national network of free breastfeeding drop-ins, combining breastfeeding information with a relaxed, informal environment where moms can chat and learn about breastfeeding from skilled practitioners and each other. It is related to Baby Café UK, started in 2000, which currently assists over 100 Baby Cafes worldwide. Mary Laybourne, RN, IBCLC, a lactation consultant at Novant Health UVA Health System Culpeper Medical Center, facilitates the bi-weekly meetings at Raven's Nest Coffee House.
Irene Karedis Borys, along with her nine-month old daughter Ellie, attend the meetings on the second and fourth Mondays of the month. She said it has led to a bond between mothers and a natural support group.
"As a new mom it's just been incredible to have a space to get together with other moms experiencing the same thing," Karedis Borys said. "The unexpected surprise is the friendships, I never expected coming to a place for some coffee and to ask questions that I'd meet up with people for walks and go to each other's homes. We text each other at 3 in the morning."