Fairfax police are trying to identify a person of interest after a 13-year-old noticed a cell phone recording her in a clothing store fitting room.
The girl was trying on clothes at the Hollister Co. location at Fair Oaks Mall between 2 p.m. and 3 p.m. Sunday when she heard a noise in the stall beside hers, looked down and noticed the cell phone filming her while she was changing, according to a news release from police.
The victim reported the incident to her mother, who notified store employees. Hollister has been cooperating fully with police in the investigation, the release noted.
Video footage provided to police shows the man inside the store around the time of the offense. Officers say this is someone who may have information regarding the case and they are not calling him a suspect at this time.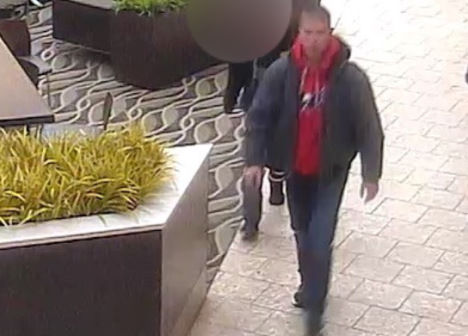 If you recognize the man in these photos or have any information, please call us at 703-691-2131. Tips can be submitted anonymously through Crime Solvers by visiting fairfaxcrimesolvers.org, or calling 1-866-411-TIPS. Anonymous tipsters are eligible for cash rewards of $100 to $1000 if their information leads to an arrest.