Neverland awaits all those who are young or young at heart as the Center for the Arts' Pied Piper Theatre brings to life James M. Barrie's classic tale of Peter Pan at the Hylton Performing Arts Center.
Visitors to the production may fly away with Peter to the land of the lost boys, pirates, Tiger Lily and Captain Hook. There also will be the familiar and popular songs "I Won't Grow Up," "I've Got to Crow," and "I'm Flying."
This rousing musical, complete with a pirate ship, will feature 45 of the area's talented young actors in a show for the family. Ansley Meeker, a 14-year-old freshman at Trinity Christian School who is appearing in her 15th Pied Piper production, has learned how to fly on the stage as she takes on the role of Peter.
Her nemesis, Captain Hook, is played by Nathan Yannarell, a 16-year-old from Stonewall Jackson High School. Nathan recently played The Beast in "Beauty and the Beast," and the lead role in "The Wiz."
Reese Lepre as Wendy, with her brothers, John (Jaxon Keller) and Michael (Andrew Serrano-Bremer), follow Peter to Neverland for their adventure.
Director Kelly Glyptis, a Manassas native and graduate of Stonewall Jackson High School, has been a director, choreographer, music director, lighting designer, and fight choreographer in Virginia, Maryland, Indiana, Italy, and Canada and has been teaching theater internationally for the past 12 years.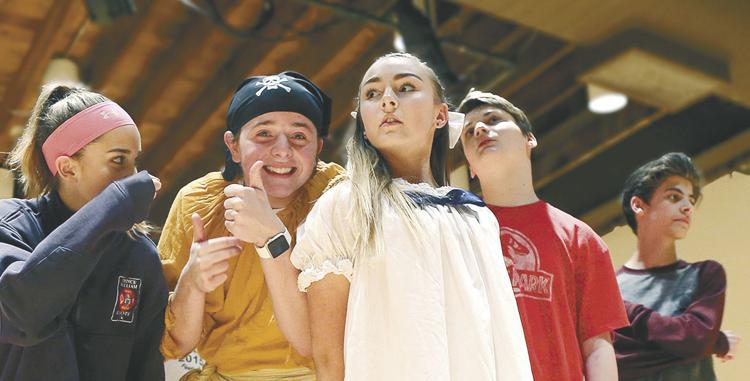 She previously directed Pied Piper Theater's "Oliver!," "Beauty & the Beast" and "Annie, Jr." and has taught music, voice, stage combat, improv, dance, makeup, acting, and lighting for the company. She has performed with The Atlanta Opera, Virginia Opera, IU Opera, The Washington National Opera Institute, Opera Festival di Roma, The Canadian Operatic Arts Academy, The Prizery Theater, Cardinal Stage, Gray Ghost Theater and Dominon Stage.
Glyptis she is excited about the visual effects of the collaborative set design being constructed by technical directors Stephen Martin and Jane Zatkowsky.
The set will incorporate the entire stage as Captain Hook's ship, complete with masts, ladders, the crow's nest and more.
Music director Veronica Sharpe leads the orchestra through this extraordinary score and choreographers Shania Stewart and Kimberly Geipel challenge the cast with movement and dances featuring pirates and Indians.
Pied Piper Theatre was voted Best Performing Arts Group for 2017 by InsideNoVa and "Peter Pan" opens on Saturday, Jan. 20, at 2 and runs at 7 p.m. and also Sunday, Jan. 21, at 3 p.m.
Performances are at the Hylton Performing Arts Center, 10960 George Mason Circle in Manassas.
Tickets may be purchased at the box office or ordered on-line at hyltoncenter.org. The early bird special runs through Jan. 17 with tickets at $15 for general admission and $12 for children 12 and under.
Starting Jan. 18 tickets will be $20 general admission and $15 for children 12 and under.
Tickets for organized groups such as Scouts, school drama clubs and church groups are also available by calling the Center for the Arts at 703-330-2787.