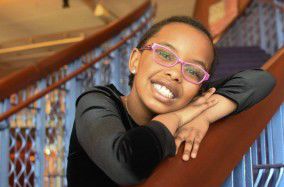 Manassas resident Julia Alexander, 11, has been named as one of St. Baldrick's Foundation's ambassadors for 2018.
The charity foundation raises money for children's cancer research.
As one of five 2018 ambassadors nationwide, Julia is a face and voice for children with cancer. This year, the ambassadors and their families will attend local St. Baldrick's fundraising events, participate in interviews and share their journeys with supporters and the local community.
Julia was diagnosed with a grade II ependymoma in her brain when she was 8 years old. After bravely enduring eight surgeries, eight rounds of chemotherapy and two months of radiation, her tumor has remained stable. Although the tumor is still present, she has bounced back to doing the things she loves best — singing, dancing, playing the ukulele and serving as a cadette Girl Scout.
For more, visit StBaldricks.org.