Dominion Energy is quite literally a national powerhouse. The company supplies energy to 7.5 million customers in 18 states through 6,600 miles of electric transmission lines, 57,600 miles of electric distribution lines and 51,300 miles of gas distribution pipeline.
But Dominion's origins date to a time before the advent of electricity -- the early 1800s with the Rappahannock Company and the Roanoke Navigation Company, which built canals, developed water power and improved navigation.
Change is a constant for Dominion, which dropped the "power" from its name in 2017 in favor of "energy," as it moves quickly toward a future of renewable energy.
As the company embarks on a $3 billion transformation of Virginia's energy grid, we asked Dominion Energy Chairman, President and Chief Executive Officer Thomas F. Farrell II about the past, and future, of one of the nation's largest energy suppliers.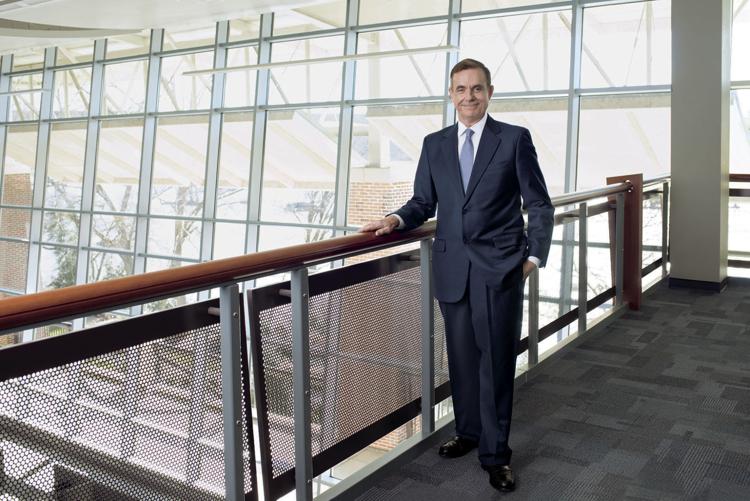 Business Voice: Tell us about Dominion's history in Virginia, its mission for the future and the name change to Dominion Energy in 2017.
Thomas Farrell: Well, we go way back. One of our early ancestors was the Rappahannock Company, which developed canals — it predated the War of 1812. A little over a century ago, the Virginia Railway and Power Company was incorporated; that was when we started supplying electricity and gas to residential and business customers.
In recent decades, as Dominion Resources, we branched out from that core business model. We changed our name to Dominion Energy when we decided to stick with what we did best.
We intend to remain an energy company — although we are embracing changes in how energy is produced and delivered and finding new ways to make and deliver gas and electricity more sustainably.
BV: What are some major projects the company is working on, particularly in Northern Virginia, for the next few years?
TF: For one, we are making a major investment in renewable energy. We have invested more than $3.5 billion in it since 2013, and we have increased our total solar portfolio from just a few megawatts to 2,600. We are planning to add another 3,000 megawatts of solar and wind on top of that — enough to power 750,000 homes — by 2022. We already have solar facilities in Clarke and Fauquier counties and, right off Virginia's coast, we are working on the first offshore wind project owned by an electric utility.
We also are making a decade-long, $3-billion investment to transform the electric grid in Virginia. That will involve things like installing more than 2 million smart meters that give customers more control over how they use energy, adding automated control systems and other smart-grid devices that will shorten the time it takes to get the lights back on after a big storm, and hardening substations and other components to reduce the number of outages in the first place. Northern Virginia obviously will be a major beneficiary of all of that.
On the gas side of our business, we recently formed a partnership with Smithfield Foods to produce renewable natural gas by capturing the methane from Smithfield's hog farms. Align RNG, as it is called, is starting with more than 90 farms in Virginia, North Carolina and Utah, and we think the technology has the potential for widespread application across the country.
BV: The impending arrival of Amazon's headquarters at National Landing cements Northern Virginia as a high-tech corridor along the East Coast. Tell us about Dominion Energy's philosophy/plans when it comes to innovation and technology.
TF: Last year we created a new position, vice president in charge of innovation, and we are working on several efforts to encourage our employees to think bigger and plan faster. We are doing all of this, in part, because the speed of technological change is accelerating. Just one example: It took four decades for the landline phone to reach 40 percent market penetration in the U.S. But the smartphone did it in just three years.
Dominion Energy is investing heavily in energy and innovation, so that society can advance. These are the two most fundamental forces behind human well-being. For us, innovation is all about long-term sustainability. A company cannot succeed in a society that fails. So part of our strategy for the long-term success of our company is to foster the long-term success of others. I think we are positioning ourselves well to be able to do that.
BV: Protecting our environment is a core responsibility for all businesses. How does Dominion Energy, as a major utility, work toward this goal?
TF: Shifting from legacy generation sources such as coal to natural gas, solar and wind has helped us cut carbon emissions from our power stations by 52 percent since 2005. That is way ahead of the industry average. But we are not resting on our laurels. Earlier this year we set a new target — to reduce carbon emissions 80 percent by 2050. We also have announced that we will cut methane emissions from our gas operations in half by 2030. And that is not a government mandate. Like our carbon target, it is a voluntary goal we set for ourselves.
BV:Tell us about the Dominion Energy Charitable Foundation and other community services your company provides.
TF: Of all the things our company does, that might be the one I am proudest of. It certainly is the most heartwarming. We believe in looking out for others. We do that through our energy-assistance programs, which help people with their energy bills when they hit hard times, through a matching-gifts program with our employees, and through the Foundation.
Last year we contributed almost $35 million to human welfare and social betterment through efforts like these. The Foundation itself made more than 1,400 grants worth more than $15 million to help people meet basic needs, to improve education, to build community vitality, and to protect the environment.
Our employees also are incredibly generous with their time and sweat. Last year they donated more than 126,000 hours of volunteer time to service in their communities.