Evans Inc., a consulting firm specializing in human-centered organizational and operational solutions for federal agencies, commercial clients and international financial entities, recently underwent a major transition when founder Sue Evans passed ownership and management of her namesake company to managing partners Bob Etris and Jack Moore after 25 years at the helm.
"There are few things in life that can be as delicate, as personal, as someone who started their own company stepping away from that and putting it in the hands of others," Etris said. "There are lots of different ways those relationships could quickly turn south."
Etris and Moore joined the company in 2003 and 2008, respectively, so they understood its culture and how its core principle of human-centered solutions helps build healthy organizations, including Evans Inc.
"Being human-centered is making sure to never forget that our customers, our partners and, most importantly, our employees are people, and we always need to consider them as individuals in everything we do," Moore said.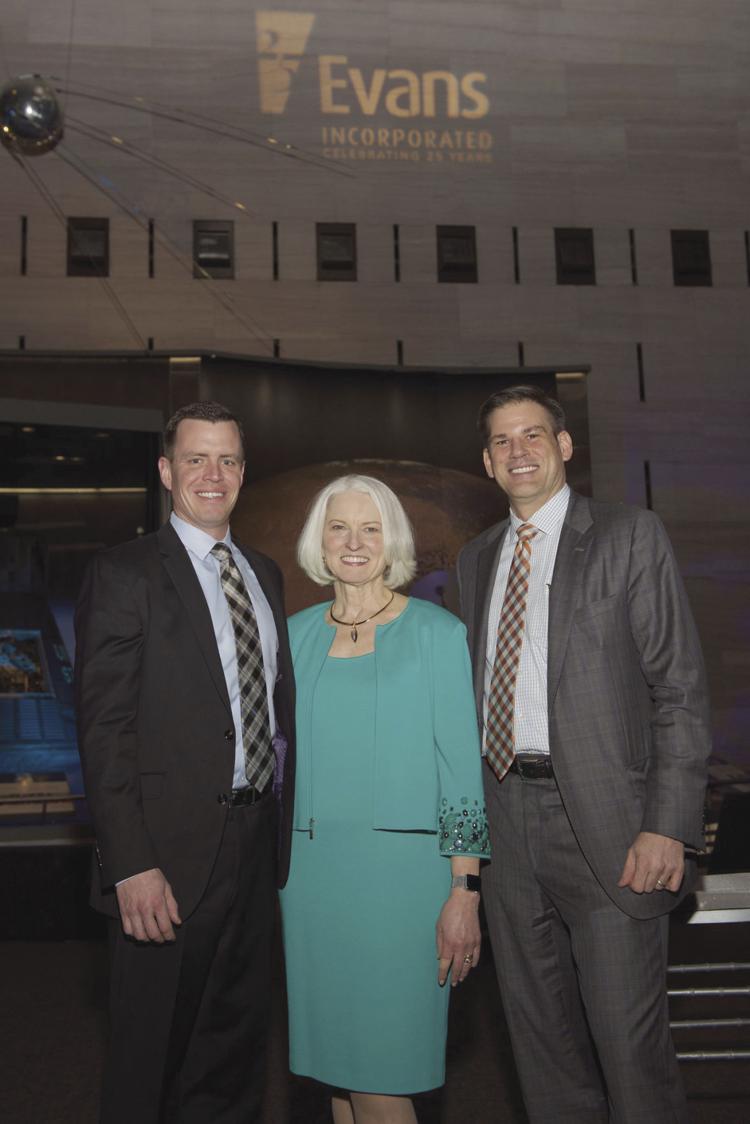 During the transition, Evans, Etris and Moore worked with business adviser John Hraster of InterSource, which provides CEO advisory services, and Sarah Cato, a Certified Exit Planner with First Financial Group. Hraster helped them work through their goals, strategies, and the internal mechanics of the transition. He also created a month-by-month plan for the transition and kept them on track. Perhaps most importantly, working with Hraster and Cato helped Evans, Etris and Moore communicate effectively about the transition.
"As three people who are a little bit non-confrontational, we had to learn that there were questions we had to ask," Moore said. "It helps to work with people who can depersonalize it and look at things in terms of the work and what needs to happen in addition to talking about the feelings of gain and loss."
The transition process took place gradually over three years leading up to the company's 25th anniversary. Evans delegated more and more responsibility throughout that time, and she, Moore and Etris made sure to communicate with employees, clients and their networks as they reached milestones.
Evans Inc. has experienced rapid growth for several years, and 2020 will mark the end of the company's five-year vision. Hraster suggested developing a new vision to take them to 2025, along with a multi-year strategic plan.
"We went through a year-long process of defining the vision and engaged our employees in the process," Moore said. "Having employees involved in the vision helped ease anxieties about the changes taking place."
Evans has been involved in the vision as well. She has stepped into her new role as chairman of the board and strategic advisor on leadership development and community impact. She guides community engagement activities and mentors emerging leaders in the company.
Evans Inc. takes its community and employee stewardship seriously. The company has won the Northern Virginia Family Service's CARE (Companies as Responsive Employers) Award several times. The annual award recognizes companies that offer programs to support employees and families in the community.
"One of the things we knew we wanted to be a part of our vision was investment in community, both where we live and where we work," Etris said.
Evans works with a dedicated 13-employee corporate social responsibility (CSR) committee to spearhead goals and activities. In 2018, Evans employees volunteered for a combined 1,500 hours, totaling about 25 hours per staff member. Some recent CSR initiatives include serving as project experts to local nonprofits, holding clothing and diaper drives for Second Story, Shelter House and the Salvation Army, and launching the Evans UseLess campaign to encourage the company and its employees to be more environmentally conscious.