At the end of last year, Herndon-based Peraton was a modest-sized business, with 3,600 employees and $1 billion in revenue. 
By spring, coming off a successful mission to help NASA land the Perseverance on Mars and having acquired two big-name companies – a section of Northrup Grumman and Perspecta – Peraton will soon employ 24,000 people and bring in $7 billion in revenue.
But how?
"We don't want to be a giant bureaucracy," said Brian Wagner, Peraton's communications director. "No matter how big we get, our desire is to remain as agile and nimble as possible. It's animating our entire company culture to think creatively and think independently. We are the $1 billion company with the attitude of a $100 million company and the ambition of a $10 billion company."
Before the expansion it will undergo this year, Peraton functioned mainly as a national security IT firm specializing in the realm of space – contracting with NASA, the National Oceanic and Aviation Administration and the U.S. Space Force. Part of its mission support includes orbital analysis and protecting satellites.
They also run all NASA space communications.
To Mars
NASA's Perseverance rover landed on Mars in Jezero Crater about two months ago, on Feb. 18 at 3:55 p.m., with Peraton crews in the control room. The company's radar transparent thermal protection material, Acusil, protected the parachute closeout cone and the spacecraft during the entry, descent and landing phase. And Peraton supports the NASA Jet Propulsion Laboratory's Deep Space Network, a long-distance communication provider between spacecraft and Earth.
"I had a moment to breathe a sigh of relief at touchdown, but then my team was back to work, receiving and interpreting Perseverance's signals," Peraton's Deep Space Network (DSN) program manager, Sonny Giroux, said in a statement. "The DSN's ability to bring data and imagery down to earth is the first step to making any new discoveries."
Peraton is running the equipment the Perseverance has on Mars: several cameras, two microphones to record the Martian soundscape, a drill in its robotic arm to collect samples, a laser in its mast to study rock chemistry and an antenna to transmit data to the DSN.
Along with searching for water or other indications that life once existed or might still exist on Mars, Perseverance also monitors the weather and conducts experiments to produce oxygen from carbon dioxide from the Martian atmosphere.
"I am so proud of the Peraton DSN team for consistently enabling NASA's mission to understand the climate and geology of Mars as it relates to Earth," Giroux said. "I embrace exploration to achieve a greater understanding of our own uniqueness and fragility." 
Mission support
With Peraton's rapid expansion here on Earth, the company will soon play a role in just about anything you can think of, from monitoring Medicare waste and abuse to building bomb disposal robots. Company chairman, president and CEO Stu Shea will continue to lead the combined businesses.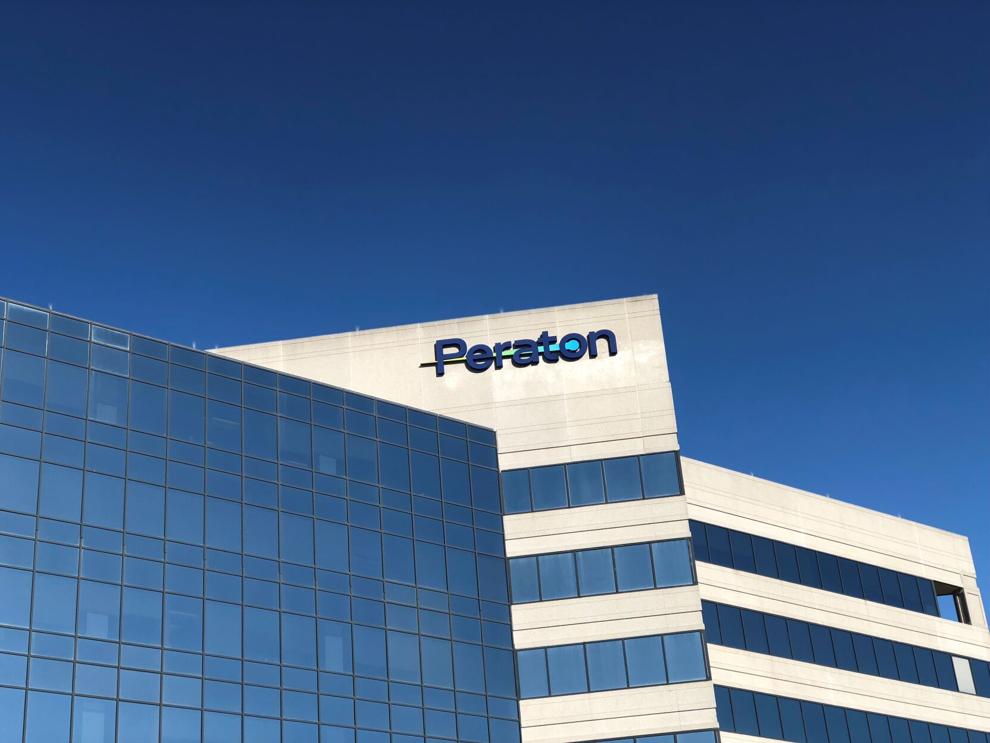 In December 2020, Peraton's investment firm, Veritas Capital, acquired the federal IT and mission support services business of Northrop Grumman, another Northern Virginia-based firm.
Adding Northrup Grumman's business puts Peraton into the world of advanced technology solutions, including cybersecurity, data analytics, cloud, mission-critical application development and advanced engineering to defense, intelligence, space, civil and health customers. The business expects to generate $2.3 billion in revenue this year.
In January, Peraton bought Perspecta, a government services provider, in an all-cash transaction valued at $7.1 billion. Perspecta delivers IT and mission support to a diverse array of U.S. government customers.
"As a long-time investor in Perspecta and its predecessor companies for over a decade, we have always recognized Perspecta for its market differentiation, leading-edge IP, and focused execution in the government technology space," said Ramzi Musallam, CEO and Managing Partner of Veritas.
Built to grow
As part of the expansion, Peraton is dividing the many facets of the company into four sectors:
Space and Intelligence: This sector incorporates several new marquee programs that will dramatically expand Peraton's footprint in space and intelligence, including continued mission work with NASA. It will be led by Roger Mason, previously president, Space, Intelligence and Cyber at Peraton.

Cyber Mission: This sector delivers advanced cyber programs, information operations, and technical solutions that support intelligence, defense and civil markets, everything from protecting the nation's IT systems to helping with artificial intelligence, Wagner said. It will be led by Tom Afferton, previously vice president, Defense & Intelligence at Northrop Grumman.

Global Defense and Security: This sector incorporates several new programs supporting the Department of State and Department of Homeland Security, including running blimps along the southern border of the U.S. to survey threats. It will be led by John Coleman, previously president, Defense & Homeland Security at Peraton.

Civil and Health: This sector delivers advanced, mission-specific technology solutions, including Medicare and Social Security Administration monitoring. It will be led by Tarik Reyes, previously vice president, Civil & Health at Northrop Grumman.
Peraton's work now includes everything from managing the systems that collect testing and vaccines for COVID-19 to running unmanned spacecraft to managing the phone systems at the White House.
"Clients may have big problems and want one solution," Wagner said. "Now we can bring together all these companies and experience into one."
Peraton itself isn't an old company. It was originally an IT business called Harris Corp., which was sold to Veritas Capital in 2017. The new company's leaders made it a mission to build a company that would grow.
"Our IT system was designed to be scalable. When the pandemic hit we were ready for people to work from home," Wagner said.
Using that same scalability enabled Peraton to take on two businesses much larger than the original.
"Our differentiated, complementary solutions and deep relationships with our respective customer bases give us the scale and resources to continue to address the evolving needs of government customers," Shea said. "We are confident in our growth trajectory as we leverage Veritas' industry expertise and serve as the pre-eminent partner to the government."
Kari Pugh is digital editor of InsideNoVa.com. She can be reached at karipugh@insidenova.com.