Kathryn Falk, vice president Northern Virginia at Cox Communications, began her year as Chair of the Northern Virginia Chamber of Commerce in June. The Business Voice talked with her about her vision for the Chamber, its biggest challenges and opportunities, and why her favorite book is one that's not even out yet (although you can order in advance on Amazon!). 
---
The Business Voice (TBV): How has your background in telecommunications helped prepare you for this role?
Kathryn Falk (KF): I am grateful to have had 18 years leading teams at Cox Communications and working with every sector of the business from field operations to construction and marketing, to public and government affairs, to business services and network operations. Cox is a 120-year-old family-owned company founded by former Ohio Gov. James M. Cox, who, along with running mate Franklin Roosevelt, ran for president in 1920. He always focused on taking good care of Cox employees and the communities they served, and his legacy carries on today.
I have also chaired a state trade association, been the CEO of an association in Richmond, run a D.C. government affairs office and worked on Capitol Hill. My hope is that my perspective as a native of Northern Virginia, along with these experiences, will help me make meaningful contributions to the Northern Virginia Chamber.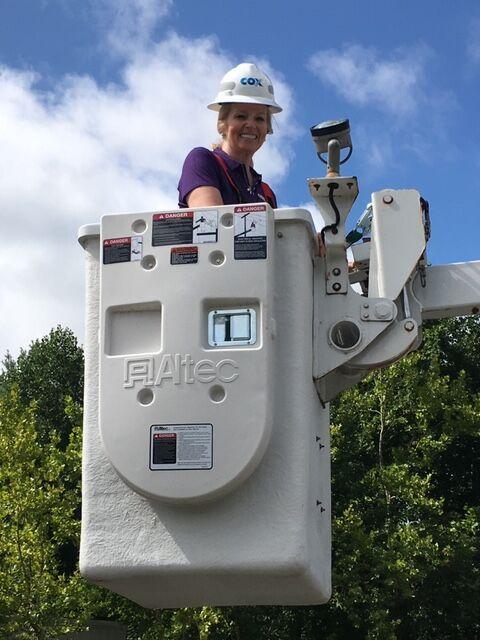 TBV: What is your vision for the Chamber and what are some of the goals you hope to achieve during your tenure?
KF: As former Cox Chairman and CEO John Dyer used to say, "Act now, be bold and stay true."
Act now: Act now to keep Northern Virginia's economy and businesses moving forward and focus on supporting the incredible future of our region.
Be bold: Focus on a regional view in all we do and be the rising tide that lifts all boats.
Stay true:  Stay true to our core values supporting and advocating for economic competitiveness, public schools, higher education, workforce training, world class transportation and infrastructure, and a growing real estate market. Stay true to our core values of inclusion and diversity in all that we do and never forget that the enormous diversity in our region is a tremendous strength that attracts the best minds, the best investment, and the best companies.
TBV: How do you think the Chamber has grown over the course of the past year?
KF: The Chamber has been a leader from day one of the pandemic in pivoting to online meetings, education, and interaction. I am so proud of the work Julie Coons and the staff have done to double-down on value creation for members and continue to educate us in these unprecedented times. They did not miss a beat and have been emulated by many other organizations. During a time when we cannot connect in person, we need the Northern Virginia Chamber to bring us together. We are fortunate to have a world-class team of staff and members.
TBV: What would you say to a business considering joining the Chamber?
KF: Join us! This is a great investment for you and your company and when you join, be clear about your needs and tell the staff and board members. We want to help you achieve your goals. Please reach out to me personally if I can be of help at Kathryn.Falk@cox.com.
TBV: What do you see as the biggest challenge or opportunity facing the Chamber right now?  
KF: It is clearly a challenging time in the world, our nation and our community. We need to continue to keep people together and moving forward.  At Cox, we like to say, "We are better together." Our first priority is to get back to work safely and restart our economy. The Chamber is playing a leading role in this through the "Northern Virginia Back To Work Leadership Task Force" that Old Dominion National Bank's Todd Rowley, our Chairman Emeritus, is leading with several partners. These include Northern Virginia Community College, George Mason University, GOVirginia, Virginia Career Works Northern Region, Regional Workforce Council of Alexandria and Arlington, and the Northern Virginia EDA Alliance. Its purpose is to advocate for investments and programs that help put businesses and people back to work. 
We also need to do more to lead in supporting the diverse region that we live in to ensure equity and opportunity for all citizens and businesses.
TBV: Tell us about Cox's "One Call a Day" project.
KF: During these challenging times, Cox continues to focus on support for our community and those who are in need. This has always been one of the company's core values. In April, I was proud to lead "20 Acts of Connection," a community outreach campaign celebrating our 20 years connecting Northern Virginia. We made significant donations to support children and food banks. I am also proud that Cox has helped underserved families with children in grades K-12 access educational resources via its free "Connect2Compete" Internet service. We also launched "One Call a Day," matching employee volunteers with aging adults affiliated with local veterans groups and senior facilities. One Call a Day is a part of a larger focus on driving greater human connection.
TBV: What area boards and/or nonprofits are you involved with and why?
KF: I recently chaired the Foundation for Fairfax County Public Schools (FCPS) and am a proud graduate of FCPS. I am also on the boards of directors of the Tysons Partnership, the Northern Virginia Technology Council, and the Broadband Association of Virginia.
TBV: What is your life like "off the clock"? What sort of hobbies or passions do you have outside of work?
KF: Off the clock is family time, with my 8-year-old daughter, who is a fearless soccer player and dog lover, my husband, who is a presidential historian and columnist for USAToday, and my parents. I am a long-time resident of Northern Virginia and spend lots of family time outdoors walking and biking.
TBV: What's one thing that most people would be surprised to learn about you?
KF: I lived in the mountains for a week without a tent in an Outward Bound program with leaders from Cox as part of a development program the company hosted. We had obstacles to overcome every day and learned that with a team of supporters you can achieve anything.
TBV: Tell us about a favorite book you've read and why it meant something to you.
KF: My favorite new book comes out in August but is available now on Amazon. It's called "Jackie: Her Transformation from First Lady to Jackie O," and is written by my husband, Paul Brandus. My current book is "How to Be An Inclusive Leader," by Jennifer Brown, because we can all do more to make our workplaces inclusive.