Back in the day, when college students had their heads in the clouds it was a bad thing. These days, having one's head in the clouds – or more precisely, the cloud – is good. In fact, it's so vital to our region's economic success that George Mason University and Northern Virginia Community College have created a bachelor's degree program in cloud computing in partnership with Amazon Web Services.
The Bachelor of Applied Science pathway in Cloud Computing degree will launch this fall as part of the Advance Program.  This NOVA/GMU partnership is designed to streamline the path from a two-year associate degree to a four-year bachelor's degree by eliminating traditional transfer obstacles, highlighting pathways to high-demand careers, and providing students with additional coaching and financial incentives. The ability to transfer credits is expected to save NOVA students an average of $15,000 to $20,000 in college costs.  
The formal announcement of the new degree and partnership was made in June at the Amazon Web Services (AWS) Public Sector Summit at the Walter E. Washington Convention Center in Washington, D.C.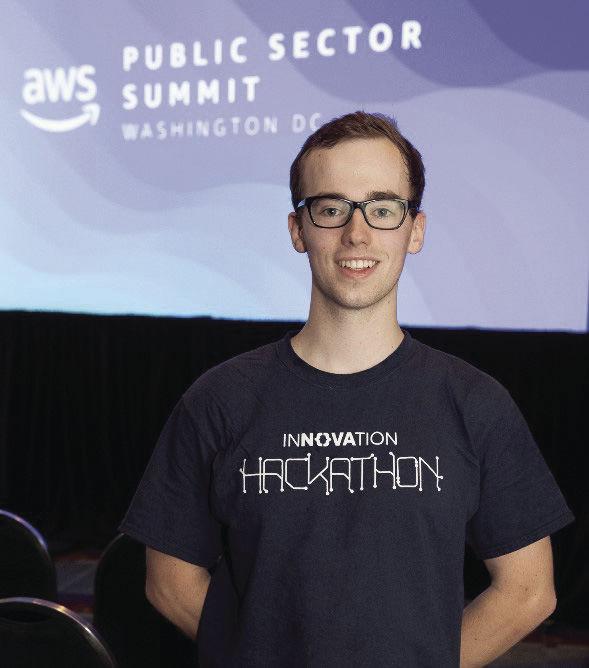 "George Mason is proud to be part of a collaboration that is working to expand Virginia's tech talent pipeline," said then-President Ángel Cabrera. "This degree pathway marks the beginning of a ground-breaking initiative that will deliver innovative educational opportunities to students across the commonwealth. The collaboration with AWS helps give our students—and our region—a competitive edge."
Northern Virginia is home to one of the largest concentrations of IT jobs in the nation, as well as one of the greatest demands for employees with cloud computing skills. The arrival of Amazon's new headquarters is expected to increase that need, with the HQ2 campus promising to deliver 25,000 jobs to Northern Virginia by 2030.
"We have a lot to do," said Steven B. Partridge, NOVA's vice president of strategic partnerships and workforce innovation. "We needed to triple the number of graduates in the next five to 10 years — and that was before Amazon arrived."
Toward that end, last fall NOVA launched its Cloud Computing Specialization of the Information Systems Technology Associate of Applied Science degree.
"We just call it the cloud degree," said Chad Knights, provost of information and engineering technologies at Northern Virginia Community College. The initial class had 30 students. At present, there are 112 in the program, and by next spring it's expected there will be at least 300 cloud-degree enrollees.
NOVA and GMU worked closely with AWS Educate curriculum designers to develop the Bachelor of Applied Science in Cloud Computing pathway, and the result is a program of study that will help students pursue careers in cloud architecture, cybersecurity, software development and DevOps, a system of software development and delivery.
"AWS identified the skills and competencies successful employees must have, and our faculty designed the courses," said Michelle Marks, GMU's vice president for academic innovation and new ventures. "This new pathway demonstrates our commitment to creating both educational and employment access. These students will be prepared to compete for our region's most in-demand jobs."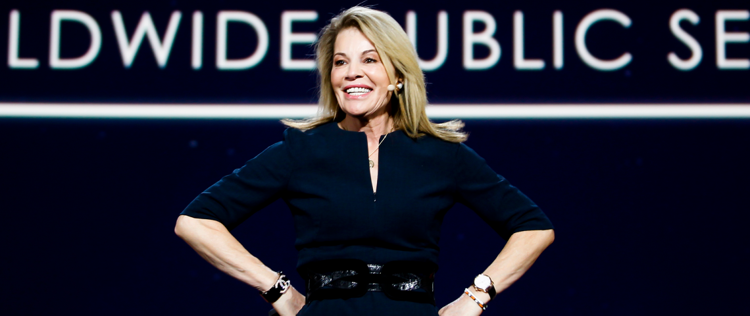 "Developing a cloud-ready workforce is an urgent challenge and an incredible opportunity," said Teresa Carlson, vice president for AWS's Worldwide Public Sector. "Both George Mason University and Northern Virginia Community College are global pioneers in developing cloud curricula for students. We are delighted to be working with these innovative institutions to turn the growing demand for cloud skills into pathways in technology for students from all backgrounds."
Students at NOVA and GMU will be working in Amazon virtual classrooms using "the exact tools that a pro would use," Knights said, and those tools will not be exclusively applicable to Amazon.
Said Marks, "What's good for Amazon is also good for the companies, organizations and governments of Northern Virginia."
So, keep your heads in the cloud, kids. We're counting on you.