Capital One has donated $90,000 to the Foundation for Fairfax County Public Schools to support the purchase of MiFi units for students without internet connections in their homes during the COVID-19 pandemic. The units are being used to provide students in need with internet connectivity for up to five devices so that they can participate in classroom activities and distance learning. 
"Capital One is a long-time partner of Fairfax County Public Schools and has generously donated their employees' time as volunteers and funding to support students in need," said the school system's Chief Operating Officer, Marty Smith. "We greatly appreciate their dedication to our students and their contributions to making education for all our students more equitable."
Cox Supports Virginians During COVID-19 Pandemic
Supporting those in need is what spurred Cox Communications to act during the COVID-19 pandemic. The company has done this through the following investments:
Keep Americans Connected: Cox supported Federal Communication Commission Chairman Ajit Pai's Keep Americans Connected pledge to ensure Americans do not lose their broadband or telephone connectivity as a result of these exceptional circumstances.

Connect2Compete: There are still families who lack high-speed internet at home. Children in those families are at risk of falling behind in school, especially during this time of distance learning. Cox's Connect2Compete program offers low-cost internet to families on government assistance who have children in grades K-12. With no annual contract, no equipment fee and an easy installation, families can get a broadband connection at home for less than $10 a month. 

Grants: In response to the growing strain on feeding the community during COVID-19, Cox Charities and the James M. Cox Foundation donated a total $125,000 in grants to local food banks and meal delivery services like Fairfax County's Meals on Wheels. 

Heroes of Distance Learning: To celebrate those teachers going above and beyond to keep their students engaged during distance learning, Cox awarded 11 Heroes of Distance Learning $1,000 grants for virtual classroom makeovers.

PPE Donation: In response to the growing strain on hospitals as the number of COVID-19 cases continue to climb, Cox made a mask donation valued at more than $2.2 million to 12 hospitals in Cox markets, including Inova Health System and Sentara Healthcare here in Virginia.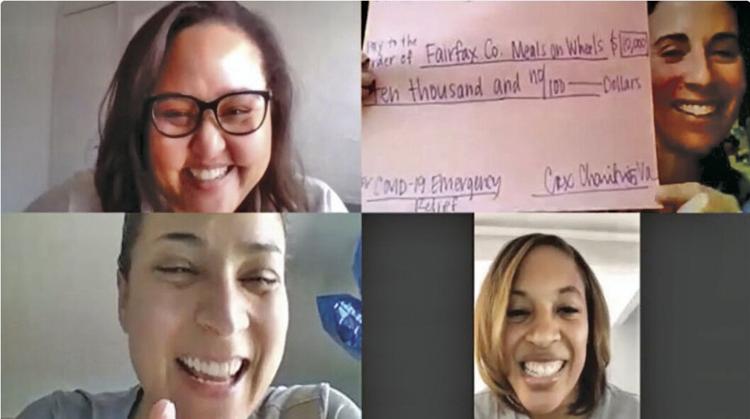 Hospitals Receive a Treat from United Bank
United Bank provided ice cream treats to hospital employees to say thank you for their hard work during the COVID-19 pandemic. 
United Bank partnered with the food service vendors of 15 hospitals to distribute the sweet treats to hospital employees during all shifts over a 24-hour time period. Distribution was held in the hospital cafeterias and the hospital employees were able to pick up the treat of their choice
"We are excited that we had the opportunity to provide sweet treats as a sign of our appreciation for the healthcare providers in our communities," said Arlington/Alexandria Market President Mike Proctor. "At United, we value the health and safety of the communities we serve. We wanted to show our thanks and give some encouragement to those that continue to provide such remarkable care to our customers, families and friends every day."
Womble Bond Dickinson teams with KITEWIRE to raise money for Northern Virginia Urban Alliance  
Womble Bond Dickinson employees are working to pay it forward in the places they live and work. One effort, in partnership with KITEWIRE Inc., supports the Northern Virginia Urban Alliance program. The effort:
Raised more than $500,000 in a single day.

Benefits Urban Alliance (UA).

Will allow UA to provide wages to interns who are unable to work remotely and continue providing support and skills training to students.