It is hard to imagine a group from whom more is asked with so little given in return than our veterans. Though armed with many skills applicable to the civilian world, the transition back to civilian life isn't always easy. 
 Luckily several nonprofit groups are working to rectify this issue, including Tech for Troops. The organization, with the aid of Northern Virginia Chamber of Commerce members, is  turning donations of used laptops and computers into training, education and technology for veterans and their families.
Launched in 2013, Tech for Troops was originally conceived by Richmond resident Chris Phillips and his mother, Laurie. Chris was a business student at VCU and saw first hand the plight of many returning combat veterans trying to transition to the civilian job market. Returning vets faced many hurdles, including an economy just coming out of a recession, a sense of being out of touch with their contemporaries, a lack of education and training and, sadly, post-traumatic stress disorder. These issues frequently lead to the morass of unemployment, homelessness, and addiction in which many vets find themselves. 
Chris and Laurie wanted to help. Chris always had an affinity for the military and a passion for giving back to those who served, and Laurie had IT experience. Together they coordinated efforts to collect and refurbish computers and other technologies, which they donated to veterans' centers, helping to provide vets the ability to look and apply for jobs, as well as to take advantage of other kinds of services available to them.
Soon, though, the young nonprofit surpassed its founders' ability to manage it and their own jobs. In 2016, former Marine and Tech for Troops board member Mark Casper took the helm. Now president of the organization and running it full time, Casper plans to expand the operation throughout Virginia and eventually across the nation.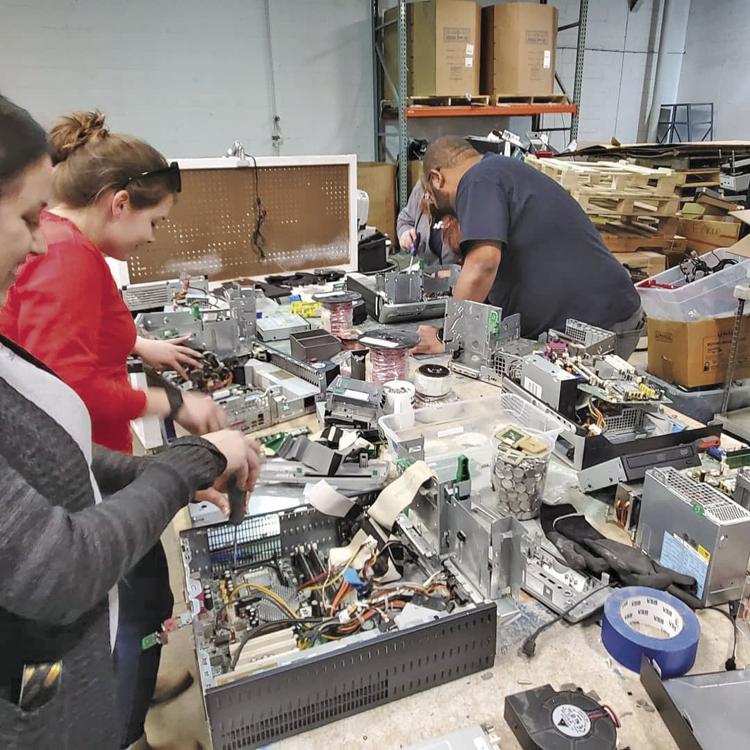 In keeping with the adage "there is no such thing as an ex-Marine," Casper knows first-hand the plight faced by many returning veterans and is committed to doing his part to help as many of his fellow servicemen as possible. 
"In Tech for Troops, I saw the opportunity to make a difference," Casper said. "To help the impoverished and too often homeless veterans who had given so much, risked everything, but were now struggling to make it in civilian life." 
In this modern world where computers and digital literacy are paramount to finding and maintaining employment, he felt providing such was his way to help. Now he just needed partners, organizations and donations to grow Tech for Troops and serve as many veterans as possible. 
Finding partners led him to join the Northern Virginia Chamber of Commerce. There he met several members interested in getting involved, including Veteran and Military Business Council co-chair Ben Rodgers. A veteran and West Point grad, Rodgers was eager to find a way to help. He, Casper, and several members of the Chamber launched a drive to collect usable or recyclable technology that could either be wiped clean and refurbished, or recycled and turned into funds to finance operations and training. The tech drive's goal? 5,000 donations.
Initially, 17 Chamber members joined the drive, but because of the networking opportunities the Chamber provides, the cause of a little-known organization was brought to the attention of many who themselves had a strong desire to help. 
One such individual was Chamber Vice Chair Kathryn Falk. Working for a company also committed to veteran's affairs, Cox Communications, Falk got permission to use several of the company's retail sites as drops for technology donations. Through the distribution of flyers and social media, news of the drive spread and caught fire. 
Falk called it a "great opportunity for customer and employee engagement." The drive became so popular within the company that employees wanted to participate, and soon offices around the state were depositories for donated technology. 
Though the efforts of Falk and Cox Communications alone were enough to far exceed the original goal, it took the combined efforts of all 17 Chamber partners to make the campaign successful.  
Ablevets, a veteran run company focused on healthcare, was instrumental in organizing the effort. Summer intern Katherine Lewis coordinated communication and logistics between the partners and donors, as well as the plan of action for "collection day" and the transportation of donations to the Tech for Troops warehouse in Richmond. 
"Our company is committed to hiring, training, and supporting veterans which is why supporting Tech for Troops was such a great fit," Falk said. "Ablevets and our many chamber partners were proud to be able to support an organization that is working to bridge the digital divide facing veterans."
The hard work paid off. The 5K Tech Drive, as it came to be known, collected almost $133,000 of in-kind donations. Casper is greatly appreciative of the efforts of the Chamber and its partners and hopes to continue this relationship. He also hopes to use the success of the first drive to motivate the organization's Richmond community to top Northern Virginia's performance.
Working for a group dependent on donations leaves little time for relaxation. The task now is to turn the items donated into equipment that veterans' organizations can use. Casper's track record shows he's up for it:  Since he took over in 2016, Tech for Troops has dispensed 1,500 laptops and trained over 350 veterans in basic computer literacy, resume writing, and other job seeking skills. 
The Chamber has much to be proud of in supporting the hard work and dedication of this vital nonprofit, and Casper wants to thank all involved, from the enthusiastic and dedicated summer intern to the experienced and dedicated professionals with a passion for helping their community.