Virginia State Police K-9 Vader, a Belgian Malinois, was just 2 years old when he was shot and killed after a high-speed chase in 2018. Once police managed to stop the vehicle, the driver began shooting a gun and struck Vader.
Although Vader died much too young, his name will be immortalized in the form of a beer.
The Beer Hound Brewery, located at 201 Waters Place, will commemorate Vader's legacy by naming a beer after him. Matching his heritage, the Belgian-style Vader beer will be on tap beginning April 17. Brewery owner Shirley Amon, whose husband and co-owner Ralph Figgers is a retired trooper, encouraged area law enforcement to stop by on Saturday.
"We back the blue because they're family," she said.
Also on Saturday, a portrait of Vader will be unveiled and remain on display at the brewery. Austin Albright, Vader's handler who now works in Texas, is making the trip up to Culpeper for the beer unveiling and will reunite with many former colleagues.
The Beer Hound Brewery will also be selling commemorative coins Saturday depicting Vader for $20 and all proceeds will be donated to help purchase ballistic vests for K-9 officers.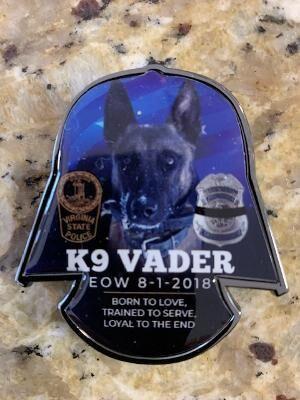 Local realtor Dianna Banks will match the first $500 in coin sales and other fundraising efforts will be underway throughout the day at the brewery.
Those wishing to contribute beyond purchasing a coin can make donations at the Honor Vader and Support K9s gofundme page at gf.me/u/zpurq3.