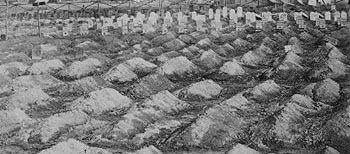 From last week's column
. On July 21, 1861, less than one month after leaving home, Pvt. William Stowe, Co. F, 2

nd 

Vermont Volunteers and his comrades participated in the first major battle of the Civil War at Manassas, VA. 

Two days later

, after William's first face-to-face encounter with the reality of combat, he wrote home with bravado and an upbeat spirit.
During the next two years, Pvt. Stowe would see much hardship both on and off the field. The Peninsula Campaign (Mar.-July 1862) 
would tally serious casualties but disease would prove to be a more menacing enemy for William. 
His younger brother Lewis had enlisted in early 1862 joining William in the 2nd Vermont. Lewis, Elijah Brown, and William would all be stricken with typhoid fever.
Note: The following letter does not survive, but the content has been documented.
"Dear Son,
    This is a very difficult letter to write. I wish you
would come home now, you have been gone long enough.  Your
brother Lewis arrived home 

on Saturday

 in a terrible, sickly
condition. There was nothing we could do for him. He died on
Monday

. Mrs. Brown's son, Elijah, has also died of the typhoid. Now your brothers Theodore and Lorenzo have joined up.
Oh William, my son, my heart is so fearful and weeps at your absence! Your Mother"
Unlike Lewis and Elijah, William recovered and rejoined his unit in November of 1862 just in time for the next Union disaster at Fredericksburg, VA, in December.
That winter, the Union Army, under a new commander, General Joseph Hooker, went into camp on the north side of the Rappahannock River for nearly five months while Confederates occupied Fredericksburg and the south side of the river.  Separated by only a few miles, but thousands of troops, William's brother Lorenzo of the 12th Rhode Island Infantry died on Jan. 16, 1863 at Falmouth, VA.
In the Spring Hooker initiated a massive flanking offensive using the upper fords of the Rappahannock while simultaneously attacking the Southern positions at Fredericksburg. The 2nd Vermont was engaged in the attack on Marye's heights, sometimes called the 2nd Battle of Fredericksburg.
William writes home
"May 3, 1863
Stafford Heights, VA
Dear Parents:
Again I will write to let you know that I have bin in another fight and a hard one. The next day after our regt charged the hights in the rear of the Citty, our army mooved up the river about five milds.  The rebs got reinforcemints and about the midle of the afternoon they made a grand charge on us, but we held them till dark and then made good our escape by crossing the river.
Our men got cut up bad in the charge of the rebils. 
The time our regiment charged on the hights, I done some tall shooting till my gun was so hot that I had to throw it to one side.
I took our first Sargets that lay close by after he was killed.
The boys from our way are all safe excepting Norman Lawsen, he got shot in the foot.
We are again on the east bank of the river and I am ready to go into another fight– after I get a little rest.
I would like a few postage stamps, goodby until after I get some sleep.    Your son"
Until next week, please remember all the men and women who have willingly offered their lives so that we might enjoy freedom from tyranny and oppression. Stay well.