In a school year that has been unlike all others, Emerald Hill Elementary School has incorporated a positive twist with the addition of an outdoor learning space.
Located in the school's courtyard that was previously overgrown with weeds, the Eagles Aerie - which principal Victoria Gelbert explained is a fancy name for "nest" - was recently completed and has three unique learning spaces. As the coronavirus remains in the air, she noted that students can remove their masks so long as they stay six feet apart in the courtyard.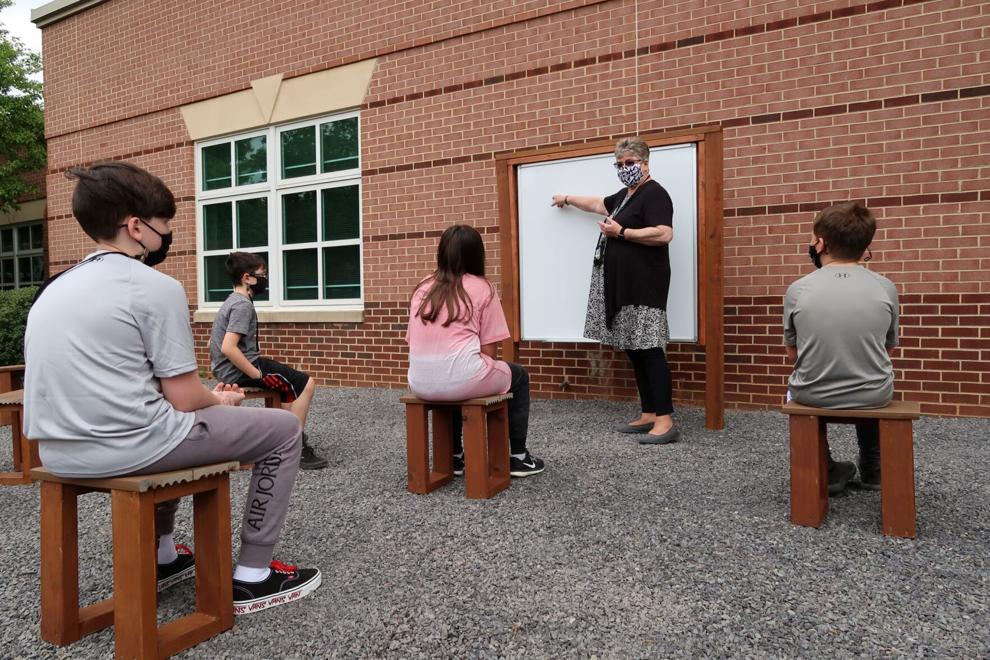 The three learning spaces teachers can reserve include picnic tables, which are good for lunch, writing exercises or science experiments. Then there is a white board surrounded by benches in the center of the courtyard. Across the way is a circle of seats good for reading or lecture-style learning.
Each corner of the Eagles Aerie are also what Gelbert called "science-based centers'' that provide active lessons that tie into Virginia's standards of learning. In one corner is a butterfly life cycle corner with plants that attract butterflies. There is also a "pizza garden" that will sprout tomatoes, peppers, cilantro and other toppings that students will eventually use to create pies. The sensory garden in another corner has attractions that stimulate all five senses. 
The entire project would have cost $30,000, but the school only paid about $1,000 as nearly everything was donated. Gelbert explained that the courtyard's transformation would have been impossible without volunteers who provided their time and businesses that supplied materials. 
For their Eagle Scout projects, Landon Bretschneider constructed the bench seating while Drew Manuel made the wooden contraptions used in the pizza garden. Girl Scouts Miranda Prezleski and Liana West helped create the sensory and shade garden. 
Businesses that provided materials included A&B Kearns Trucking and Stone, 84 Lumber, Culpeper Wood Preservers, Luck Stone and Cardinal Home Center. 
The list goes on, as the outdoor class would also not have been possible without the school's PTO, Friends of the Rappahannock, Culpeper Soil and Water, staff, students and families. 
"We would not have been able to complete this project without the help of all of our school and community partners. It truly was a team effort and we are thankful for everyone that was able to assist us in creating this amazing space for our students," Gelbert said.