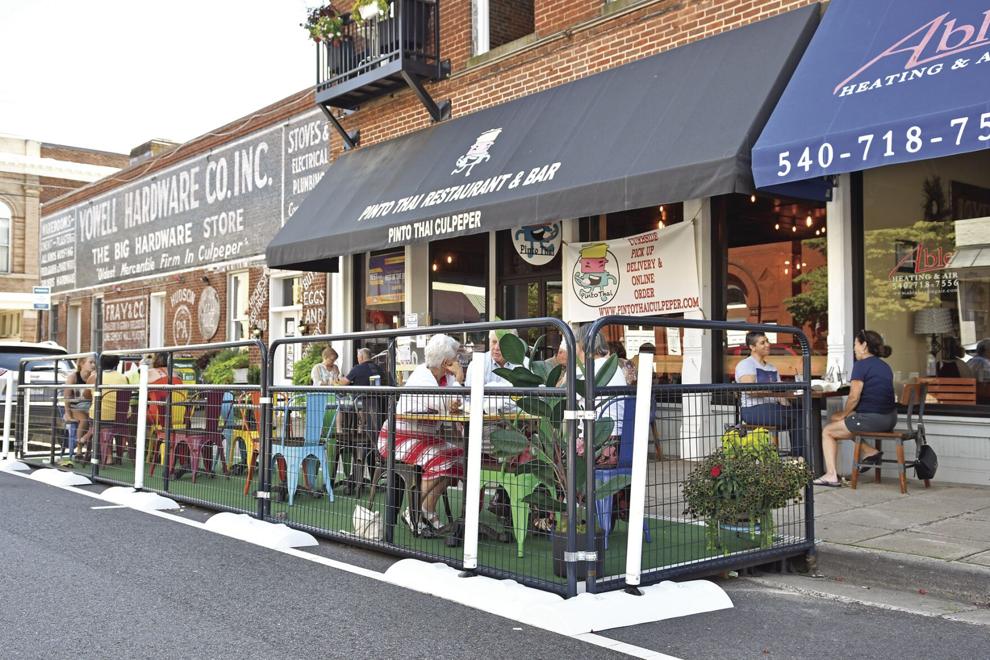 Culpeper residents might have noticed a new outside dining option along Davis Street — five parklets have been installed in an effort to enhance Culpeper's downtown and increase economic activity. 
Identified by the Town of Culpeper as an investment tool, the parklets are aimed at providing opportunity for safe social and economic activity post COVID-19 restrictions.
The parklets were imported from Italy, but due toa shipping delay and a hold up for a week in customs, were delivered later than expected. The parklets were installed between July 31 and Aug. 1. 
Produced by Archatrak Incorporated, the parklets are designed to provide mobility and flexibility, and can be assembled in four hours. The existing railings around the parklets are temporary, with a permanent railing design — including planters — slated to be in place in a couple weeks. 
Town Council authorized $94,000, from the General Fund Capital budget for the Parklet program, a budget Paige Read, Director of Economic Development and Tourism, said they did not exceed. 
The Frenchman's Corner, Pinto Thai, Poppy and Chalk, Raven's Nest and Seriously Sweet have parklets fronting their businesses on Davis Street. Single parklets, each 12 feet in length, have been erected in front of The Frenchman's Corner and Poppy and Chalk. Double parklets, each 32 feet in length, can be seen in front of Seriously Sweet, Raven's Nest and Pinto Thai. 
Each parklet has a 4-foot buffer on each side to create a safety zone.
"This is a positive opportunity for the businesses who engaged into partnership," said Read. "We are very excited for our partners and very excited to have them," she said recently. "We communicated with these businesses even before we proposed the idea to council. This is our community and that involves everyone." 
Read added the interest exceeded the number of parklets they had. 
According to the partnership agreement, the parklet owner determines how they can use their parklet, and they are responsible for maintaining the space and determining operational control. 
Seriously Sweet owner Amy Hicks said is excited about the double parklet that graces her store front. Recently furnished with tables, chairs and solar lit umbrellas three days ago, she is looks forward to the opportunities the extra outdoor space provides. Hicks, who has a lung condition, is super cautious about cleanliness and sanitation. 
"I purchased a medical grade sanitizer and an electric sprayer to clean my tables without contact. Sanitation is high on the list," said. Hicks, who has a lung condition and is cautious about cleanliness and sanitation. 
Hicks has partnered with business neighbor Jimni Engraving to utilize the space for demonstrations on Saturdays. 
Hicks is in the process of planning numerous uses for her parklets including upgrading technology to use it as a hot spot; offering teachers the opportunity to reserve it after school hours for tutoring; and utilizing the space for their "After Hours" event every Friday and Saturday that began this past weekend. 
Parklets are not a new concept. Popular with urban planners, they have been around for three decades. Existing and functional parklets can be found in Boston, Philadelphia, Long Beach, Calif. and in other cities in Virginia including Alexandria, Richmond, Warrenton, Norfolk and Rosslyn. 
"The idea is to create a living room feel in a functional space," said Read.
Parklets were offered on a first-come, first-serve basis to downtown businesses, though not all businesses were able to have a parklet due to space out front of their business.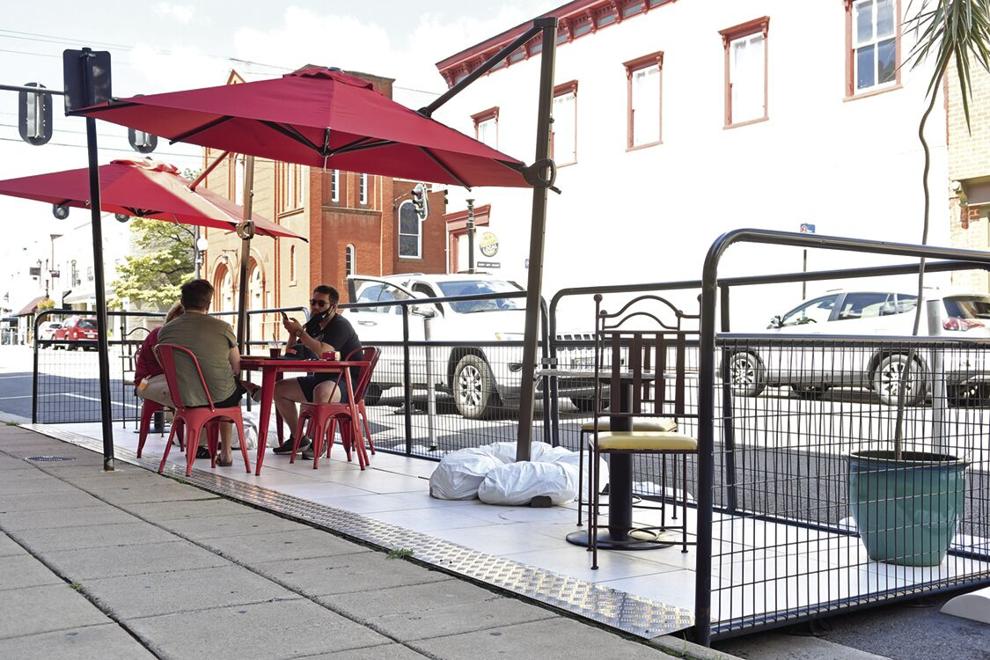 Brittany Mabrey, owner of Raven's Nest, said the extra room outside her coffee shop has been incredibly helpful as additional seating with social distancing awareness is invaluable.
"We're a small store with limited space so the extra room has made people less wary of not being able to find seating. It has become a very nice oasis for a lot of our guests, and we are grateful to have them," she explained.  
Some business owners expressed customers' concerns over only having 30 minutes to park in certain spots on Davis Street. Some have also expressed concerns that curbside pickup-only signs were hindering their businesses. Read said 50% of those signs were removed from Davis Street over a week ago. 
During the concept phase Town Geographic Information System (GIS) staff conducted a downtown parking assessment which included a parking spot count, excluding handicapped spots. 
"We were sensitive to parking loss as we developed this idea. The five parklets represent less than one percent of a loss of parking spots. The overall impact to downtown parking is minimal," said Read.
"Really? I'm sure they're helpful for the businesses but I don't like the way they look," Felicia Chavez, owner of La Bee da Loca on Davis Street, said about the parklet just across the street from her shop. "Attractiveness is one of the things we pride ourselves in downtown and then there's this." 
Chavez said she preferred the outdoor seating areas she saw during a recent trip to her hometown in Boulder, Colorado. 
"They are handmade from pallets and cinderblocks and look a lot better than what we have," she said. 
Kathy Campbell, owner of Settle Down Real Estate, said she has heard more negative than positive about the parklets. 
"There were so many complaints of not having enough parking downtown before and now we've lost more," she said. 
Read said she has heard nothing but positive feedback about the parklets downtown. 
"As all things with change, I do believe there are some out there that aren't happy but that's not the majority that have reached my desk," she said. 
Jessica Munnikhuysen and her family, from Orange, visited Culpeper last Friday and dined at a sidewalk table outside Raven's Nest. She felt the parklets are a good option. 
"I think they are a great idea to expand their seating space since there is limited outdoor seating," . Munnikhuysen said. 
The parklets are seasonal and will be taken down for the winter months. Read said they could be in new locations next spring as they will be offered again on a first-come, first-serve basis to new businesses.