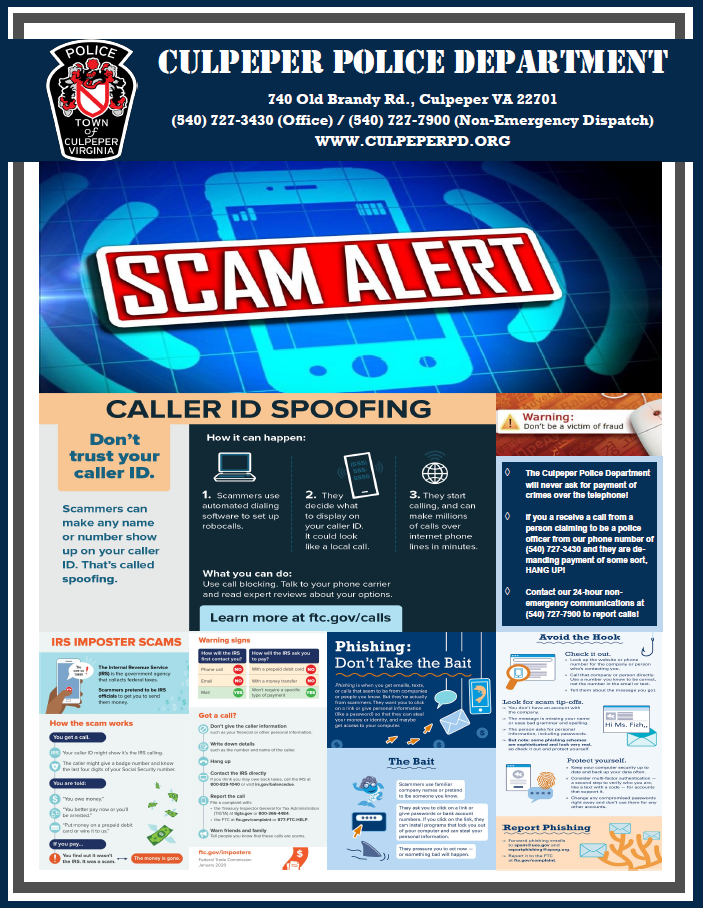 The Culpeper Police Department was approached Aug. 25 by a citizen alleging she had received multiple phone calls from a Culpeper police officer demanding money from a fraud investigation, police said.
While the victim was speaking with a uniformed officer, the impersonator called again. The phone number displayed was the office phone number for the Culpeper Police Department, according to police reports. 
"We are disturbed by this report," Chief Chris Jenkins said. "Scammers will use any tactic to take advantage of unsuspecting citizens, including impersonating officers and government officials. We are thankful that the reporting person approached a uniformed officer before being victimized."
The individual identified themselves as a Culpeper officer and repeated a demand for the victim to purchase a prepaid card. 
When the officer identified themselves to the impersonator, thethey claimed they were sending several officers to arrest the victim then hung up the phone.
"I want to remind the public that law enforcement will never ask for nor accept money in lieu of conducting an investigation or serving a warrant," Jenkins said. "If anyone ever contacts you demanding money, hang up the phone and contact your local law enforcement agency directly." 
The Culpeper Police Department advises "spoofing" is defined aswhen a caller deliberately falsifies information transmitted to the caller ID display to disguise their identity. 
Neighbor spoofing is often used so it appears an incoming call is coming from a local number, or spoof a number from a company or a government agency that the victim may already know and trust.
Several Virginia agencies have recently reported scammers spoofing department numbers and impersonating officers in attempts to profit according to police, telling potential victims they are either under investigation or have a warrant for their arrest and demanding money to resolve the situation, typically by prepaid card or wire transfer. 
Scammers use scare tactics, pressure, and official sounding language to trick victims, police said.