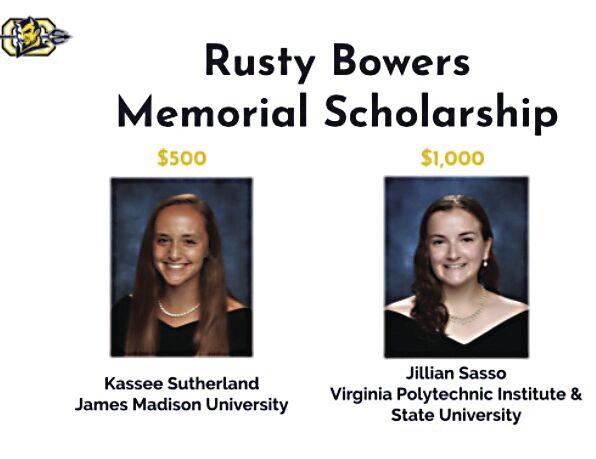 Culpeper County High School's Kassee Sutherland and Jillian Sasso are the recipients of the 2020 Rusty Bowers Memorial Scholarships.
The scholarship program was launched in 2012 in memory of Russell "Rusty" Bowers to help bring attention to depression and suicide awareness. 
"Rusty was just a very loving, kind person. Like so many of his friends say, there'll never be another Rusty. He is truly missed, not just by us, but by his friends and so many others," said Brenda Bowers, who lost her son to suicide in 2009.
Applicants for the scholarship are asked to write an essay on what they would do if they thought that someone was thinking about suicide. 
"They both wrote very good articles. They talked about what they would do if someone approached them and they thought that they were suicidal. That they would be there for them and if they didn't think that what they were doing was enough that they would reach out to a counselor or even to their parents," said Bowers.
Bowers said she was impressed they would rather risk a friendship to save a life.
"That was one of the things that really touched my heart. Kids need to realize that even though that maybe that is your best friend you need to put — if you really think that their life is at stake — then you need to go higher up to someone else and not  just try to fix them yourself even if you lose them forever as a friend at least you can save their life."
Sasso, who received the $1,000 scholarship, will further her education at Virginia Tech. She was active in the music program and a member of both National Honor Society and Tri-M Music Honor Society. Sutherland, recipient of the $500 scholarship, is attending James Madison University. She was active in athletics during her high school career and was also a member of National Honor Society.
The scholarship program is no exception to the difficulties presented by COVID-19. The scholarships rely on several fundraisers over the course of the year, but current restrictions for have put a crimp in those plans, as most of the organization's events rely on large groups in close proximity.
"We don't make a lot of money, we do it more for awareness," Bowers explained. "We're always happy if we can just get enough to get our scholarships done, but this year I don't see that we can't do anything with this virus. Right now, this has just been an empty year for us."
"People don't want to come out, and we certainly don't want anybody coming out and getting sick, so it's just chalked up as a loss for this year to do any kind of fundraiser," she lamented. 
While the lack of fundraisers is a disappointment, more important to Bowers is the focus on awareness.
"I'm hoping that if anything has come out of what we have done in Rusty's memory, it's that people realize that they are not alone. It's OK to talk about it. It's a serious illness, it's nothing to be ashamed of and people need help," Bowers said.