The time of the year has arrived to purchase fresh, locally grown produce at the Culpeper Downtown Farmers Market.
The market, which is run with the assistance of Culpeper Renaissance Inc., will return May 1 and be open 7:30 a.m.-noon every Saturday through October in the parking lot at the Culpeper Baptist Church, 318 South West St.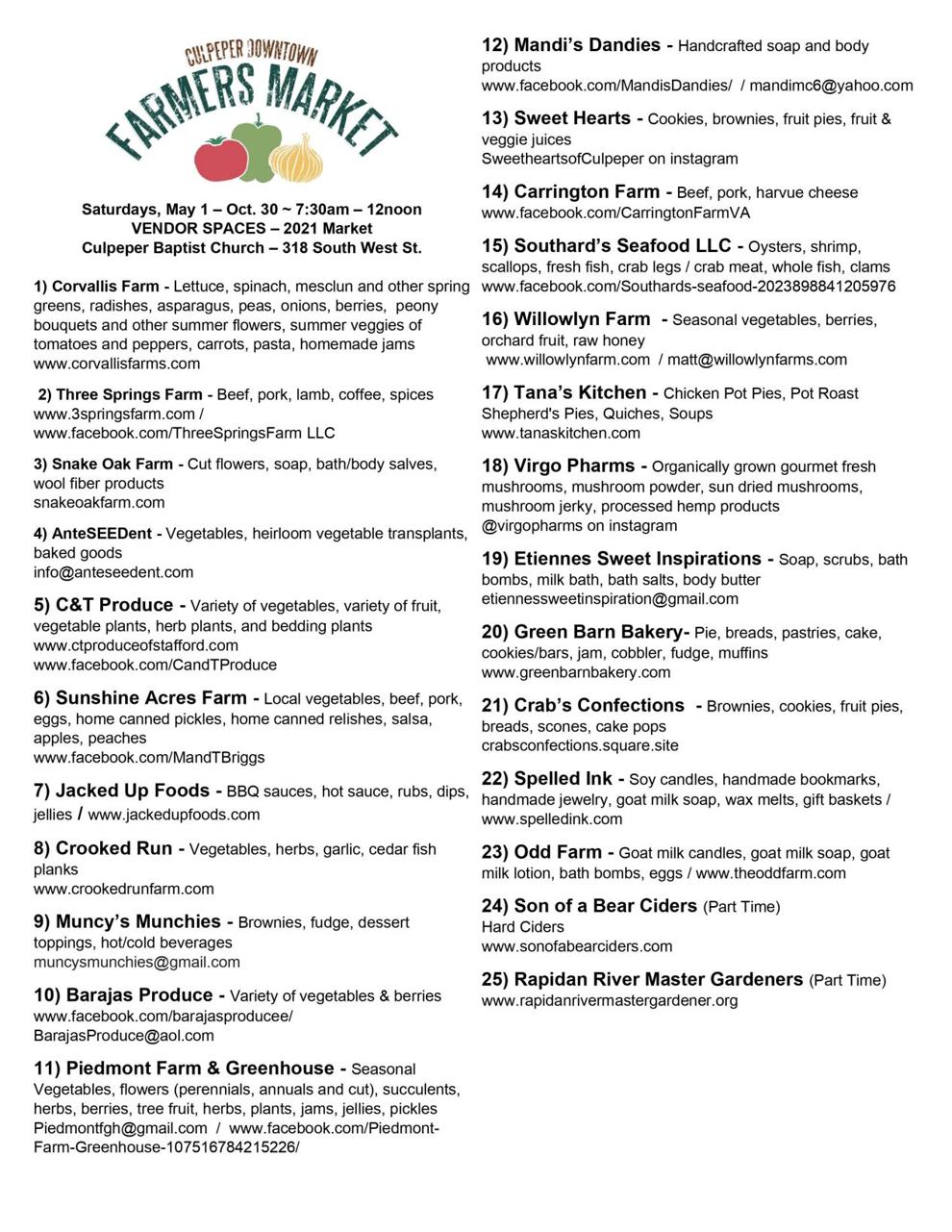 The market was moved to the church last year to provide a larger venue than usual and opened with a variety of coronavirus mitigation practices in place. This year, CRI encourages face masks and asks visitors to maintain social distancing.
CRI President Tish Smith said the goal of this year's market is providing the safest possible environment to pick up quality products from regional producers in a convenient location.
The farmers market will open with 25 vendors, who will be selling locally-grown fruit, vegetables, herbs and flowers. Other items that will be available include, eggs, baked goods, locally raised meat and more.
Evan Boone, the farmers market's chairman, is excited to be able to continue furthering the local food movement, saying "this is a great chance for the market to make these quality fresh and local items more readily available to the community."
With the farmers market having been a community staple for seven decades, Boone said "we are so thankful for the opportunity to continue to provide fresh, local products to the community of people who have grown to love and support the Culpeper Downtown Farmers Market."
"I know that I can speak for all vendors in saying how thankful we all are for our customers dedicated support in years past but especially last year," he said.
SNAP participants can double their money by purchasing tokens at the market, up to 25 tokens per visit. For example, if an EBT card is swiped for $12 in tokens, individuals will receive $24 in tokens to use at the market.
For additional information, contact CRI at 540-825-4416 or visit culpeperdowntown.com/farmers-market.html. Those interested can also follow the farmers market on Facebook at facebook.com/CulpeperFarmersMarket.