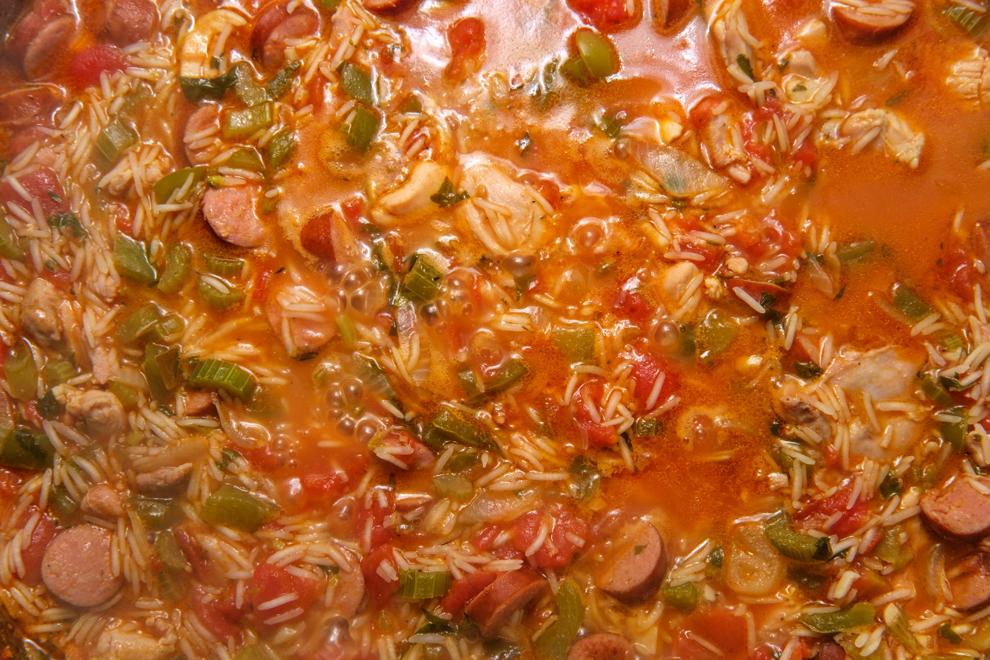 There is something about the smell of it that brings me hope and comfort. It helps to fire the imagination with scenes of somewhere south of here, a place where I can feel the humidity, hear the music and smell centuries worth of sins and parties drifting in the air.
The cooking ritual of creating my jambalaya allows me to exorcise the winter blues and confess through a dish before asking for real forgiveness. It stirs up the good and bad — then simmers it.  
Emanating from my home speakers is a perfect roux of music for the construction of a Louisiana-inspired dinner — the Neville Brothers, Dr. John, Harry Connick Jr., Louis Armstrong, Buckwheat Zydeco, Feufollet, Trombone Shorty and Professor Longhair. The rest of my southern-based cooking mix includes Ranky Tanky, Carolina Chocolate Drops, Woody Guthrie, Sarah Jarosz and the Allman Brothers. 
As Aaron Neville sings "Yellow Moon," I sauté onions, bell peppers (three colors), parsley, cumin and celery. I drop in two handfuls of cut Andouille sausage and the magical scents begin to roam through my brainpan. Add the tomato sauce, then garlic and let it boil slowly — then comes the rice, okra, crab meat (Chesapeake influence) and lastly, some big Carolina shrimp. No offense to the Gulf shrimp — but I love both Carolinas too deeply to stray.   
Other add-ons are a sprinkle of Worchester sauce, two bay leaves, Crystal Hot Sauce and most importantly, love and patience. Cover it and let it all simmer with the same level of patience it takes to convince a big fish to bite a fly on a hot day.  
I used to watch Justin Wilson, the famous Cajun cook, as a kid. He was more of a humorist than an actual chef. Wilson's show mixed well with my childhood in the South. Wilson spoke to me on a gut level. 
I loved the way he always added "one for da cook" when adding wine to a dish. 
"Great cooking," said Wilson, "is nothing more than imagination and common sense in proper proportions." Makes sense, right?   
One other ritual for my jambalaya recipe includes a few steamed mudbugs (crawfish) and at least a dozen salty barrier island oysters for the wait. The ones with claws get the steam, the oysters go down raw or half-shelled on the grill (wood burning only). My drinks can range from beer, Hemingway's Green Isaac, rum and Ting or champagne. A cold ginger ale works too if you're feeling saintly.      
Oysters are one of those life-altering foods for me — they are simple, sensual and they take on the taste of where they live. Here are a few of my favorite descriptions of oysters. 
"As I ate the oysters with their strong taste of the sea and their faint metallic taste that the cold white wine washed away, leaving only the sea taste and the succulent texture, and as I drank their cold liquid from each shell and washed it down with the crisp taste of the wine, I lost the empty feeling and began to be happy and to make plans," wrote Ernest Hemingway.
"Give me oysters and beer, for dinner every day of the year, and I'll be fine," wrote Jimmy Buffett.
Anthony Bourdain described his first oyster in his book Kitchen Confidential. The description was brilliant but more suited for adult readers. Read it after the kids go to sleep. 
Author Tom Robbins always makes me smile with this one, "Eating a raw oyster is like French kissing a mermaid." 
To me, jambalaya is a perfect metaphor for my favorite American melting pot. 
It is the American south, African, French, Spanish, Creole, Cajun and Native American. Each ingredient tells the history of a people — and together it creates pure culinary magic.   
The spirit of "laissez les bon temps rouler" makes the end of winter seem closer. 
"New Orleans food is as delicious as the less criminal forms of sin," wrote Mark Twain.     
We can all shed our yearly sins and simmer them in a pot before the fish start jumping and flowers start blooming this spring.  Ash Wednesday reminded us that we are all just visiting this beautiful life — and that with the right corrections in conduct we can emerge better people. 
The world will always be crazy and tough; so set a few hours aside to create the food that makes you smile and dance with the ones you love.