When Stafford resident Lacey Milner decided she wanted a house of her own, her family made it happen – right in their own backyard.
Although 25 years old, Lacey is childlike in many ways, having lived since birth with a rare genetic disorder that affects development and learning. So, "Lacey's House" became a family project and more than just a backyard shed. Instead, it's been a labor of love.
Lacey's parents, Theresa and Edward Milner, are longtime Stafford residents in the Crown Manor subdivision – and in their yard sits an unexpected gem.
A 10x16 shed purchased in July from The Great Outdoors was ultimately transformed into an enchanting home away from home for Lacey, nestled near the family garden. With the help of family and friends, the cottage is an oasis she can call her very own.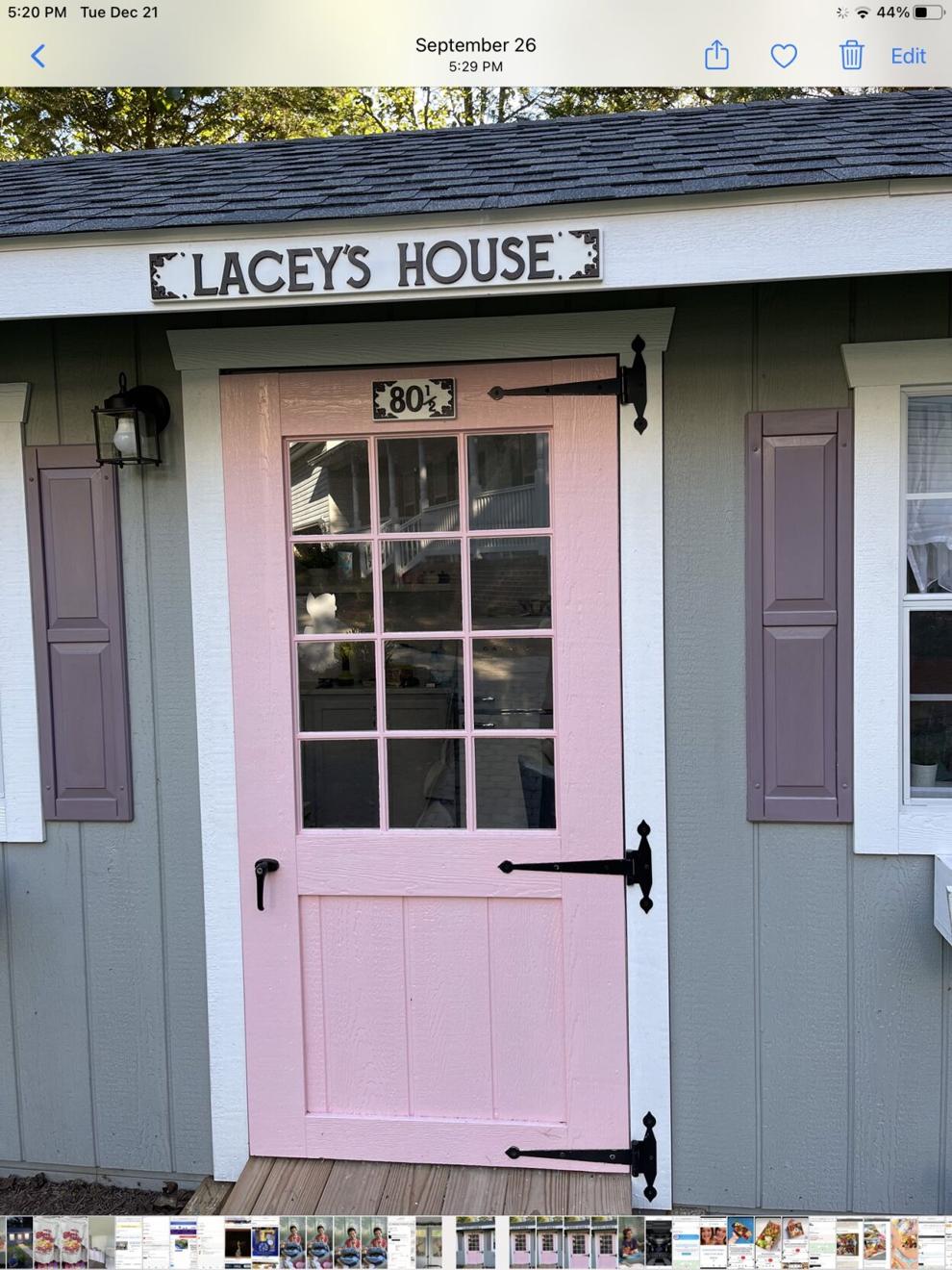 It all started when Lacey's two older brothers, Brandon and Timm, left the nest and found homes of their own. One day last summer, Lacey was shopping for home décor with her family for Brandon's home.
She was OK with him moving, Theresa Milner said, but Brandon was hesitant about leaving Lacey. It was then that Lacey expressed she'd love to have a house of her own. She wanted in on the fun.
"I buy Lacey a house," she told her mother on a trip to Costco, when the idea first took shape.
From there, she spoke repeatedly about having her own house.
The Milners thought about Lacey's request. Her father wasn't so sure, but no one laughed it off and soon they wondered, "Why not? Why can't we buy a little shed and call it 'Lacey's House'?"
Lacey, tiny for her age, has wild, curly hair, stands just 4-foot-6 and weighs 80 pounds. She wears a size 12-14 in children's clothing and didn't walk until she was 9 years old, her mother said.
Her condition, Cardiofaciocutaneous Syndrome, affects the heart, face, skin and hair. People with CFC syndrome typically have intellectual and developmental disabilities, many have eating issues and a good number use feeding tubes. They are characterized by lower ears and sparse eyebrows.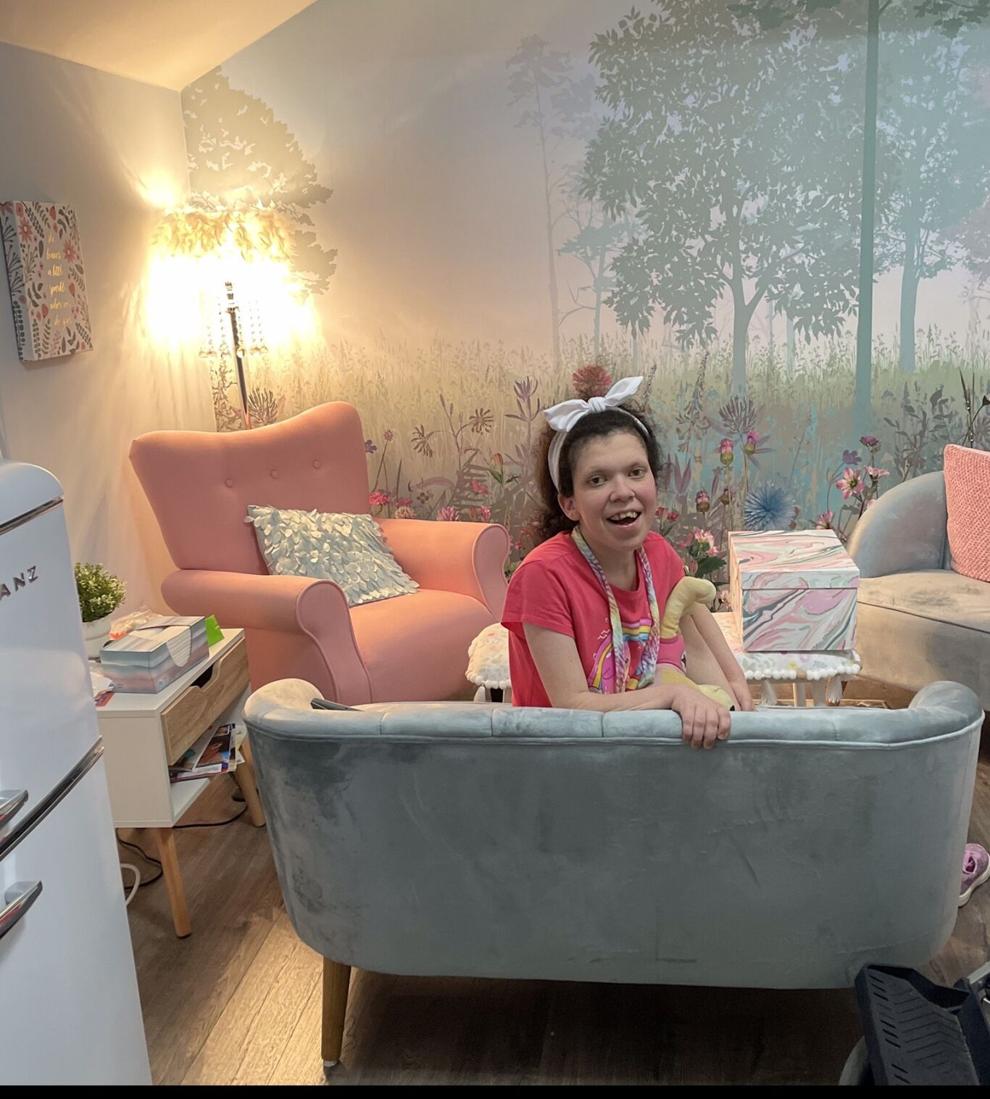 Most people with CFC "can understand more than what they can reciprocate," Theresa Milner said.
It's difficult to estimate, but there are fewer than 900 reported cases of CFC in the world, according to CFC International, a nonprofit patient support and advocacy group.
From the start of their project, the Milners discovered that friends and family wanted to help, so the ball rolled from there.
"Lacey missed the whole playhouse phase, but that's OK," her mother said. "When you reach milestones later than expected, they mean much more and you should celebrate them."
The team began designing the house and making it adorable, complete with a pink front door, a chandelier, a mural and a walkway. Lacey added artificial house plants and pillows herself.
Timm Milner owns a painting company and a family friend, Scott Peters, was instrumental.
"We could've never gotten this finished without him," Theresa Milner said.
Another friend, Cindy Morris of Birch Tree Craft Co., made a sign that says, "Lacey's House" and the street number 80½ – a play on her parents' address.
The home is functional, with electricity, foam insulation, air-conditioning and a drop ceiling. The walls are painted a calming blue. There's a retro refrigerator, a countertop, cabinets and a couch.
"Even though she's 25, it's like she's 5," Theresa Milner said. "Having her own house was like Christmas for her and she really got into it. We are really enjoying it."
Lacey even has her own mailbox, which allows friends to drop off cards, mail and little gifts.
As summer turned to cooler weather, the Milners added a heater to the house, and now, they're considering running water.
"I don't know what I was thinking," Theresa Milner said. "It took on a life of its own, and one thing just led to another thing. Lacey asks for an upstairs now."
Dr. Yvonne Villarreal, a family physician at Embracing Health in Stafford, has treated Lacey for 15 years. The house adventure, with thought and inspiration from family, friends and do-it-yourself television, is uplifting not only because of the Milners' imagination but also because of the underlying love and hope that accompanies it, Villarreal said.
"Lacey spends hours sitting in her home, reading and looking outside into the garden," she added.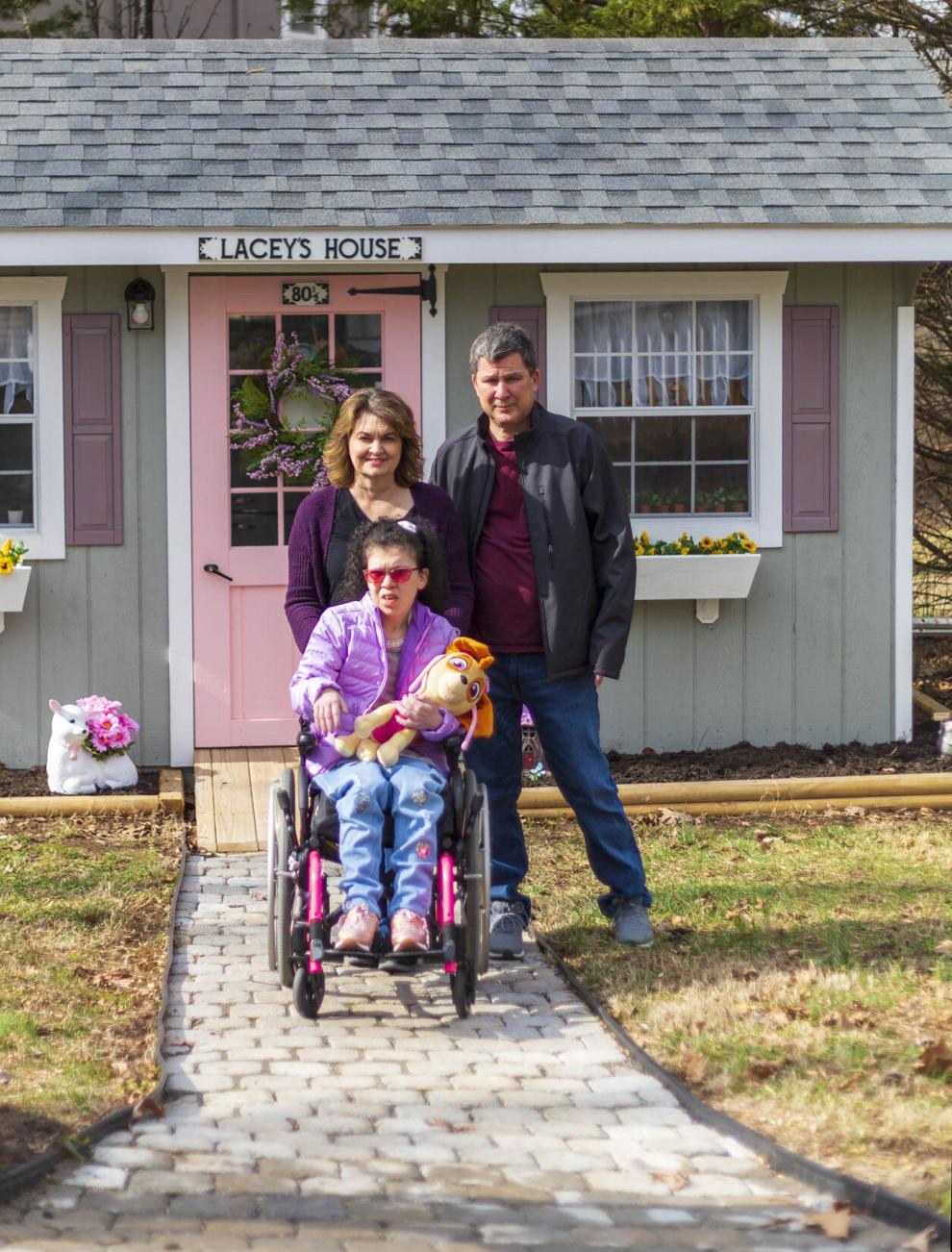 In a conversation with her mother, Lacey agreed that her favorite part of the house is a green chair she sits on near a window that overlooks the backyard, where "Paw Patrol" yard signs and garden blow-ups are part of her view. There, she flips through newspapers and magazines, according to her mother, who noted the family has had to be particularly cautious during the COVID-19 pandemic.
Lacey, who is high-risk and immunocompromised, was used to a routine, so the Milners tried to keep one. They even created a store in their garage so she could shop.
"It made the pandemic easier," Theresa Milner said. Similarly, the backyard home creates a sense of comfort and independence.
But her new home wasn't complete without a housewarming party, which they held in October.
Guests included two of Lacey's doctors, Villarreal and Dr. Michael Cohen, a Stafford neurologist who Lacey fondly calls "Boy," Theresa Milner said.
At Christmastime, the Milners decorated the backyard house and yard. They invited Santa Claus, who passed out books to Lacey, other special-needs friends and some neighborhood pals. Next Christmas, the Milners plan for Santa to visit Lacey's house again, but this time as a holiday fundraiser for CFC International.
The wheels were already turning as Theresa Milner spoke of the possibilities. "I already have 10 people who want to be elves."
Tracy Bell is a freelancer who lives in Stafford County.
This story initially appeared in Stafford Magazine, published by InsideNoVa.