The Prince William County Health District has opened its newest COVID-19 vaccine clinic in the Manassas Mall in preparation for a hoped increase in vaccine doses next month.
The county's other clinic, in Beacon Hall at George Mason University's Manassas campus, which opened in mid-January, was suitable for healthcare workers and first responders, but presented limitations for older residents, said Dr. Alison Ansher, director of the health district.
"The elderly population had to come with somebody and had walkers and wheelchairs. Because of the social-distancing requirements, it limited how many people we could have in the post-vaccine waiting area – it just wasn't large enough," Ansher said during a media tour of the Manassas Mall location on Saturday morning.
The mall location allows people to stay inside while they are in line. "They don't have to do that in the cold," she added. "We're very excited about this opportunity."
Also last week the state of Virginia took over registration for the vaccine. Residents who previously registered with the county will be uploaded into the state system, and should soon be able to see where they are on the waitlist, Ansher said.
The Prince William Health District ranks below other health districts in Northern Virginia in terms of vaccinations per capita. But Ansher said those rates may be misleading, because the health district vaccinates people who both work and live in the community.
"A lot of people we vaccinated work, but do not live, in our community," she added. "We have limited vaccines, and we want to vaccinate those people. But that's a piece that's not clear. If they get vaccinated here, that gets indicated in their county of residence."
County executive Chris Martino noted that Prince William has administered more vaccines than virtually every other jurisdiction in Virginia. Prince William is the second largest locality in the state.
Martino noted that at a current rate of about 360 doses a day, the Manassas Mall clinic is using only a fraction of its available space. The county expects to announce an even larger site for a vaccination clinic on the eastern side of the county by early March.
"So we have the capacity to scale up to meet the supply as it arrives," Martino said.
Vaccine supplies were reduced last week due to winter storms across the country, but the number of doses shipped has picked back up again this week.
Ansher said the health district is planning outbreach to the African-American and Hispanic communities.
"We are going to meet with some of our community influencers in the African American and Latino populations to understand a little more about vaccine hesitancy. Part of the challenge is the west end and east end diversity is quite different," Ansher said.
Elizabeth Via-Grossman, assistant city manager and community development director for Manassas, volunteered to receive her first vaccine dose during Saturday morning's media event.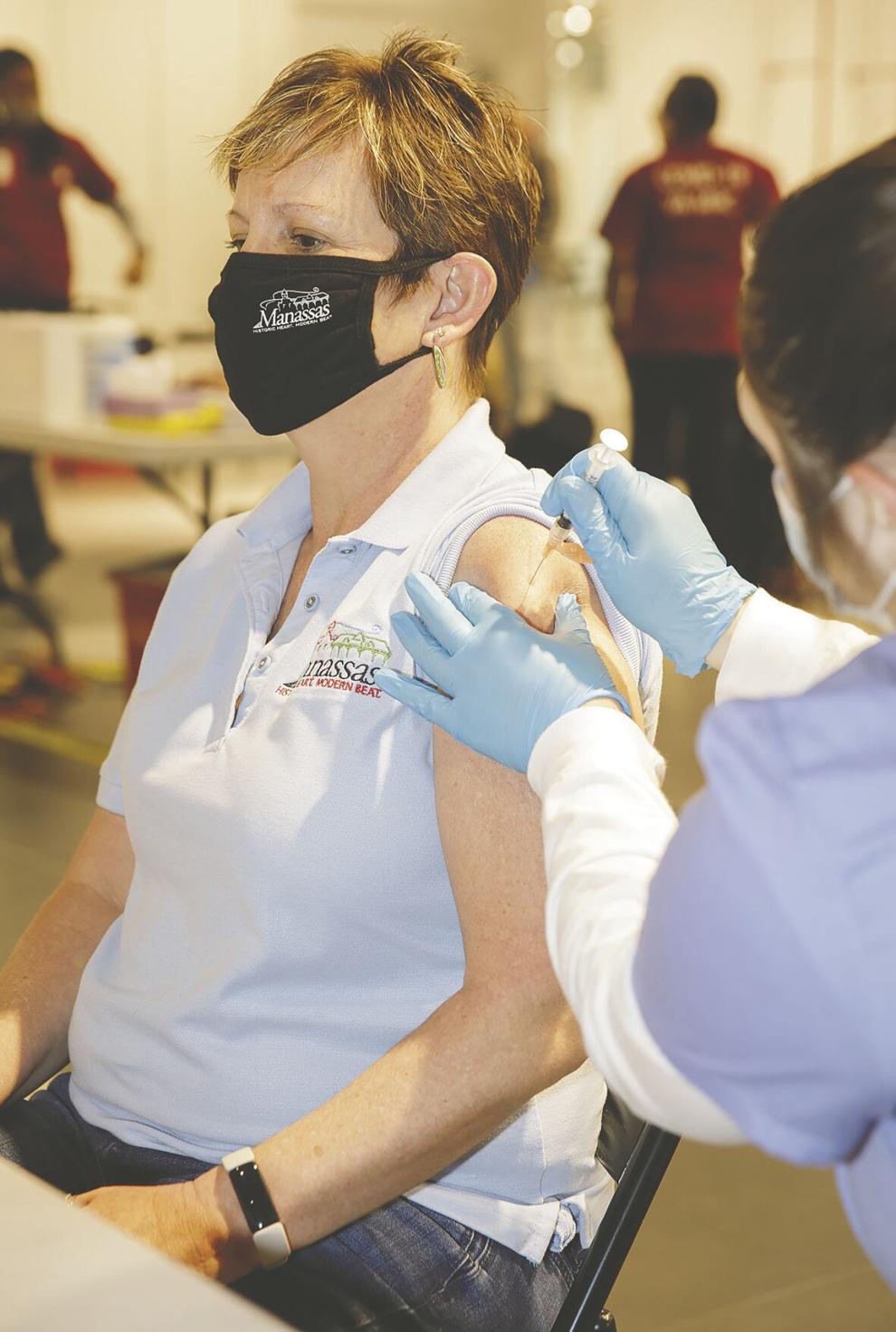 "I'm so excited – it's like I can breathe again," she said. "I was expecting some pain, but it did not hurt at all. I recommend that everyone eligible should get the vaccine."