If a neighbor were to remark that you had a "big, ugly wall," your first response probably wouldn't be to change it up with a 20-foot duck.
But that's what Doug Comer, then president of the Belmont Bay homeowner's association, told Molly Grove of George Mason University about the GMU Science Center's parking garage. The garage not only blocked the river view of many Belmont Bay residents, but it was a monochrome brown cinder-block wall, rising to 45 feet and stretching over 150 feet long – and it was crying out for a splash of color.
Little did Grove, outreach coordinator for George Mason's Sci-Tech campus, know how big a splash it would eventually become.
After two years of work with George Mason's Murals at Mason group and an international search for an artist, GMU settled on TakerOne from Hungary to splash it up a bit. Then the COVID-19 pandemic arrived and put everything on hold.
Murals at Mason worked over the summer to help TakerOne, whose real name is Tamas Lenkei, get vaccinated and obtain a visa, Grove said. He arrived in Virginia last month and wasted no time.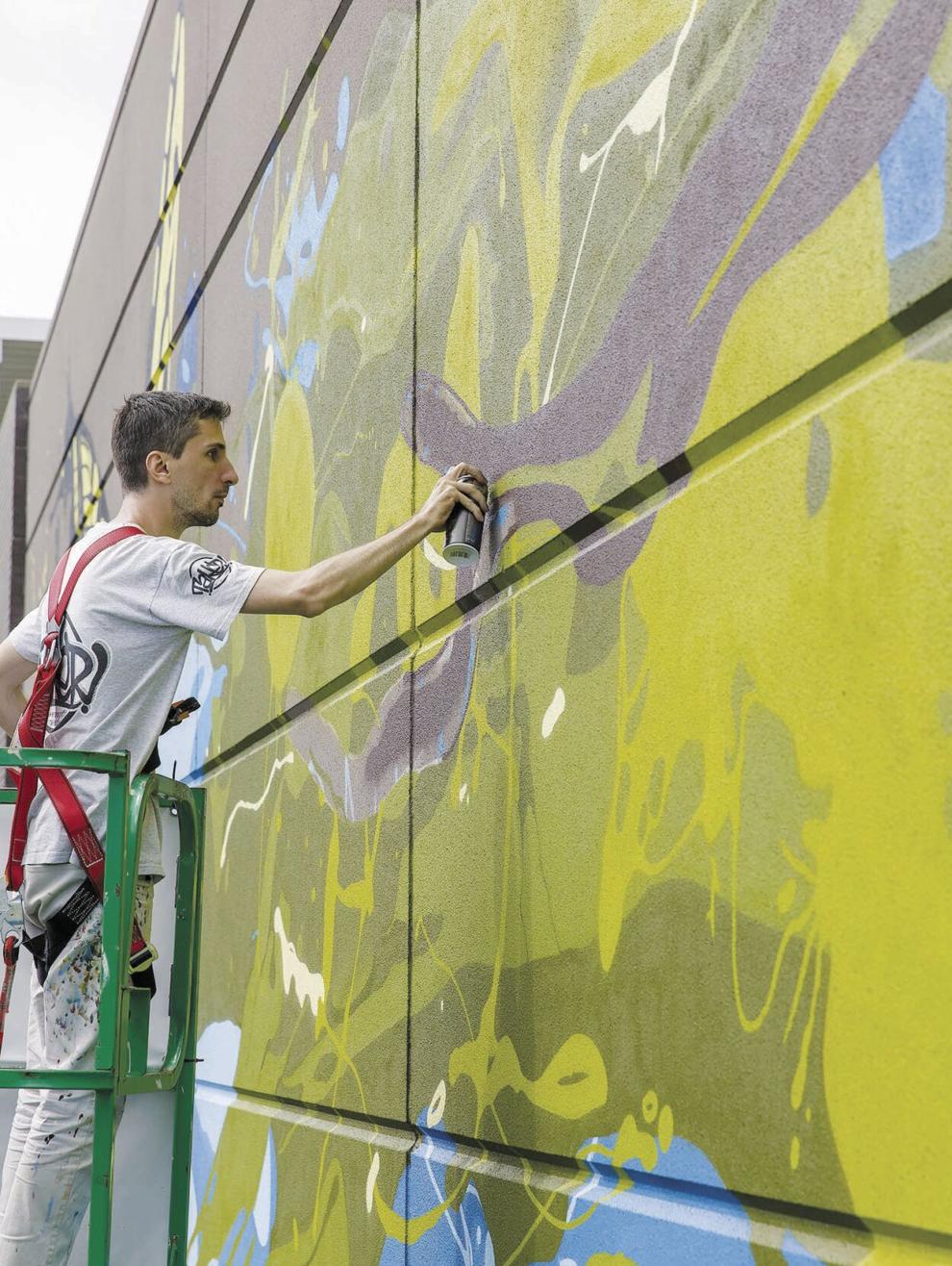 "He arrived Sept. 15. On the 16th, he was on the lift and marking up the wall with blue spray-paint, creating reference points for each object," Grove said.
All that did, though, was cause even more concern from neighbors, because his reference points were peppered with messages such as "TakerOne Graffitti" and "12356 ACDFH." They began calling the university to notify them of the strange behavior.
Grove said the Science Center's only guidance to the artists was that the mural should represent animal species that are native to the Potomac River. The approved design includes a butterfly, a frog, a duck and a sea otter, and the final project is called "Fauna of Belmont Bay."
Grove's outreach also landed some helpful sponsors for the project.
"Maryanne Wall with the Wall Foundation made a donation; Pitkin's Ace Home Hardware donated all the cans of spray paint; William Hazel provided the fuel for the lift we're renting, and Belmont Bay resident Carolyn Wixson provided a room for TakerOne to stay, so that cut down on the expenses, which left us with just the stipend, per-diem, and lift rental," Grove said.
Other supporters include GMU's Office of Research, Innovation, and Economic Impact, the College of Visual and Performing Arts, and Provisions Library for Art and Social Change. 
As he lowered the lift from 30 feet to swap out cans of spray paint one day last week, TakerOne told InsideNoVa that his graffiti style is the result of continuous dedication. He has brightened exteriors across the globe, with multi-story murals in Europe, Spain, the United Kingdom, New Zealand, Israel and Slovakia.
"I'm a photorealistic artist, so that's half, and the other part is splashes of color. It took me 17 years where I was satisfied with the quality and technique to use a spray can do what I wanted and achieve photorealism," he said. "Then, I just wanted something that makes my work unique, so I started incorporating splashes of color in the background, back in 2017."
Once he starts on a mural, he said, he can think about little else until it is completed.
"It's basically non-stop every day. It's very tiring, but I can't do anything else, because I'm hyper-focused on the mural while it's in progress," he said. "I just sleep and paint."
He said people are starting to recognize his style "People can see my images online and realize, 'That's a Taker.'"
The mural will be unveiled during a free event Saturday afternoon. Grove said she has grown more excited each day as the mural nears completion. She believes it will promote a sense of community identification and openness and make the space more inviting, while providing access to public art without the costs of museums and galleries.
In addition, the art is even educational, as the Latin names for each featured animal are included on the mural.
"This isn't just for George Mason," Grove explained. "It's going to be a show-piece for the community, as well as the boat traffic going up the Occoquan River. It really is a nice feature, and an educational piece."