The first of what could be several thousand refugees from Afghanistan moved into temporary housing on Marine Corps Base Quantico in Prince William County this week.  
The refugees are among more than 120,000 who were airlifted out of Afghanistan in late August after the takeover of the Taliban and the withdrawal of the U.S. military.  More than 14,000 of those were flown to Dulles International Airport and temporarily housed at the Dulles Expo Center in Chantilly, according to state and federal government officials.
From there, the refugees are being moved to military bases around the country, including Quantico, as part of what is being called Operation Allies Refuge.  The military is providing housing, food, medical care and other basic needs until the refugees can be resettled into more permanent accommodations. 
Quantico is prepared to accommodate at least 1,000 and possibly as many as 5,000 refugees, Virginia Gov. Ralph Northam said last week. Marines from the 2nd Marine Expeditionary Force  and Marine Corps Base Quantico prepared lodging on post as arrivals began Sunday. This includes medical screening and general support at Camp Upshur, in the northwest corner of Quantico, just southeast of Nokesville.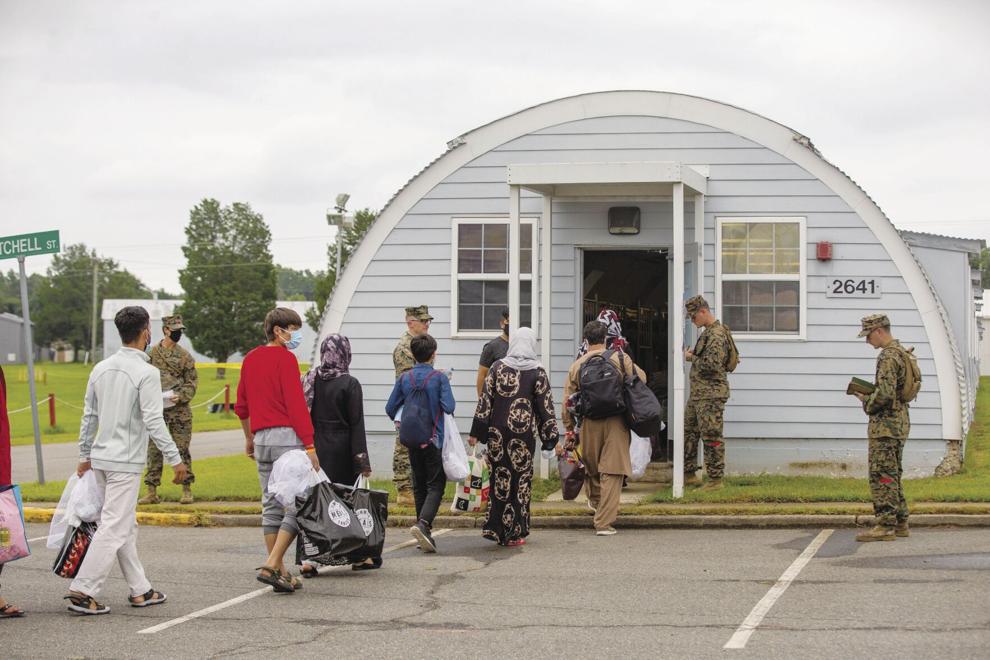 The Virginia Department of Social Services will then work with nongovernmental organizations, such as Lutheran Services and Catholic Charities, to integrate the refugee families into their final home communities, if they are destined for Virginia. 
Refugee services are provided by six resettlement agencies across the state: Catholic Charities of the Diocese of Arlington, Commonwealth Catholic Charities, Church World Service, Ethiopian Community Development Council, International Rescue Committee and Lutheran Social Services.
However, resettlement agencies in Northern Virginia are running into some logistical challenges finding housing for refugees in the region. 
Stephen Carattini, president and CEO of Arlington Catholic Charities, told InsideNoVa that one of the biggest hurdles is persuading landlords to take a risk on refugees who don't have a credit history or proof of income. 
In normal circumstances, Carattini said, the agency has enough advance notification that it can lease housing before the refugees arrive. "But … finding affordable housing and finding landlords that are willing to rent to our clients has been a continuing challenge."
Since 2006, Catholic Charities has resettled almost 4,000 Afghan refugees in Northern Virginia according to Carattini. Over the past two months, Carattini said his organization has resettled 214 Afghan refugees. 
The organization, based in Arlington, is one of about 40 Catholic Charities around the country resettling Afghan families.
Under normal circumstances, when Afghan refugees with Special Immigrant Visas arrive in the United States and are cleared by the federal government, Catholic Charities helps them find housing, employment, educational opportunities, medical care and transportation. Volunteers and staff also give them a general overview of life in the United States. 
After 90 days, Carattini said refugees are expected to become self-sufficient, meaning that at the minimum they are employed and have permanent housing. 
But in this situation, Carattini said, his organization has no idea how many refugees to expect in the coming weeks and has had little time to prepare. 
"In the short term, what we're doing is preparing for that possibility of a possibly higher number of arrivals and so we've gone to our local community to ask for assistance, particularly with items that would be used to help," he said. 
In terms of donations, Catholic Charities has been asking for items such as beds, bed frames, towels, sheets and dishes to help furnish refugees' homes. Marine Corps Base Quantico said it had been overwhelmed with donations and stopped accepting them Wednesday.
Carattini said it would be more helpful if people could volunteer their time to help families transition, by helping to set up apartments, preparing refugees for their citizenship classes and tests, and providing leads on housing and employment opportunities. 
"And then if people know of landlords or have properties that they're willing to rent to us that's always good to know," Carattini said.
Catholic Charities is focused on resettling refugees in localities such as Fredericksburg, Sterling and Woodbridge because that's where they have historically been resettled since the initial Afghan immigration following the Soviet Union invasion in the 1980s.
"So, people would come, and then they would find places where they found their first home and then family members would start to come," he added. "So that's how that happens; it's sort of organic."
Resettlement organizations also work to find jobs for the Afghans, many of whom held high-level positions in their home county.
"These are people who … work with the U.S. military and U.S. government in critical capacities … and they may have been lawyers and doctors and skilled professionals in their homeland," Carattini said. "One of the challenges for them is of course that they may not be able to work in their past profession because their credentials may not be accepted here or they will have to do additional schooling or additional quality certifications and all of that."
In the meantime, the agency will help to find them other positions that are available. 
"People are in demand," he added. "So maybe working in a warehouse, you know, initially, until they can...get the certifications necessary to practice medicine or practice or whatever it is that they would like to do."
The agency helps the Afghans understand that initial jobs are just a stepping stone. "There are opportunities," Carattini said. "But you know the rent needs to be paid and food needs to be put on the table and that's how this works." 
He added that the Afghans "have a strong desire to work hard and take care of their families, to see their children educated, to live in safety and to have the freedoms that we have here. It's a beautiful thing to behold, and … it's beautiful to be a part of their journey."