After making the difficult decision to enjoy a quarantined holiday season 700 miles from her family in Chicago, Arlington resident Elizabeth Pletcher knew she needed to make the day special in another way.
She stumbled upon Covet, a boutique store in the Bluemont area of Arlington that specializes in handcrafted local products. After a slight hesitation, Pletcher messaged the store on Instagram with an unusual request – could they put together a surprise gift haul, under a budget of $150, for her to unwrap on Christmas morning? 
Within minutes, store owner Autumn Clayton enthusiastically responded "Yes!," setting in motion what would become a creative new way to celebrate for Pletcher and others adapting to a year filled with unrelenting change and uncertainty. 
"I was really grateful," Pletcher said. "She couldn't have been more kind or enthusiastic and she was so willing to help make my Christmas merrier. It meant a lot."
As COVID-19 cases surge across the country, more Americans are heeding health officials' advice and staying home this holiday season. The American Automobile Association is predicting 34 million fewer travelers on the roads and in the skies this year, compared to last year.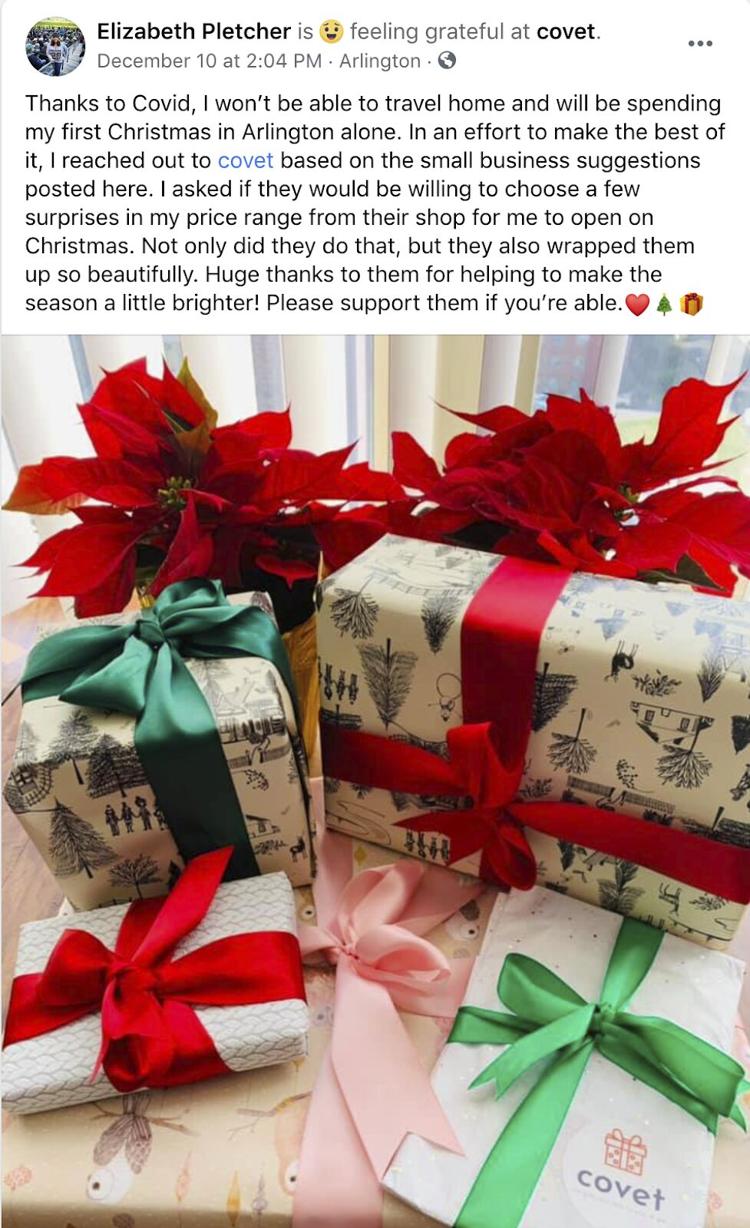 Pletcher's idea seemed to catch on with other lonely Arlington residents. Almost immediately after picking up the neatly wrapped gifts adorned with red and green bows, she posted a photo to the Facebook group "Arlington Neighbors Helping Each Other Through COVID" to show the community Clayton's graciousness. 
The group, created in mid-March as a place for neighbors to gather and help one another through the difficult time, became a go-to spot for recommendations on local small businesses to patronize during the holiday season. 
Clayton appreciated the shout-out.
"It kind of felt like she was not just giving something to herself, but giving me something too by giving me her business, and then the free advertisement," she said.
The post quickly exploded, with over 700 likes and 86 comments applauding Pletcher's ingenuity and praising Covet.  Clayton has received a swell of Instagram messages, emails and social media followers. Her website experienced a surge in sales over the past week, and nearly a dozen customers have requested similar surprise packages for their loved ones or for themselves.
To Clayton, both the initial request and the outpouring of community support afterward feel particularly unique to the Arlington area, where so many people have rallied around supporting each other and local businesses since the pandemic began. 
Covet is having one of its busiest holiday seasons since it opened in 2010, she said. The season has been so busy that she hasn't even had time to advertise the potentially new "surprise" service. If it weren't for the handful of college and high school aged "elves" helping her package and deliver presents, Clayton would barely have time to breathe.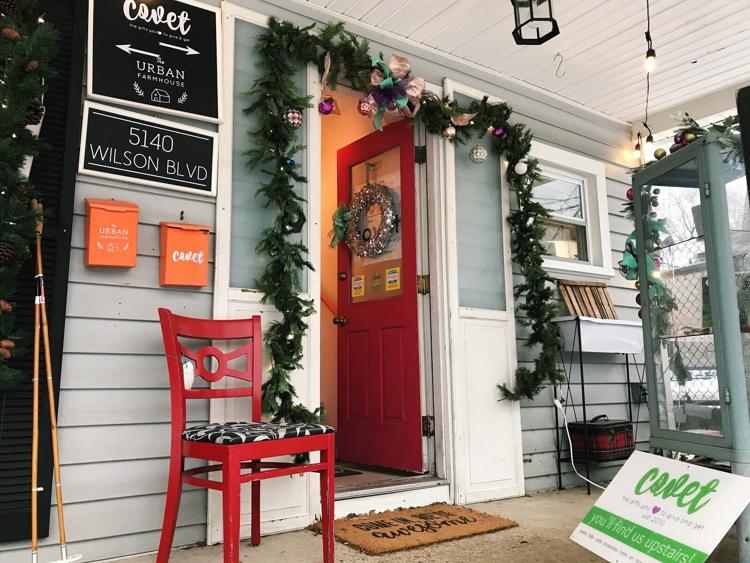 Still, she manages to respond to every request with a personalized touch. For Pletcher's, and now for future surprises, she tries to "spread the wealth" by choosing a variety of gifts from some of the roughly 200 small vendors whose products she sells. 
Although she has yet to create an official process for the service, she created Pletcher's surprise by asking three simple questions about her jewelry preferences, favorite color and favorite movie. 
"It's been really fun. It's very sweet and festive to work with customers on a deeper level to celebrate Christmas," Clayton said. "And, the support and love from the community this year has made it even more special."