The woman who stole the stage was never on it.
As two men argued Tuesday night over why the other would be the worst thing to ever happen to Virginia, Princess Blanding reached a boiling point.
Blanding will be on the ballot for the November gubernatorial election. But while Democrat Terry McAuliffe and Republican Glenn Youngkin were on the stage at the Rachel M. Schlesinger Concert Hall and Arts Center in Alexandria, she was relegated to the audience.
Blanding was invited to attend the debate by the host, the Northern Virginia Chamber of Commerce, but was barred from participating.  As she listened to the audience and the other two candidates speak, her frustration grew.
"All I'm listening to around me is people talking about their timeshares and their investments when we have people who don't have anywhere to lay their heads," she said.
At the start of the event, moderator Chuck Todd, host of NBC's "Meet The Press" referred to McAuliffe and Youngkin as "the two gubernatorial candidates." It's unclear whether Todd purposefully excluded Blanding or just misspoke.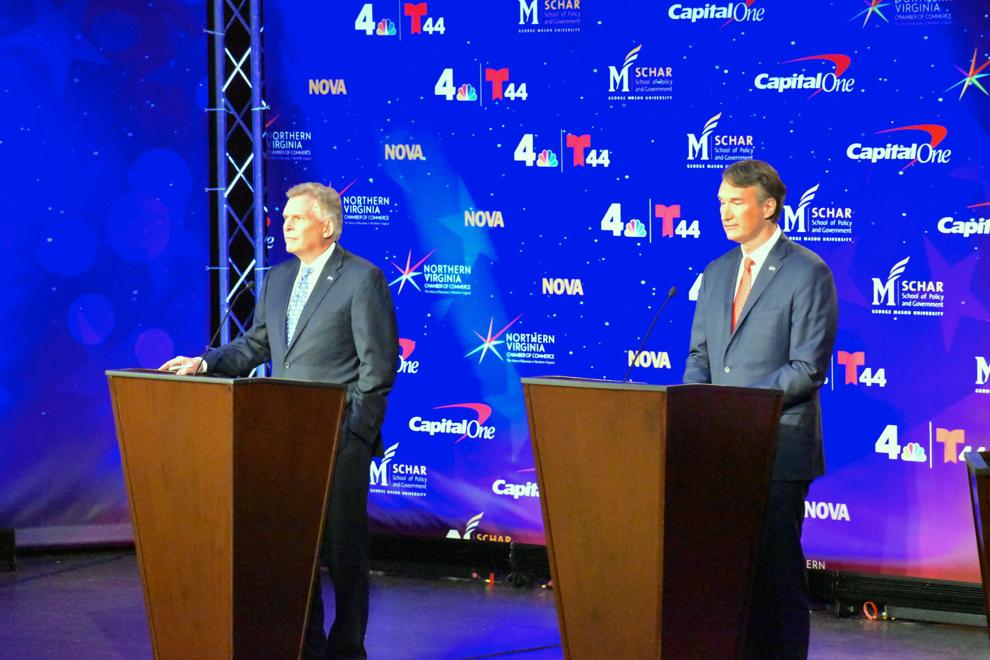 Less than 15 minutes into the hour-long debate, broadcast on NBC stations statewide, Blanding stood up and started shouting. Watching from the press room, most reporters thought it was just a heckler. But then she continued to shout. 
In a pre-debate email to the media, a Northern Virginia Chamber of Commerce staffer provided a schedule of events that included time for Blanding to speak to the press after the event. The chamber did not return a request for clarification Tuesday night on why Blanding was excluded from the debate.
Blanding's interruption started after McAuliffe was asked what responsibility he bears for increased crime during his first term as governor from 2014 to 2018. McAuliffe did not address that directly and, after his answer, Blanding yelled, "My name is Princess Blanding and I am a candidate on the ballot. Terry, why am I not allowed on the stage ever? As governor, I will defund the police."
Blanding said, "I'll be on the ballot, I should be up on the stage." Youngkin could be heard saying, "I agree." 
Talking with reporters after the debate, McAuliffe said, "I would have been fine if she was on stage. … We don't choose who gets on stage or not on stage."
Youngkin could not be asked about Blanding's exclusion because, rather than appear before the media as planned after the debate, he sent a staffer to answer questions. The staffer said Youngkin wasn't appearing because "Winners don't spin."
Todd at first allowed Blanding to yell, but quickly transitioned to a commercial break. He eventually asked security, being handled by police officers, to remove her from the building.
Prior to and after Blanding's interruption, the debate was largely marked by McAuliffe and Youngkin either speaking shortly about a topic before launching into attacks on each other or not directly answering questions.
For example, Todd said each candidate would be given 30 seconds to answer this question: "How do you convince wealthy homeowners that affordable housing should be built in their neighborhood?"
Neither major-party candidate directly answered. McAuliffe focused on incentivizing developers to construct affordable housing, while Youngkin touched on increasing supply and removing regulatory hurdles.
McAuliffe painted himself as a governor who could work in a bipartisan manner to tackle tough issues. Youngkin said Virginia is falling behind neighboring states and needs to improve its economy while protecting a variety of personal liberties spanning several hot-button issues.
Their positions on the topics were relatively similar to those they have staked out during the campaign. The difference between Tuesday's debate and two previous ones was that Blanding stood up, disrupted it and was escorted from the building.
"This is not democracy," she yelled. "This is voter suppression."
In order to get on the ballot for a gubernatorial election in Virginia,candidates must pay a $3,500 filing fee and, between Jan. 2 and June 8, gather the signatures of 10,000 registered voters across the state. Of those signatures, 400 must come from each of Virginia's 11 congressional districts.
McAuliffe, Blanding and Youngkin fulfilled those requirements.
"I have done everything I need to do to get on the ballot, why am I not able to participate in the debate?" Blanding said. "We have these two rich white men sitting up there, and we don't have anyone reporting that I am the only woman in the history of Virginia to make it on the [gubernatorial] ballot. But I can't have my voice heard."
A RealClearPolitics average of polls from Aug. 26 to Sept. 26 shows McAuliffe with 46.7% of the vote to Youngkin's 43.8%. Nearly all the polls have excluded Blanding, although one released last week by the University of Mary Washington placed her at 2% of the vote. 
Third-party candidates are only occasionally included in polls, even at the national level, and are rarely included in debates. Libertarian Jo Jorgensen achieved ballot access in all 50 states in the 2020 presidential election but was rarely included in polling, facing a similar treatment as Gary Johnson in 2016.
The largest segment of the vote carried by a third-party candidate in a Virginia gubernatorial election since 1981 was Libertarian Robert Sarvis in 2013, who received about 6.5%.
Blanding, running under the flag of the Liberation Party, is the sister of Marcus-David Peters, whose killing by a Richmond police officer led to Virginia's Marcus Alert legislation. That requires mental health professionals to be the first responders to a mental health crisis, with police serving as backup to secure the scene.
Peters, a 24-year-old high school teacher, was suffering a mental health crisis in 2018. He got into a car accident and was then pursued by a Richmond police officer. Eventually, Peters stopped his car on an on-ramp of Interstate 95 and got out, naked, and ran onto the highway where he was struck by a car. Peters then rolled around on the ground before advancing toward the officer. He was hit with a Taser several times, seemingly to no effect, before eventually being shot.
Afterward, Blanding founded Justice and Reformation, an organization advocating for mental health care, safety and protecting vulnerable communities from police violence.
"I begged legislators," Blanding said. "I begged them on the local and state level to enact legislation to ensure that something like this does not happen again – to enact legislation to put community care and safety first, always, and all they do is give us crumbs. They give us crumbs when we deserve the full-course meals."
In comments to reporters after being tossed out of the debate hall, Blanding's frustration and desperation were on full display.
"They have an already-made base," Blanding said. "I had to work 10 times harder just to be on that ballot, just to be told that I'm not allowed to debate. I have to come and sit in the audience. I mean that is a bunch of bull.... That's exactly what it is."
She was asked whether disrupting the debate was the best way to convey her message.
"I refuse to play by the games and the rules of the duopoly," she said. "In order for me – in order for Virginians – to ensure our rightful place, we will take it. I am not going to ask anymore. We have been told to trust the system, and the system is meant to keep third-party candidates oppressed – to make sure people don't know about us."
Speaking to reporters, Blanding made her views on the situation abundantly clear. 
"Their censorship of my candidacy is racist, it's sexist, it's oppressive and it's a form of voter suppression," she said. "The goal is to make sure that voters don't know that I exist so they have to choose between the lesser of two evils."