At the request of local officials and in response to today's violence at the U.S. Capitol, Gov. Ralph Northam has ordered a curfew in the city of Alexandria and Arlington County, starting at 6 p.m.
The curfew extends until 6 a.m. Thursday. During the curfew, it is illegal for any person to be present in any street, park, or other public place, unless an exception applies, Arlington officials said in a news release.
Violation of the curfew order is a Class 1 misdemeanor, punishable by up to 12 months in jail, a fine of up to $2,500, or both. Exceptions include persons traveling to and from home, work, or places of worship; government, emergency services, and hospital personnel; members of the news media; and persons seeking emergency services. 
Today's curfew order temporarily expands the state curfew of midnight to 5 a.m. every day, to help stop the spread of COVID-19.
Earlier Wednesday evening, Prince William County police officers were deployed to Washington to aid in the aftermath of pro-Trump rioters storming the U.S. Capitol.
The county officers were requested by U.S. Capitol police through a mutual aid agreement. Police are not saying how many officers have been deployed or their role for tactical reasons.
Earlier Wednesday, Gov. Ralph Northam sent the Virginia National Guard and 200 Virginia State Police troopers to the U.S. Capitol Wednesday afternoon as armed pro-Trump demonstrators breached the Capitol Rotunda. The show of force from Virginia is at the request of D.C. Mayor Muriel Bowser, he said.
Supporters of President Donald Trump and his unproven claims of widespread election fraud flooded the streets of Washington on Wednesday, clashed with police outside the Capitol and breached the building, forcing a lockdown with lawmakers still inside.
Fleet of Virginia State Police vehicles now here at Constitution Ave & 1st St where police are suiting up with riot gear heading closer to the Capitol Building @WTOP pic.twitter.com/ohSAOLkUlr

— Ken Duffy (@KenDuffyNews) January 6, 2021
Members of Congress inside the House chamber were told by police to put on gas masks after tear gas was dispersed in Capitol Rotunda, WTOP.com reports. U.S. Capitol police report protesters have breached the Senate chambers.
D.C. Mayor Muriel Bowser ordered a citywide curfew starting at 6 p.m. Wednesday until 6 a.m. Thursday.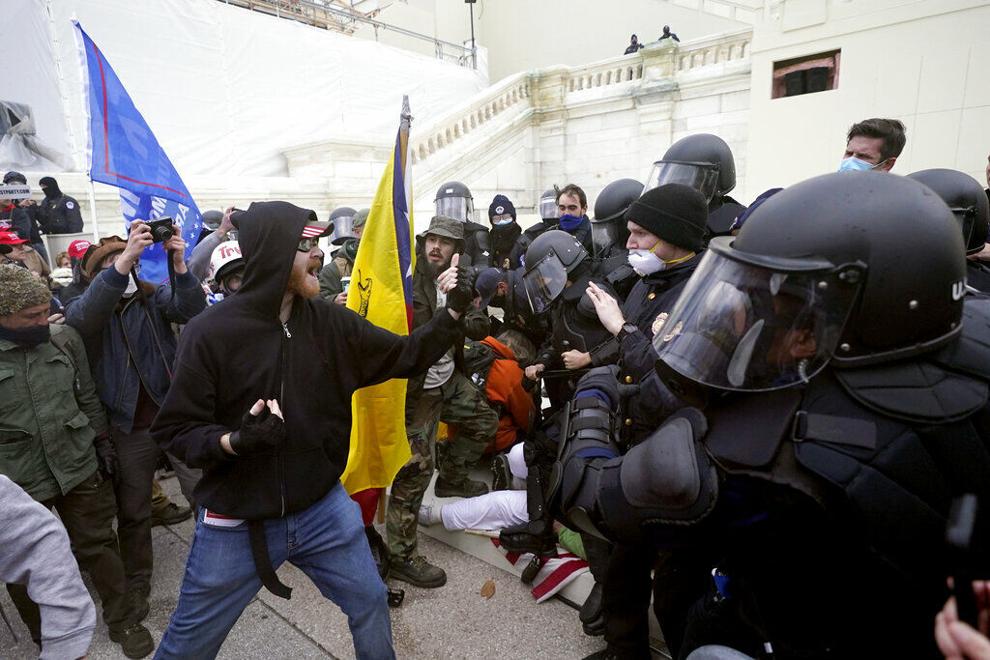 Trump released a video Wednesday afternoon asking rioters to go home, but also fueling the notion of a "stolen election."
Before protesters entered the building, WTOP's Alejandro Alvarez estimated that "at least a thousand people" gathered beneath the west front of the Capitol building.
"I can hear someone declaring on a megaphone: 'March forward, march forward,'" Alvarez said.
He reported hearing a large bang from the front of the crowd right after.
"'Move forward, patriots,' somebody is shouting," Alvarez said.
He reported that protesters are going face-to-face with a line of riot police who are attempting to prevent further access to the western front of the Capitol.
Pepper spray has been used, Alvarez said. "But despite that, nobody, neither the police nor the group of Trump supporters, appear to be moving anywhere."
There are reports of one woman shot in the chest on the Capitol grounds and several other reports of injuries to police officers.
U.S. Rep. Gerry Connolly, D-Va., tweeted he was safe and was ready to get back to counting electoral votes.
"I am safe and raring to get back to the electoral ballot count. We will not be deterred by bully tactics, violence, or "alternative facts." Today, truth and democracy WILL prevail," he wrote.
U.S. Rep. Rob Wittman, R-Va., tweeted Wednesday afternoon that the violence needed to stop.
"This is absolutely unacceptable. This is not how we conduct the Nation's business. Please allow us to get the work of the people completed," he wrote.
Sen. Mark Warner, D-Va., tweeted that he was safe and thanked people for their concern.
"I am safe and sheltering in place with other senators. Please join me in praying for our country, and for our fellow Americans to do the right thing," he said.
Sen. Tim Kaine's staff told reporters he, too, was sheltering in place and safe Wednesday afternoon.