The stage is set for the decisive Second Battle of Pageland Lane.
While future skirmishes loom in the form of rezonings, arguably the biggest land-use decision in Prince William County's history is expected to be made Tuesday, Nov. 1.
That's when the Board of County Supervisors will hold a public hearing and plans to vote on the proposed PW Digital Gateway. The hearing is on the request from dozens of landowners to designate 2,139 acres in western Prince William County for data centers. Specifically, it is to change the land currently designated as agricultural/estate and environmental resource in the Comprehensive Plan to technology/flex, parks and open space, county registered historic site and environmental resource overlay.
The project, which proposes 27.6 million square feet of data centers along Pageland Lane, has quickly become the most controversial and contentious local land-use proposal in decades. Opponents and proponents have launched personal attacks against each other, and it has spawned recall efforts against Gainesville Supervisor Pete Candland and Board Chair Ann Wheeler, a federal lawsuit against Candland and a federal lawsuit between landowners and the developer.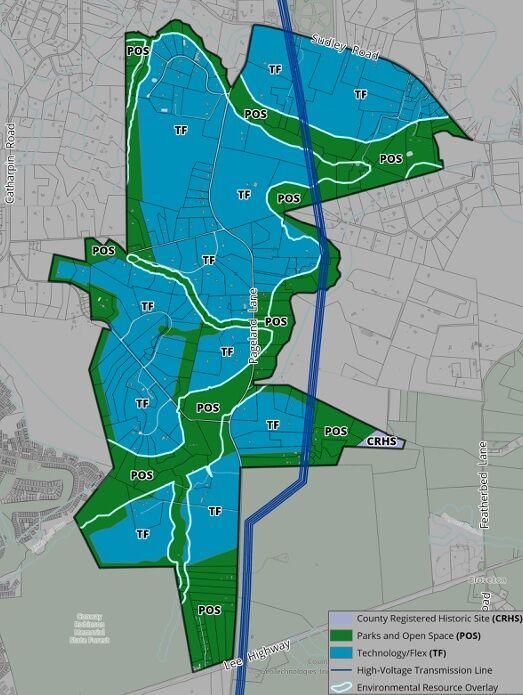 The project has received condemnation from various environmental groups and the county's Historical Commission and Racial and Social Justice Commission. It has received public support primarily from the Pageland Lane landowners and some trade unions for workers who service data centers.
QTS Realty Trust Inc. and Compass Datacenters are seeking rezonings to develop the area. If approved, the Comprehensive Plan amendment, the subject of the Nov. 1 hearing, would weigh heavily in favor of the rezonings.
The Comprehensive Plan amendment would provide guidelines for the overall development and does not deal with specific construction plans.
Republican supervisors Jeanine Lawson and Yesli Vega have voiced their opposition to the PW Digital Gateway, while Democrats have not taken a firm public stance on it.
Candland, the third Republican on the board, has opposed the proposal, but he filed paperwork to join the Digital Gateway proposal last fall and must recuse himself from any votes on the project due to his connection with the project.
If Candland had not recused himself, the Republican minority on the board would need only one Democrat to join them in voting against the project to keep it from being approved. With his recusal, Republicans need two Democrats on their side.
The project has consumed the lives of those in favor and opposed to it for more than a year. 
The opposition has been loud and persistent, while supporters have remained steadfast and consistent in their messaging.
Bill Wright, a frequent critic of the proposal who lives in nearby Heritage Hunt, said his life "has been completely co-opted by this thing."
Opponents remain strong, despite showing exasperation at what they see as a done deal.
"There's a certain fatalistic acceptance that this is going to happen," Wright said. "In my mind, I've already moved. But I continue to oppose this because it's just so wrong … I just refuse to go down without getting all my strikes in."
The fatalism has extended to many of those opposing the project. Last week, the Great Falls Group of the Sierra Club and the Faith Alliance for Climate Solutions held a "funeral for our land" at Manassas National Battlefield Park. They brought a coffin and tombstones and held a prayer and service for what they say would be lost to the project.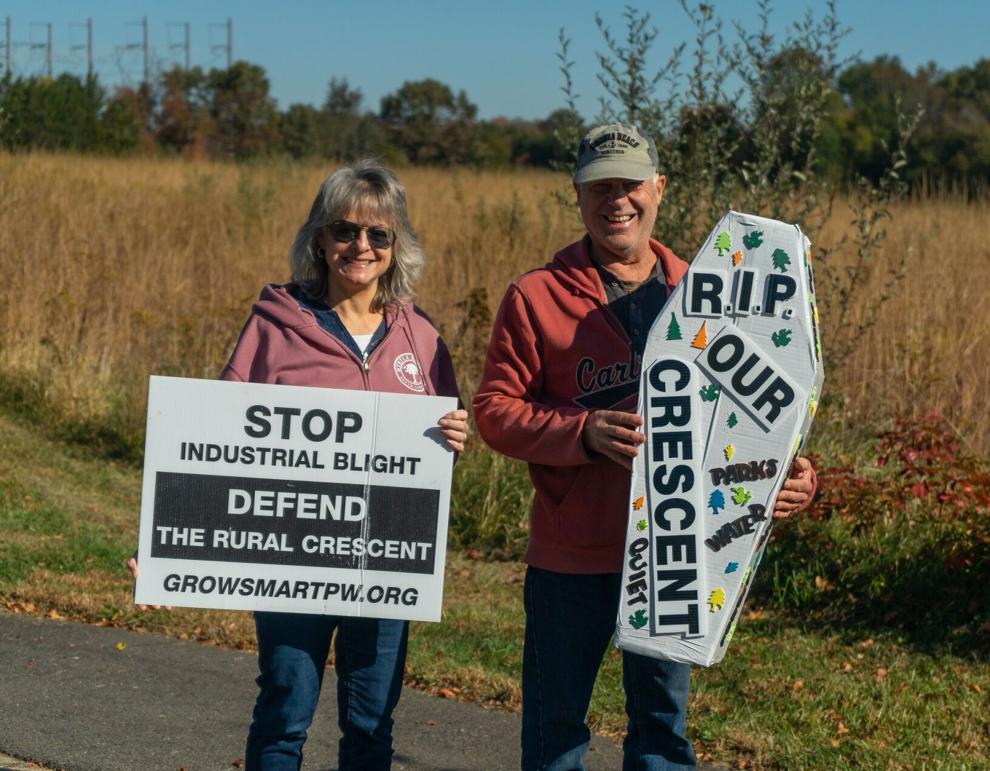 Mary Ann Ghadban, one of the applicants and a public face of the project, said "it's been a long year and a half." She said it's "disappointing" to see "mean spirits," "misinformation" and "disinformation."
"I feel that the opposition has been really rude to us and our elected officials," she said. "We've tried so hard to meet with Heritage Hunt so many times, and they point blank won't meet with us."
Vega also seems resigned to the fate of the project, saying "it's gonna pass." She said her colleagues are not being "diligent" or "thorough" without conducting studies of the project's potential impact.
"If everything checks out, all right, fair game," she said. "But you're not doing that, and it sucks to be in the minority because a lot of this stuff is going to transform and impact our county forever … Going up against big tech like Amazon has been a challenge because they have the money, they have the power."
Vega said the county spent "a lot of money" creating an overlay district to reduce regulatory hurdles for the industry and data centers should plan projects there instead. The Digital Gateway proposal is outside the county's planned data center area.
Supervisor Andrea Bailey, D-Potomac, said she hasn't made a decision about how she'll vote. She said she's looking forward to more input for county residents at the hearing and advocated for compromise.
"I'm still being very prayerful and very focused on making that decision, because it will change the trajectory of our county," she said. "There's been too much controversy around this and not enough collaboration."
During a meeting that ended shortly after 5 a.m. on Sept. 15, the Planning Commission voted 4-3-1 to recommend approval of the project. The four votes in favor were from commissioners representing Democratic districts, while the three opposed represented Republican districts.
Commissioner Robert Perry Jr. (Occoquan) abstained from the vote. The Occoquan supervisor, Kenny Boddye, is a Democrat.
The Planning Commission vote came after a nearly seven-hour public hearing. While more than 220 people signed up to speak, 85 dropped off their slot because the hearing stretched well into the next day. 
Supporters ended the night with an edge in speakers, with 84 in favor compared to 67 opponents. At least 57 of the 84 people who supported the project could be verified as landowners, and their purchase agreement requires them to  "actively and fully support and cooperate with Purchaser … in pursuing and obtaining the approval of the Data Center Rezoning."
The early-morning vote included several last-minute changes that soften restrictions put forth by Prince William County planning staff related to buffering, stormwater runoff, historical resources, screening equipment and wildlife protection. 
County staff have not released what, if any, last-minute changes they will recommend to the board.
The Nov. 1 meeting is scheduled to start at 7:30 p.m. at 1 County Complex Court, Woodbridge. Sign-up sheets for in-person speakers will be available starting at 5:30 p.m. Those who want to provide comments remotely must register by 5 p.m. Oct. 31 through pwcgov.granicusideas.com.