In May 2019, Shon Lyublanovits, a mother of three was diagnosed with stage one invasive ductal carcinoma - a common form of breast cancer.
After chemotherapy, radiation, and hair loss, she recovered, but entering remission didn't remove all the pain from Lyublanovits' life. Her youngest child, Madison, a fifth-grader at Covington-Harper Elementary School in Prince William County and a competitive dancer, still had pent-up feelings from the experience.
"My daughter-in-law had quite a few conversations with Madison and said, 'Hey Shon, I think you need to talk to her, she's dealing with something,'" said Lyublanovits, who works as a senior advisor for cybersecurity for the General Services Administration.
Their talks began as short conversations, with Lyublanovits asking about Madison's feelings, and Madison not wanting to talk about the subject. But after a while, there was a breakthrough, and from those many emotional conversations a book was born.
"Ok Mommy, I Will Help You: Oh No! My Mom Has Breast Cancer!" is a children's picture book completely based off of Madison's experiences, and written by her. According to Lyublanovits, writing the book was a form of therapy for Madison, aiding her in healing from the painful experience of her mother suffering from breast cancer.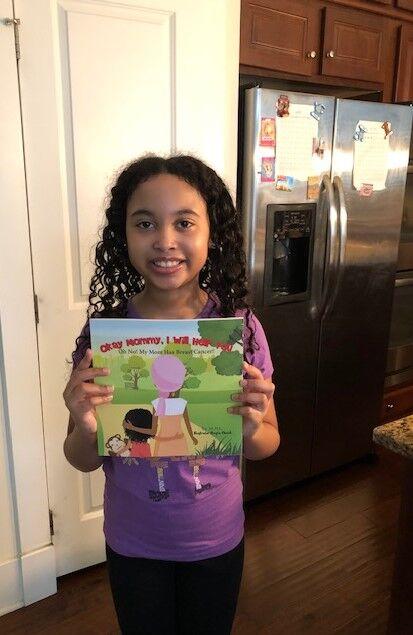 "Everything's literally verbatim. I think she held a lot of that stuff in and wasn't really sure how to process it all. So putting that book together helped with that," Lyublanovits said.
The book follows the point-of-view of Savannah, a stand-in character for Madison, accompanied by a stuffed monkey named Mollie, as she finds out about her mother's breast cancer, watches her go through chemotherapy and radiation treatments, and learns how to help her around the house.
At the end of the book, Savannah talks directly to the reader about how to help their parents if they are ever diagnosed with breast cancer, telling them things like "Tell her you love her, a LOT" and "Don't treat her differently."
Lyublanovits created a company, VerKallos Media Group, to publish the book, which was released Oct. 1. About 60 copies of the book have been sold to date, with purchases being accompanied by rave reviews from readers.
One reviewer on Amazon wrote, "The story was heartwarming and pulled you into the child's life. … I would highly recommend this book to children of family members that are going through difficult circumstances that are no one's fault and others who have felt that they were alone in this battle. The ending gave a special twist which brought you to a personal magnetism leaving you with a peaceful comfort."
Lyublanovits and Madison plan to expand past this one story. Lyublanovits plans to offer scholarships and is planning a national "I Dance for You Day," in which dancers perform in support of those fighting breast cancer.
Madison also has more stories in the works, with a new book, "Gracie and Gavin," which follows two second-graders as they navigate things like virtual learning, being released in the upcoming months.
But for now, Madison is content with being one of the youngest authors published to date.
"I think it's kind of a world record in my book," she said.