Colonial Downs Group Inc.'s planned $389 million gaming resort in Dumfries is receiving positive feedback from town and county leaders, although some have concerns about environmental and traffic impacts.
The resort, to be called The Rose, would be built alongside Interstate 95 on the current site of the Potomac Landfill.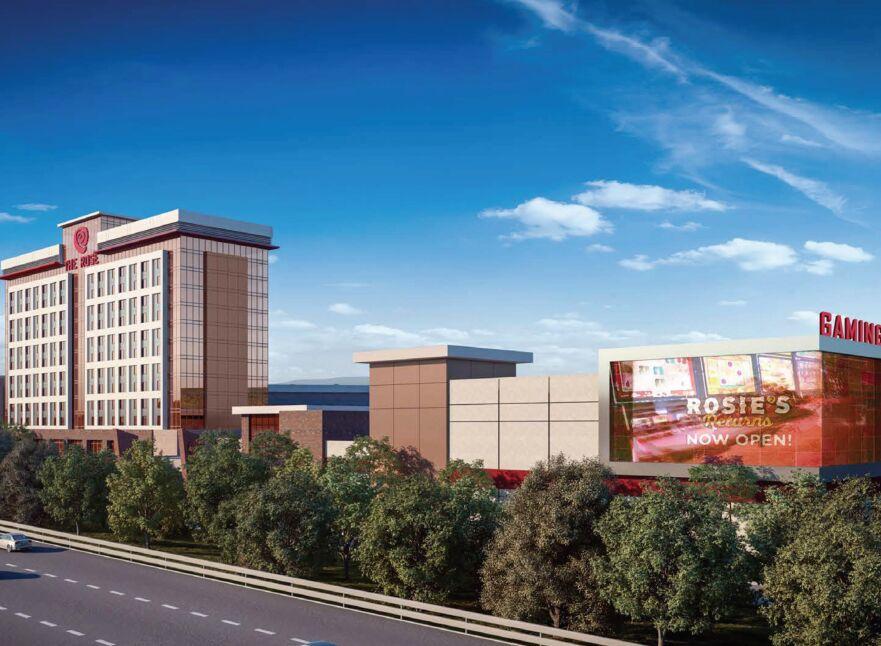 "I am actually very excited about the possibilities of what's to come," Dumfries council member Selonia Miles said after a presentation about the project during Tuesday night's council meeting. "This development is going to be a tremendous asset to the town with endless possibilities."  
Council member Brian Fields said the resort would bring much-needed tax revenue and jobs to the community. 
"They have a great plan," he added. "As the mayor always says, [Dumfries] is … not a place you drive through, it's going to be a place to drive to."
Prince William County Supervisor Andrea Bailey, D-Potomac, whose district includes the town of Dumfries, said the proposal is a "great opportunity" for the county and town to provide a revenue base and add conference room space.
"What the Dumfries Town Council has done is next to miraculous," Bailey added. "They need a revenue base, and they found a revenue base to support the town."
Several Dumfries council members raised concerns about the project being built on top of the landfill.  Colonial Downs' plans include 79 acres of public parkland and outdoor recreation areas.
"Even though you're not building a structure, you do still have kids running around, and if the air is not the right quality, then we have a problem," said council member Tyrone Brown
Stefan Huba, chief development officer for Colonial Downs' parent company, Pacific Peninsula Entertainment, noted that the gaming facility, hotel and parking garage would be built on 12 acres of the landfill property directly next to Interstate 95, where debris hasn't been dumped. 
Huba said the company hired an independent firm to conduct a site assessment and promised to share it with town officials after the meeting. The company must file a plan to close the landfill with the Virginia Department of Environmental Quality and will have to monitor the site for 10 years for any needed mitigation, he added.
The site is at the southeast corner of the I-95 and Route 234 interchange. Colonial Downs has entered into an option agreement to buy 100 acres for the project from Potomac Landfill Inc., according to a news release from the landfill.
Potomac Landfill said its facility will remain open until the sale is completed and that the sale does not include its transfer operation in Alexandria. Potomac Landfill provides construction and demolition debris waste management services to commercial customers throughout the Washington region.
Dumfries council member Cydny Neville noted that her other main concern was increased traffic due to the resort being built so close to the interstate.  
Huba said that the company had hired two engineering firms to help mitigate the traffic issue, and a traffic plan has been submitted to the Virginia Department of Transportation for comment.
"Our goal is really to minimize the impact on the community and maximize the access for our guests because that ensures our success, but traffic is not an easy solution," he added.  
Colonial Downs opened a smaller facility, Rosie's Gaming Emporium, at the Triangle Shopping Plaza last month.  That site has about 150 slot-like machines in which patrons wager on results of historic horse races.  
However, the Virginia General Assembly passed legislation last year that allows Colonial Downs to have up to 1,800 historic horse racing machines in Dumfries location, which would allow for the larger project the group is now proposing. 
Colonial Downs plans to seek planning commission and town council approval this spring. If all goes according to plan, the landfill closure and groundbreaking would begin by August and the resort could open in January 2023.
The facility would include a 50,000-square-foot gaming space, a 250-seat sports bar, eight other bars and restaurants, 7,000 square feet of event space, 200 hotel rooms, and a 1,500-seat theater. The public recreation space could include sports fields and an outdoor amphitheater.
Colonial Downs said the project would generate 640 new jobs at an average annual salary of $47,000 a year.  The company pays a minimum wage of $15 an hour. In addition, 96 professional and managerial jobs would be created, paying an average of $70,000 a year.
According to an economic impact study prepared by Dr. Terry Clower at George Mason University, the project would generate nearly $11 million a year in tax revenue for the town and $6.7 million a year for Prince William County.
Rosie's has had over 21,000 visits since opening Jan. 8, Colonial Downs said, with more than 5,000 of those originating from more than 25 miles away. 
Council did not hear any public comment about the plan Tuesday, but Peninsula Pacific Entertainment said it would hold two public town halls about the project, on Feb. 24 and March 18.   
Brown said during Tuesday's meeting that although he does not drink or gamble, he believes it is important to set aside his personal beliefs and look at the bigger picture.
"This is an avenue for those who like to do this type of thing, and who am I to dictate what the community as a whole can do," he added. "So, we have to look at this from a bigger picture than just our personal beliefs, what is best for this community."
And council member Fields said that people criticizing the construction of a gambling resort do not live in the town of Dumfries.
"They're on the other side of the county," he added. "So I will say this, and I'm probably going to make the papers for saying it, but let Dumfries handle Dumfries business. … If you're on the other side of the county, take care of your business over there."
Reporter Nolan Stout contributed to this article.