At this week's Manassas City Council meeting, City Manager Patrick Pate gave a sober update on the new surge in COVID-19 cases across Northern Virginia.
"It is unfortunately, going in the wrong direction," Pate said, as he encouraged residents to wear masks, practice social distancing, and avoid gathering in large groups. "Those kinds of things are what [experts] encourage everyone to do."
But less than a week before Pate's message to the council, which did not differ much from what he's told the governing body before, two very different kinds of election-night parties were held, and Democrats and Republicans are pointing fingers at each other over how they were handled.
On election night, city Republicans – including all but one of the party's local candidates, as well as outgoing Mayor Hal Parrish – packed into a room at the Old Towne Sports Pub. As observed by an InsideNoVa reporter, few of the dozens of people in attendance wore masks, and no social distancing occurred. No outdoor space was allocated for the party.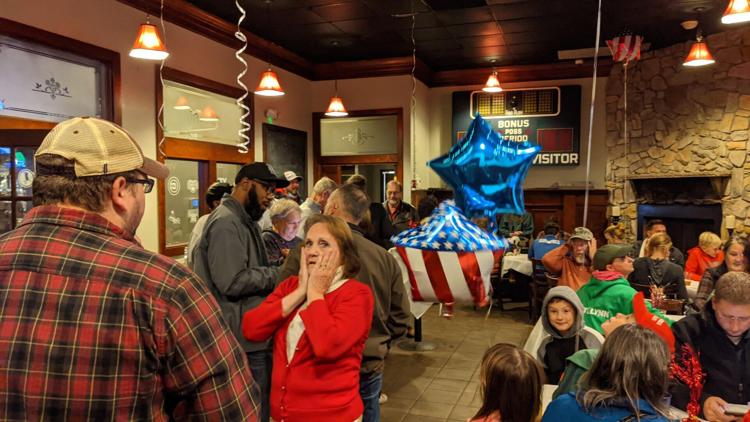 Democrats, on the other hand, took their party outside the city limits into Prince William County. "The Great Hall" at 2 Silos Brewing Company, they claimed, could provide adequate space for a gathering. Masks were almost universally worn, with revelers temporarily removing the coverings to sip their drinks but then putting them back on. Tables were spaced out, and many people also gathered at a distance in the brewery's outdoor area, still wearing masks.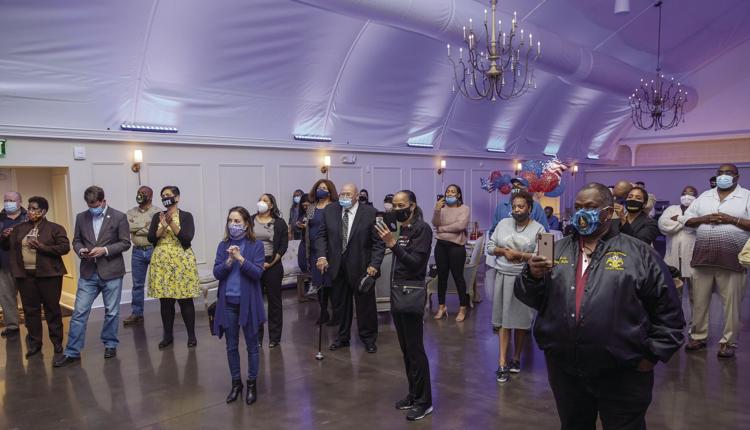 The party there really got going when the Virginia Department of Elections website updated showing that all of the city's precincts were reporting, with Democratic Councilmember Michelle Davis-Younger besting Republican Councilmember Theresa Coates Ellis for mayor, and Democrats winning all three of the council seats up for grabs.
Before her win was announced, Davis-Younger criticized the Republicans for setting a bad example and acting irresponsibly. Manassas has consistently outpaced most of the region in terms of cases per capita and has long been considered a "hot spot" by the Centers for Disease Control and Prevention. When she first found out she had won, an emotional Davis-Younger briefly took her mask off and embraced her husband before quickly putting her mask back on.
"That's going to be a super-spreader event," Davis-Younger told InsideNoVa about the Republican party. "No, it's not responsible. That's why I did it here, and they raked us over the coals for having it here in the county and not supporting Manassas business. And I said, 'Hold up, we're doing it there because we can space apart and be safe.' People can be outside, we're not trying to create a super-spreader event."
One week later, Republicans say no outbreaks have been associated with their event.
On election night, Parrish, who is retiring after three terms as mayor, described the proceedings as "bittersweet." When asked whether he thought the way the party was safe, he replied, "I hope so."
"I think everybody has to deal with it the way they feel like they should," Parrish said. "...You tell me. Is it OK to sit at a restaurant and not have your mask on? … I don't know."
Parrish, 69, said in general he's tried to be cautious about the virus, and noted that he's of the age where he should be concerned.
Amira Roess, a professor of global health and epidemiology at George Mason University and part of a team working on testing initiatives at the university, said she doesn't think crowding indoors is safe.
"Eating indoors at restaurants is linked to cases and outbreaks because when people are eating they are releasing aerosols that may carry infectious virus that can then infect others," Roess said. "[Personally], I prefer to avoid that risk and so I will eat outdoors rather than in a restaurant."
After the election's dust settled, Republican Councilmember Ian Lovejoy, who narrowly lost his bid for a third term on the council, said Democrats were just trying to deflect from criticism that they had patronized a business in the county rather than the city.
"I think that they're trying to cover their behinds because they chose to have their event outside the city, and they're getting a lot of flak …," Lovejoy said. "They chose to spend thousands of dollars outside of the local economy that they've been elected to lead and instead of admitting they made a mistake, they want to reflect on the nature of the party that we had… People are allowed to make their own choices and how they operate and that's OK."
Vice Mayor Pam Sebesky, who was re-elected to council, just said that wearing masks should not be political.
"I can only speak for myself in saying that, as you saw, people were wearing masks. It was important to me as a healthcare provider that wearing marks and the coronavirus is not political. It's a healthcare crisis," Sebesky said. "It is extremely important that people recognize that when they choose not to wear a mask, they are putting everyone around them in danger… Unfortunately it seems to have been made more of a political issue."