Two days a week for the past few months, residents of Audubon Estates in Alexandria lined up outside Carla Claure's home to receive food donated by Fairfax County and a local non-profit.
However, once the food was in their hands, Claure asked residents whether they had been vaccinated or would like help registering for a vaccine appointment. 
"I received my vaccine a long time ago, maybe one or two months ago," she said. "And when people say, 'Oh, I'm scared…' I say, 'No, look at me. I'm here...And I'm fine.'"
With all Virginians age 12 and over now eligible to receive the COVID-19 vaccine, Fairfax County officials have stepped up their efforts to vaccinate vulnerable populations, usually lower income and people of color, who are at higher risk of becoming severely ill and dying from COVID-19. 
"We've seen lower rates of vaccination in some of our areas where people are more socially and economically disadvantaged," said Dr. Benjamin Schwartz, director of epidemiology and population health for the county's health department.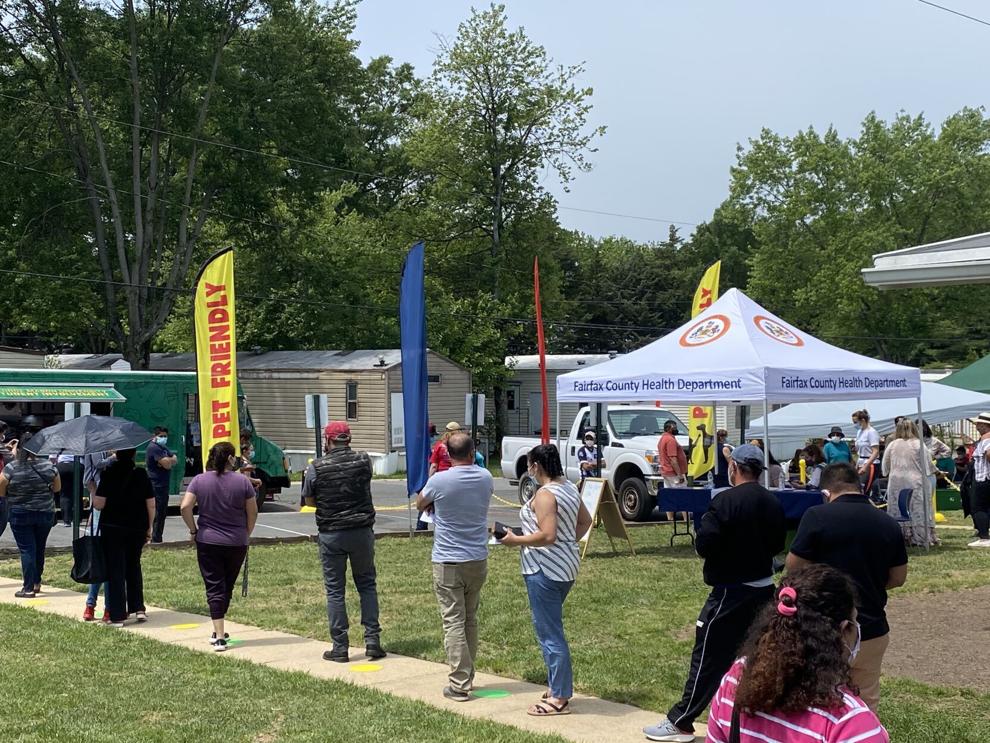 In an effort to increase vaccination rates among these groups, local health department officials have depended on community leaders such as Claure to do outreach in communities where many people face barriers obtaining the COVID-19 vaccine or are hesitant to be vaccinated. 
"Carla is an example of a trusted community voice," said Allyson Pearce, the Fairfax County Health Department marketing and community relations specialist. "It is people like her who we rely upon to share vaccine information and answer questions and concerns that people might have about vaccines."
Schwartz said the county is working with almost 100 community organizations, ranging from religious institutions to nonprofits. Like Claure, the groups are asked to share accurate information about COVID-19 vaccines, raise awareness about the benefits of vaccination and address common questions and concerns.
Earlier in the pandemic, the county also fostered relationships with apartment property managers in areas with high rates of positive COVID-19 cases and established temporary testing sites. In the past few months, the county went back to those same complexes and offered residents the option to be vaccinated at temporary pop-up clinics, called "vaccine equity clinics."
The temporary vaccination sites range from buses to community centers and churches. The hope is that opening more clinics closer to where people live will make it easier for them to be vaccinated, and residents will have access to health professionals who can address their concerns about being vaccinated. 
The Audubon Apartments, an affordable housing complex on Richmond Highway, was among the locations targeted because it is in one of the county's high-risk areas, Schwartz said. An outreach team of volunteers from the Medical Reserve Corps, along with partners from community organizations, went door to door to tell residents about the vaccination clinic last weekend and register them.  
Claure, 44, who has lived in Audubon since 2007, has led the effort to register residents. Since late April, of the 351 Audubon residents who received their second dose of the vaccine, 96% of them Hispanic, Claure helped register a little over 300.
Claure said it was not easy. Around 90% of the people who live in Audubon are Hispanic and for the majority English is their second language. A large number of people who Claure helped register had never used a computer before, could not read, did not speak English, or were anxious about being asked so many questions – particularly older individuals and recent immigrants, she said.
In many cases, people verbally give Claure their basic information, and she filled out the registration form for them online. As an outreach worker, Claure said it is frustrating that the registration process is not more simple. 
"Many people want to [get registered] and it's [easier] to come to me and say 'I want the vaccine…' but it is difficult to say 'OK, go to this website and [register],"  she added. "These people say 'No, this is too hard.'" 
When asked about Claure's criticisms of Fairfax's vaccine registration process, Pearce wrote in an email that the county realizes internet and language proficiency are barriers to accessing the vaccine, which is why they have relied on Claure and other community partners to increase access. 
Pearce also noted that Fairfax residents can make a vaccine appointment on the phone and talk to call center staff who speak several different languages, including Spanish. 
Although recruiting local leaders and medical professionals has helped to ease concerns about being vaccinated, the county's chief equity officer, Karla Bruce, noted it has still been an uphill battle trying to convince certain populations to be vaccinated because of a deeply rooted distrust of the government and healthcare system. 
"There are absolutely issues around trust, and trust of government and trust of the public health system, for good reason, given some of the sort of historical things that have happened, related to people of color and their relationship to the government and to public health, specifically," Bruce added. 
Jenee Padmore, director of COVID-19 outreach for Northern Virginia Family Service, a regional nonprofit, works directly with African American and Hispanic communities across several counties, including Fairfax, to encourage residents to be vaccinated. A common theme that arises, Padmore said, is it's difficult for these groups to trust that the government has their best interests at heart. 
"We can go back to the history of vaccinations and medical testing on minorities – minorities were tested more frequently than other races," Padmore said. "So, dating all the way back to slavery where women were tested and used as lab rats to just for exploration purposes, nothing even medically sound, just to figure out what's going on in the body."
Enthusiasm for the COVID-19 vaccine has continued to grow across racial and ethnic groups, but African American and Hispanic adults are still more hesitant to get the vaccine than their white counterparts.
But Claure's story demonstrates that hesitancy is not the only reason that lower-income and people of color are being vaccinated at lower rates. Claure said some people she has talked to definitely believe conspiracy theories, such as the vaccine turns people into "zombies," but more often than not, it's about access. 
Padmore noted that people of color in particular disproportionately face barriers obtaining the vaccine because they may lack access to reliable transportation, reliable internet or affordable child care or they don't have the flexibility to take time off work. 
"We have to be worried about accessibility," she said. "Especially if you're someone that's working two jobs in a day, like you get off one shift, then you have to go to your next job."
The county health department provided Inside NoVa with an updated COVID-19 Vulnerability Index and Vaccination Site map which, as of May 10, illustrates where the most vulnerable populations are, how many positive coronavirus cases each area has experienced, and where the various government, community and commercial vaccination sites are located. 
Schwartz noted that almost all of the equity sites are in neighborhoods with the highest number of positive coronavirus cases and have experienced a lower rate of vaccine uptake.
As of May 12, Schwartz said there were about 33 clinics at 13 sites in Fairfax.  In April, the county had 93 total vaccine equity clinics at 26 different sites that vaccinated about 16,000 people. And In March, the county had 51 vaccine equity clinics at 16 sites that vaccinated about 9,500 residents. 
Schwartz said the county is on track to offer as many vaccination sites in May as it did in April. But because the sites are temporary, there is a lot of variability in terms of how many there are, where they are located and when they operate. 
"It's not really possible to say how many equity clinic sites 'currently' are operating in the county since clinics may operate at some sites regularly, some may be at a location for a few days, and some for a single day," he added in an email. 
The accessibility of these clinics combined with community outreach appears to be having a positive effect in helping to vaccinate more people of color and lower-income residents in Fairfax, according to Schwartz. But the county's demographic data Schwartz alluded to is not public, and the county health department did not grant Inside NoVa access to it. 
Schwartz also acknowledged that the demographic data the county does have is very unreliable because many vaccine providers aren't reporting race and ethnicity as well as other kinds of data. 
"It only represents a subset of data in the county," said Scchwartz. "And it may not be representative of all vaccinations as a whole...if you look at just a piece of the picture, you may draw the wrong conclusions... we don't want to give people information that when they interpret that information it leads to wrong conclusions."
Vaccination Rates by Locality (May 19, 2021)
| Locality | One Dose | Fully Vaccinated |
| --- | --- | --- |
| Fairfax City | 59.2% | 45.7% |
| Arlington | 53.9% | 40.4% |
| Fairfax | 53.7% | 40.8% |
| Loudoun | 53.4% | 40.9% |
| Alexandria | 48.3% | 36.2% |
| Prince William | 46.8% | 36.6% |
| Manassas | 46.6% | 35.6% |
| Manassas Park | 42.0% | 31.9% |
| | | |
| Statewide | 51.5% | 40.6% |
The Virginia General Assembly passed emergency legislation earlier this year requiring vaccinators to collect race and ethnicity data from patients, but more than 1.5 million doses in the state health department's COVID-19 vaccine data dashboard do not have race and ethnicity information.  That's about one-fifth of the 7.6 million shots administered statewide.
Instead, Schwartz said the county is depending on data it has by Zip code and focusing outreach and vaccination efforts in those areas with the lowest vaccination rates.
"The first thing we want to do is to protect those people who are most vulnerable," he added.  "And as we increase the vaccination rates across the county, at some point in time, we're going to reach a level where you begin to see significant herd immunity, or what you might also call indirect protection, as someone who is vaccinated is directly protected, and then somebody who is less likely to get sick because of herd immunity is indirectly protected from disease."
For Claure, it's just worth knowing people in her community are protected from the virus. 
"It's very important for you, for your family...for your kids," she said. "It's only that. It's like in one minute with COVID, everything can change. For that reason you need the vaccine because you don't want to lose somebody."
FRIDAY: How Prince William County is addressing the vaccine equity issue