Months after immigrating from Chile to the United States, Lily Delcampo said she remembers those crisp October mornings staring at a map of Falls Church stretched across her car's dashboard and struggling to find the location of her eldest daughter's school.
"I was new in the country, and going to Falls Church, it was a nightmare," Delcampo said.
Before she moved with her three children to Alexandria in 1987, Delcampo lived in Chile and had been a teacher for about 10 years. Her oldest daughter was 5 at the time, and, Delcampo said, the hardest part of moving was navigating a new environment on her own. 
"I didn't have a clue," she said. "I didn't know how the school works, or how the system worked. And nobody told me. Nobody showed me."
Because of her experience, Delcampo started working in public education to help families who share similar backgrounds not only find their school but also thrive in the community. Twenty-eight years later, Delcampo continues to work as a translator and parent liaison at Mount Eagle Elementary School in the Alexandria area of Fairfax County, where the majority of families live in poverty and English is their second language (Spanish speakers from Central America being in the majority). 
Delcampo said Fairfax has invested much more in language services and Spanish-speaking staff since she started at Mount Eagle. But even so, during the COVID-19 pandemic, she noted it was overwhelming for her and other staff to bridge not only the language gap but also to help underprivileged families overcome technological and communication barriers.
"It was way more difficult," Delcampo added. "I will not say that the communication was broken, but it was difficult because we were relying a lot more on the telephone."
When Delcampo started working in Fairfax schools, her main concern was facilitating communication between the school and parents, whose first language was Spanish, as well as building trust. The job was difficult, Delcampo said, but it was worth it to see families become more comfortable expressing their concerns and needs. 
"What I tried to provide to my families… was to try to guide and try to teach them and explain to them how [the school system] works," Delcampo said. "So, I do with them what was not done with me."
According to data collected by Fairfax County, almost 40% of residents over the age of 5 speak another language besides English and about 14% of households speak Spanish. 
Just 10 years ago, the number who speak Spanish was closer to 11% according to the U.S. Census Bureau. Jean Consolla, principal of Mount Eagle, said that's why liaisons and translators such as Delcampo are crucial for Fairfax to be able to better serve its increasingly diverse community by building trust and channels for communication. Consolla added that many families are new to the United States and are not necessarily eager to connect with people they don't share much in common with. 
"It is just human nature that we tend to connect with people who share the same experiences as us, whether you're from the same country I'm from or you've had similar experiences that I've had...or speak the language that I speak," she added.
However, on top of the cultural and language barriers that already existed, the pandemic introduced a whole new set of challenges for Consolla, Delcampo and other Mount Eagle staff members, such as helping students and parents learn to use a computer.
"We had families that did not have internet access; they didn't have a laptop at home," Consolla added. 
But getting laptops to families was only half of the battle. 
Aimee Cabrera, a second-grade teacher at Mount Eagle, said one of the biggest challenges, especially at the beginning of virtual learning in spring 2020, was helping families log into the Zoom classes.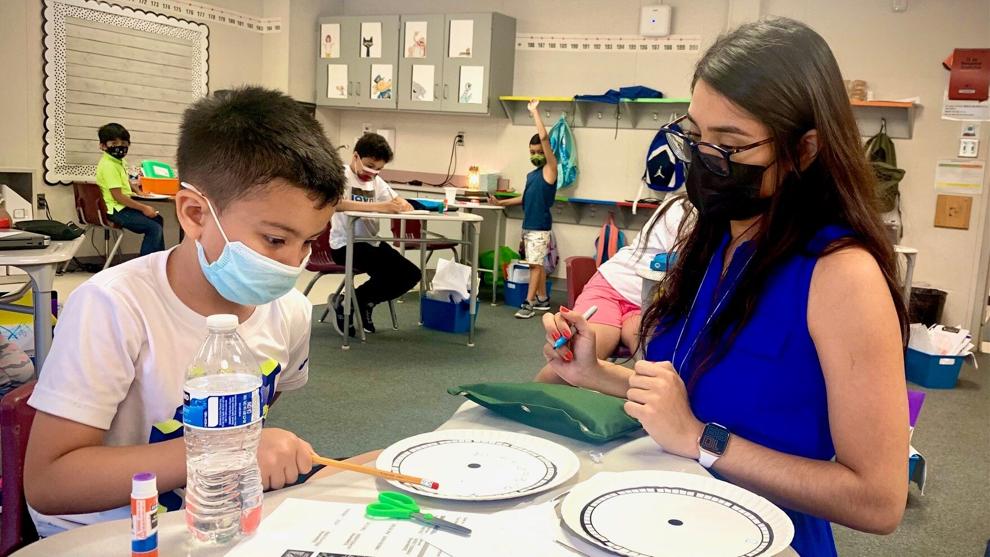 "A lot of my families at home like they only speak Spanish or parents only know Spanish and so, helping them navigate the computer and just teaching them how to just log on, like that was kind of like the first thing that we were focused on," Cabrera said.
Cabrera, who was born and raised in Fairfax and graduated from Annandale High School, said she sympathized with many of the families who had trouble using a computer because her parents immigrated from Central America and had similar difficulties. "Growing up my parents, even if they had an email, they didn't know how to use it."
One helpful tool Fairfax rolled out last summer was an application called "Talking Points," which allowed parents to send and receive translated texts or emails in 30 different languages, including Spanish, Korean, and French, Cabrera noted.
"The app was really nice because they would just send them a text message to their phone and they could easily just respond right there and then," Cabrera said. "And I feel like that also made it less formal. It was more casual, and they could just text me, whenever [the parents] had a question, which a lot of my parents did, like they would just quickly send me a text and I would get it. So, I think it just made the communication easier."
Families eventually became more comfortable signing on to Zoom classes and texting through the Talking Points application, Delcampo said, but she noted that many parents are still afraid of technology, which makes it less appealing to use as the primary mode for communicating or teaching.
"When you're afraid of something that makes it more difficult," Delcampo added. 
Consola said that about 60% of Mount Eagle students returned to in-person instruction in March. Cabrera said she would like to see 100% return because of the severe limitations of technology on teaching and learning. 
"Within those four months, I saw so much growth within my kids that were in person," Cabrera said. "I think it was harder to see that with my virtual kids. There were a few who I did see a lot of growth, but again, virtually like it's hard to really see where your kids are versus where they are in person. So, I do think that coming back to school is going to be great for them."