A little before 9:30 in the morning under sunny skies on the last week of the season, Jake Mays pulls his white F-150 Ford pickup into a parking spot behind the Fredericksburg Nationals' stadium.
After finishing a workday just over nine hours earlier, the 2015 Colonial Forge High School graduate is about to begin another long day of perpetual motion as the organization's first-year head groundskeeper.
He enters his office briefly to check the forecast. He then fires up the John Deere tractor left over from the franchise's previous home at Pfitzner Stadium in Woodbridge and heads out to drag the infield. Joining him as always is Turf, his 75-pound, 1½-year-old black Labrador retriever, who settles comfortably under Mays' leg on the running board.
Mays' assistant will arrive in about 15 minutes, but for now the only ones inside the park are Mays and Turf riding in circles around the infield preparing for a game still 9½ hours away.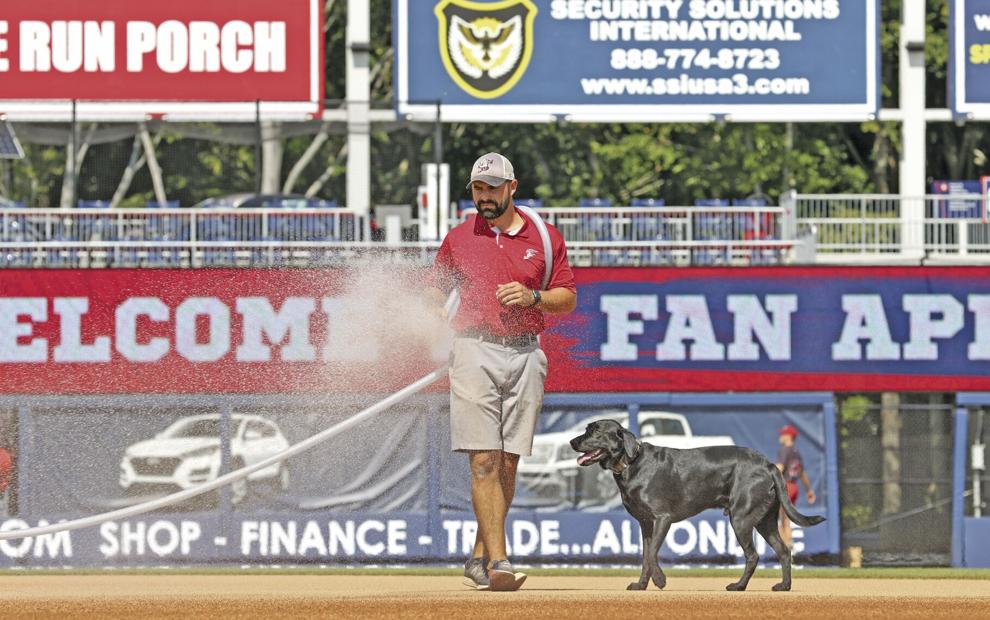 First one on the field. Last one to leave. Life as a groundskeeper is demanding, unglamorous and steeped in routine. But the 24-year-old Mays is in his comfort zone. It's why he chose to major in turfgrass management at Virginia Tech. And it's why he's here now ensuring nothing is overlooked.
As a demonstration later in the morning, he pops the tip of a key into the infield dirt and then pulls it back up to test the soil's moisture level. The key, which represents a spike in a player's cleat, is clean, meaning the surface is well-saturated and a player can move smoothly along the dirt to field a ground ball or run toward a base without incident.
The morning is off to another good start.
"I come to work and my office is a baseball field," Mays said.
GROUND LEVEL
From a young age, Mays was destined to combine his two biggest passions: playing sports and working the land. He loved agriculture and the science behind cultivating the soil.
Then one day he attended a Washington Nationals' game and saw the grounds crew tending to the field. Something clicked.
As the only child of two parents who coached high school athletics, Mays spent countless hours on fields. His first experience in field management came at Prince William County's Hylton High School, where his mother, Karen, coached volleyball.
Under the tutelage of then-activities director Jim Qualls, Mays learned how to properly care for a playing surface. At halftime of Hylton football games, for example, Mays helped Qualls replace divots.
"I was Jimmy's little buddy," Mays said. "I did not go to daycare. I hung out at Hylton."
As much as Mays liked playing sports, he preferred spending time on a field for other reasons.
At Colonial Forge, Mays played freshman and junior varsity football before switching to golf for the fall of his junior year. The switch gave him more time to do things like paint the football field with logos.
"I worked on the field more than I played on it," Mays said.
ON THE GO
Wanting to stay in-state for college. Mays chose Virginia Tech for its turfgrass management program. His time in Blacksburg only fueled his interest more and helped lead to internships with the Boston Red Sox, Washington Nationals and Seattle Seahawks.
In each place, Mays learned the industry's do's and don'ts, from how to supervise a grounds crew to how to maintain a field in a professional manner. He also established a network of fellow groundskeepers he uses to this day.
One of them helped him apply for the FredNats' job.
After spending 2020 working at The Lovett School in Atlanta, Mays wanted to get closer to home. He was tired of moving around, and the year of COVID-19 left him feeling isolated.
Mays moved back for a landscaping job, but in late December he saw the FredNats were seeking a head groundskeeper. Mays reached out to John Turnour, the Washington Nationals' head groundskeeper, for his thoughts about the opening. Turnour suggested he apply. Mays, who worked under Turnour in the summer of 2018, heeded Turnour's advice.
In mid-January, Mays took over the position with a full slate of events in front of him. FredNats owner Art Silber built the new stadium for the 2020 minor-league baseball season. But the pandemic cancelled the season. Now, things were up and running, and Mays looked forward to contributing to the long-awaited opening.
"Growing up here and seeing the stadium being built and now being a part of it – that will always mean a lot to me no matter where I end up," Mays said
This spring, a local high school team (Fredericksburg Christian) used the field. With the start of the minor-league season delayed until May, the Washington Nationals used the field in April as an alternate site for their Triple-A prospects. Then on May 11, the FredNats played their first of 60 home games over their four-month season.
With so much to do on the field, Mays spends little time in his office. In mid-September, the whiteboard above his desk still had the stadium's April day-by-day schedule for the Washington Nationals' Triple-A players. But Mays doesn't need any schedule reminders. By this point, he knows the routine by heart, especially on game days.
After he drags the infield for 90 minutes, he tends to the mound and home plate for another 90 minutes. There's a lunch break in the early afternoon, followed by Mays and assistant Joseph Kennedy setting up and breaking down batting practice.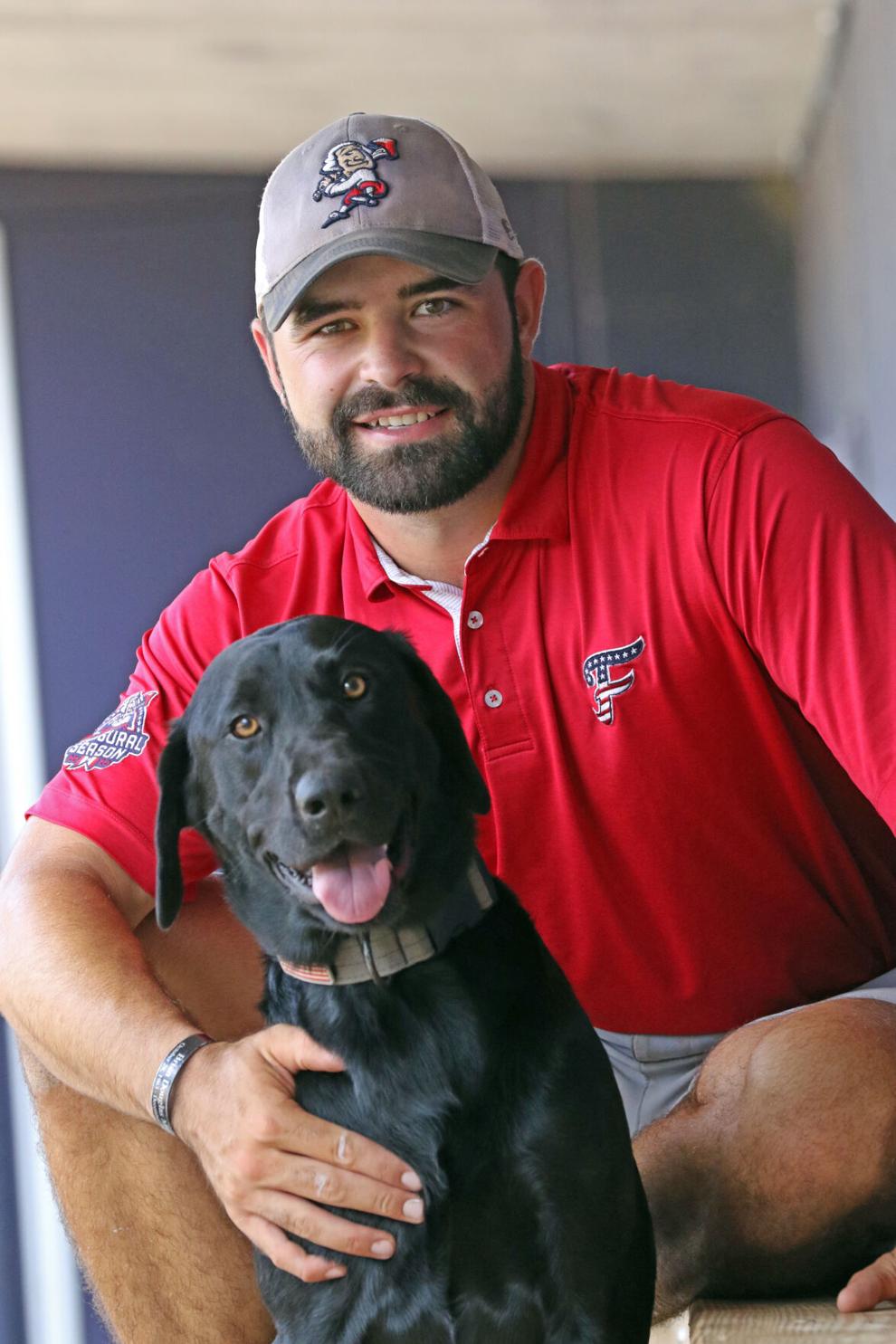 He and his crew resume work on the field an hour before first pitch, and then with only 90 seconds to do so bring out the rakes and the steel-mesh drag to smooth out the infield in the bottom of the third and six innings. When the game ends, the grounds crew does some finishing touches before calling it a night.
A WELL-KNOWN COMPANION
Turf is part of the routine as well. Well-behaved, he might chase the occasional bird, but he never runs after baseballs.
If Turf needs to go to the bathroom, he goes out back into the woods. And if for some rare reason he wanders off, Turf wears a tag on his collar with the FredNats' address and front-office phone number on it.
For the most part, Turf spends his day on a pillow inside Mays' office to keep cool. But that doesn't stop visitors from checking in. One time Mays walked into his office and found Washington Nationals' third baseman Carter Kieboom playing with a well-rested Turf.
"[Turf] gets a lot more sleep than me," Mays said.
Turf makes his final appearance at the end of the game where a group of season-ticket holders behind home plate gives him treats. During the FredNats' final homestand, in September, the fans presented Mays with a signed framed photo of Turf.
"People have taken to him," Mays said. "They enjoy having him around."
Although most aspects of his job are repetitive, there are some nuances.
Mays said the biggest challenge is the weather. A threat of rain requires Mays' constant attention.
Before the game, he's in charge of deciding when to pull the tarp on and off the field. And that's no easy task. When dry, the tarp weighs 1,500 pounds. Since he and his crew were working together for the first time, they practiced rolling out and then removing the tarp in April in preparation for the season.
He also talks with the players to receive feedback on the playing surface. If they are good, he's good. And there's no better feeling.
"The fan can look at the field and think everything looks beautiful," Mays said. "But I can tell when something is out of place. If the players are happy with how the field is playing, that's my biggest satisfaction."
David Fawcett is sports editor for InsideNoVa and a resident of Stafford County. He can be reached at dfawcett@insidenova.com.