In 2019, Jean Sardoni was looking for an artistic outlet for her son, Michael, at the time a senior at Battlefield High School. Michael is autistic and enjoys expressing himself through art. But after high school, opportunities to continue to pursue art are few and far between.
"Art makes him happy," Jean said. "It makes him feel like he's contributing, and it soothes his anxiety." 
She wanted to find a way for Michael to contribute to the community while providing a foundation to secure independence and direction for his future. That's what she discovered when she learned about Zenaviv, an Ashburn-based organization that pairs artists on the autism spectrum with paying art jobs.
People on the spectrum have challenges communicating verbally, but often find that, through means such as art, they can express themselves.
Harish Bikmal founded Zenaviv when his son Himal "found his voice in his paintbrush." Himal was diagnosed at age 2 with severe non-verbal autism. Now 19, Himal is not usually expressive, but when he sees his paintings hanging in the community or a place of business, his pride and happiness are apparent.
"Himal's self-esteem really got a boost when his art was recognized and when others commented on it," Harish said. "The mission of Zenaviv is to harness this untapped talent – to leverage that value and improve the lives of these kids."
Harish established Zenaviv in honor of Himal and his art and sells artwork created by artists on the autism spectrum to corporate businesses, as well as online. The artists receive 66% of the profit from the sale of their work. Zenaviv sells reprints of original works, which means artists can continue to earn profits.
Jean found Zenaviv to be the right fit for her son.
"I was looking for an opportunity for Michael to work with his art in a place where they focus on strengths, and I found that Harish, through Zenaviv, was creating opportunities for connection and community," she said. "Right away it became a focus in our house."
Zenaviv's creative name was the brainchild of Himal's older brother, who wanted to convey the therapeutic nature of art and the effect it had on his brother. He combined the Japanese word "zen," which means enlightenment, with the Latin word "viva," which means the colors of spring.
Even with the satisfaction of and income from selling artwork, the nature of autism can leave artists feeling isolated. Enter the Zenaviv Buddy Program.
The Zenaviv Buddy Program was created to help stem that isolation and foster a sense of community.
Yuvraj Sethti is an ambitious high school student who met Harish and Himal while shadowing a pediatric doctor in a medical practice. He has an interest in neuroscience and helping children on the spectrum.
When the Bikmals shared a calendar they made with Himal's work, Yuvraj was inspired not only by the art, but by the way the young man's eyes lighted up as he flipped through it.
Yuvraj quickly realized that despite his verbal challenges, Himal had found a way to communicate – a way that could help others with autism communicate, too.
Yuvraj partnered with Zenaviv to create the buddy program. Being paired with volunteer artists has helped ease the seclusion that autistic artists and many of those on the spectrum frequently endure. The volunteers offer guidance and ways to help build skills, and they also can help the artists showcase their work.
Although COVID stopped face-to-face gatherings, the program continued with virtual meetings.
"Seeing the artwork the buddies have created together, even virtually, during COVID, has been amazing," Yuvraj said.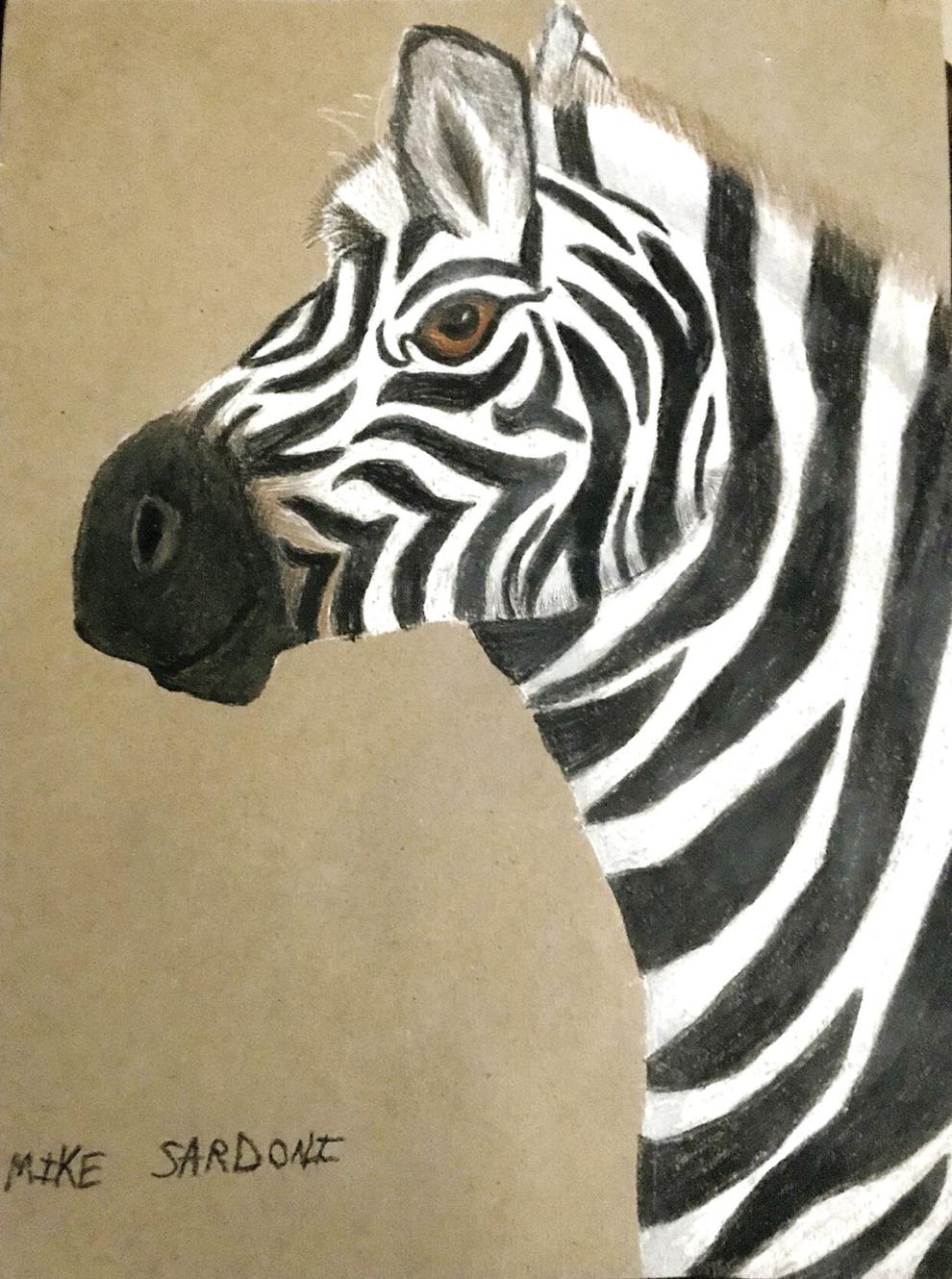 Zenaviv artists create original works that can be printed and sold as jigsaw puzzles, magnets, mugs, greeting cards, bags and more.
For the Sardoni family, Zenaviv has provided a sense of community. For example, Michael Sardoni participated in a mural painting at Fannie Mae's office during which artists worked in shifts over a weekend.
"During their breaks, the artists would sit and sometimes talk – or not – but just being there with fellow artists and parents provided a sense of community," Jean said. "Michael got to see his art on a grand scale, know he contributed and that he was part of something bigger."
This article originally appeared in the Gainesville/Haymarket Lifestyle Magazine, published by InsideNoVa.