Want to have a sizzling good time this July 4? Check out our list of Fourth festivities around the region.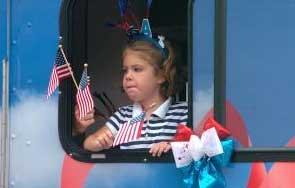 Dale City
Thousands are expected to line Dale Boulevard on Saturday morning for the 47th annual Dale City Independence Day parade.
The parade begins at 10 a.m. near Beville Middle School and ends at the Center Plaza commuter lot, where a Family Fun Festival will take place after the parade.
The annual tradition in Dale City showcases scouting troops, churches, politicians, performing arts groups and other groups from throughout the area. The Family Fun Day festivities, including vendors, games and entertainment, runs until 2 p.m. and costs 50 cents per ticket.
______________________________
Washington
For many in Northern Virginia, the nation's capital is the place to be for Fourth of July fireworks. This year's fireworks show is set to start at 9:09 p.m. at the Reflecting Pool and will last about 17 minutes. Besides the National Mall, other good viewing areas include the U.S. Capitol, Lincoln Memorial, Franklin Delano Roosevelt Memorial, Thomas Jefferson Memorial, The White House Ellipse, West Potomac Park, East Potomac Park, Anacostia Park, U.S. Marine Corps War Memorial in Virginia and the George Washington Memorial Parkway in Virginia. Click here for more information.
_____________________________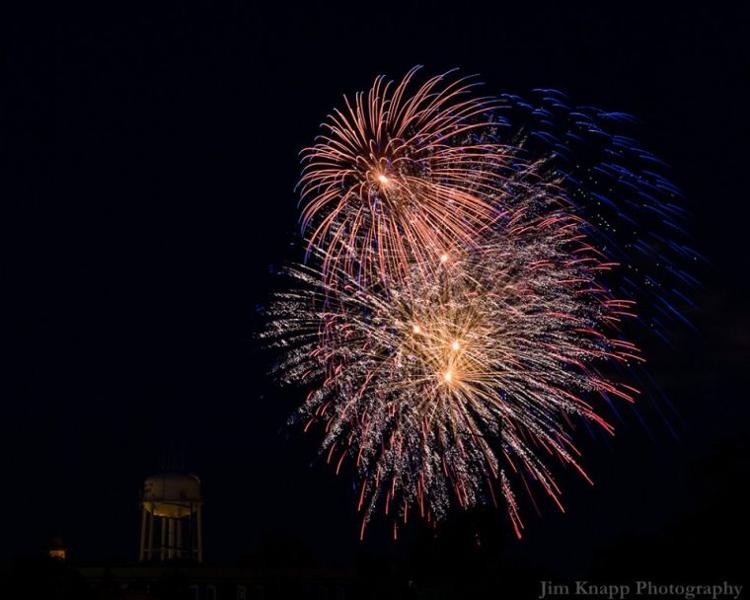 Manassas
The Freedom Museum in Manassas will host an open house July 4 from 10 a.m. to 4 p.m. to celebrate wars heroes from Prince William County, Manassas and Manassas Park from the Spanish American War through the present day.
The museum is in the Manassas Airport Terminal, 10600 Harry Parrish Blvd., Manassas. Admission is free and refreshments will be available. For more information, see  www.freedommuseum.org. 
Manassas has its annual Celebrate America event in Old Town Manassas on July 4. The fun starts with children's activities, food vendors and a red, white and blue hayride beginning at 4 p.m., followed by a fireworks display at the Manassas Museum at 9:15 p.m.
Bring your lawn chairs and get there early to get the best spots on the Manassas Museum lawn. For more information, visit www.visitmanassas.org or call 703-361-6599.
___________________________
Manassas Park
The Manassas Park Parks and Recreation Department is hosting a Fourth of July celebration at Signal Hill Park. Bring a blanket and picnic basket to enjoy the fireworks display beginning around 9:15 p.m. The gates open at 5:30 p.m. A free shuttle bus is available from the VRE station and city hall. Signal Hill Park is at 9300 Signal View Drive. For more information, visit www.manassasparkcommunitycenter.com.
____________________________
Woodbridge
In Woodbridge, the Potomac Nationals will hold the team's annual Fourth of July fireworks show after the baseball game at Pfitzner Stadium, which begins at 6:35 p.m. Gates open at 5 p.m. for the game and attendees can purchase tickets to a Fourth of July picnic with all-you-can-eat hot dogs, hamburgers and sides for $16.
The Potomac Nationals also will have fireworks after its 6:35 p.m. games on July 5 and 6. For more information or to buy tickets, visit www.potomacnationals.com.
_________________________________
Lorton
The Lorton Workhouse Arts Center presents its fourth annual Independence Day Fireworks & Concert on Friday, July 3 with a concert featuring The Sixth Generation at 7 p.m., more than 25 food trucks and fireworks at dark (around 9 p.m.). The concert and fireworks are free; parking is $10.
_________________________________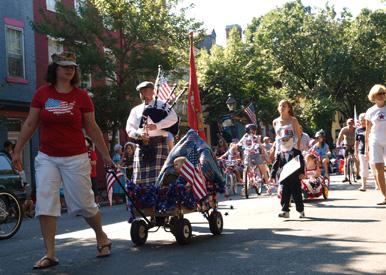 Stafford/Fredericksburg
The Fredericksburg Heritage Festival kicks off at 4:30 p.m. at Pratt Park, 120 River Road, in Stafford. Bring lawn chairs and picnic dinners, or buy from food vendors on site. The Quantico Marine Corps Rock and Roll Band will play from 6-7 p.m. At 7:30 p.m., there will be a special appearance by the cast of the Wedding Singer from Riverside Center Theater.
At 9:15 p.m., the fireworks begin. They can be viewed from Pratt Park or Old Mill Park.
_____________________________
Fairfax city
The annual Fairfax city Independence Day Parade is from 10 a.m. to noon, rain or shine, through the downtown Fairfax historic district.
The city's Evening Show & Fireworks is at Fairfax High School from 7-10:30 p.m. There is limited parking at the school, but shuttles will be available.
_____________________________
Herndon
The town of Herndon is celebrating with face painting, bingo and crafts starting at 6 p.m. at the community center at 814 Ferndale Ave. Live music begins at 7 p.m. and the fireworks will go off about 9:30 p.m.
_____________________________
Reston
Lake Fairfax Park at 1400 Lake Fairfax Drive is hosting a day full of activities, including a carousel, boat rides, a puppet show and fireworks at 9:15 p.m.
__________________________
Vienna
The Town of Vienna Rockin' Independence Eve Fireworks Show will be held on Friday, July 3.
Music will be provided by Fat Chance beginning at 7 p.m. at Yeonas Park, 1319 Ross Drive, S.W., with the fireworks at approximately 9:15 p.m. at nearby Southside Park.
Seating will be available at Southside Park, and the Little League concession stand will be open.
A number of roads around the parks will be closed to traffic beginning at 7:30 p.m.
The Vienna Parks and Recreation Department will host "Red, White & Blue on the Green" on Saturday, July 4 from noon to 5 p.m. at the Vienna Town Green.
The event will feature American Legion barbecue and drinks; events for children; an antique-car show; Optimist 50/50 raffle; performances by the Difficult Run Jazz Band and Vienna Community Band and a pie-eating contest for children.
New this year will be the Vienna Inn Chili Hot Dog Eating Contest, to run from noon to 2 p.m. with a $250 grand prize for whomever can consume the most chili dogs in 15 minutes. Participants must be 18 or older; registration is $20 and can be done at the Vienna Inn or Vienna Community Center.
___________________________
Arlington
The Arlington County government will host its annual Independence Day celebration on Saturday, July 4 from 5 to 10 p.m. at Long Bridge Park in Crystal City.
The event will feature live music, sports and games for all ages, a "food-truck rally" and arts-and-crafts vendors, as well as provide a prime viewing area for the fireworks over the National Mall.
Parking will be extremely limited around the park; free shuttles will run from the Pentagon City and Crystal City Metro stations. Alcohol and fireworks are not permitted anywhere at the park, and spiked items (such as umbrellas, chairs and high-heeled shoes) are not permitted on synthetic-turf fields.
For information about the celebration, see the website at http://parks.arlingtonva.us/july-4th.
___________________________________
McLean
The McLean Community Center's annual 4th of July Fireworks Celebration will be held at a new venue this year.
Cooper Middle School will play host to the celebration, with the grounds opening at 8 p.m. on Saturday, July 4. The fireworks show, run by East Coast Pyrotechnics, is slated to begin at approximately 9:15 p.m.
Admission is free; the rain date is July 5. Smoking, pets, fireworks, glass, sparklers and alcohol are not permitted on school grounds.
Parking will not be available at the middle school, but shuttle buses will be available beginning at 7:45 p.m. at the McLean Community Center and St. John's Episcopal Church.
For information, call 703-790-0123 or see the website at www.mcleancenter.org.
_________________________
Loudoun
The Independence Day Music & Fireworks begin at 2 p.m. at Franklin Park, 17501 Franklin Park Drive, Purcellville. Food vendors, games for kids, regional musical entertainment and largest fireworks show ever beginning at dusk, with live symphonic accompaniment by the Loudoun Symphonic Winds. A 5 p.m. performance by the 2015 International Youth Orchestra is also planned. Large fireworks display at dusk. Schedule available at franklinparkartscenter.org. $10/carload.
The town of Leesburg's 24th annual Independence Day Celebration starts with a parade downtown at 10 a.m., marching from Ida Lee Park, traveling down King Street and concluding at Fairfax Street.
Then at 6 p.m., gates open for fireworks at Ida Lee Park. There will be music and a food court with funnel cakes, ice cream, hot dogs, hamburgers and other goodies. Fireworks begin at 9:30 p.m.