Retired Gen. John Nicholson says it's surreal to return from combat and go from the battlefield to the Atlanta airport in just hours.
"Your mind is on the battlefield but your body is in the airport. Being escorted through the airport to the connecting flight and people in the airport spontaneously begin standing and clapping at the sight of a column of soldiers," Nicholson recalled.
He asked the USO escort who they were applauding for. "For you," the staffer said. Nicholson said that made him feel a little embarrassed.
Speaking at the Prince William Chamber of Commerce's Salute to the Military lunch in Woodbridge last week, Nicholson, now president of the PenFed Foundation, said there's "maybe a lack of understanding between the servicemembers and the society that they serve."
He didn't understand why the people in the airport were applauding. "We were just doing our job," he added. "They volunteered to serve our country, and to defend the American people. That's what we do. They don't seek out any special recognition for it."
He said most service members understand, though, that "the applause is not for them, but for their buddies who were killed and wounded, and their families. They are ones deserving the applause."
Nicholson added that as a veteran he appreciates that the chamber highlights the missing in action, prisoners and their families as part of the annual luncheon. He said service members volunteered to serve and step up, knowing they might go to combat and risk their lives.
"That sets them apart. This is an incredibly selfless decision to do something like that, and incredibly honorable," Nicholson said. "No matter what else these veterans do in their lives – and that includes everyone who served three years or 30, they deserve this gratitude from the American people."
For many, military service is "the family business" as grandparents, parents and siblings continue the tradition, but he said combat experience is not something that breaks an individual.
"I have found the vast majority come out of combat stronger and more resilient, after they've endured real adversity. Yes, they may be grieving, and most are," Nicholson said. "I'll be grieving the soldiers I've lost for the rest of my life. But that doesn't mean you're not resilient and strong. There's a term for it – post-traumatic growth."
That pride and strength, Nicholson said, can also lead service members to get in the way of asking for help, as was the case of many who suddenly lost their jobs when the pandemic forced businesses to close.
He noted that the PenFed Foundation established an emergency financial assistance program to provide money for rent, mortgage or food and helped over 1,100 servicemembers and their families.
"Can you imagine someone who's volunteered to serve their country and being put on the street because they lost their job due to COVID?" he said. Now that emergency requests have gone down, the foundation is returning to its mission of putting servicemembers back to work through the PenFed Entrepreneur Investment Program, with a benefit for veterans starting businesses that hire other veterans.
Also during the lunch, Col. Michael Brooks, commander of Marine Corps Base Quantico, updated chamber members on activities at the base and echoed the sentiment that service members and veterans are special. "Remember that this is still an all-volunteer service, and that really means something, and that says a lot about the young men and women today," he said.
The biggest recent operation on Quantico has been Operation Allies Welcome, housing nearly 5,000 refugees who began arriving from Afghanistan in mid-August.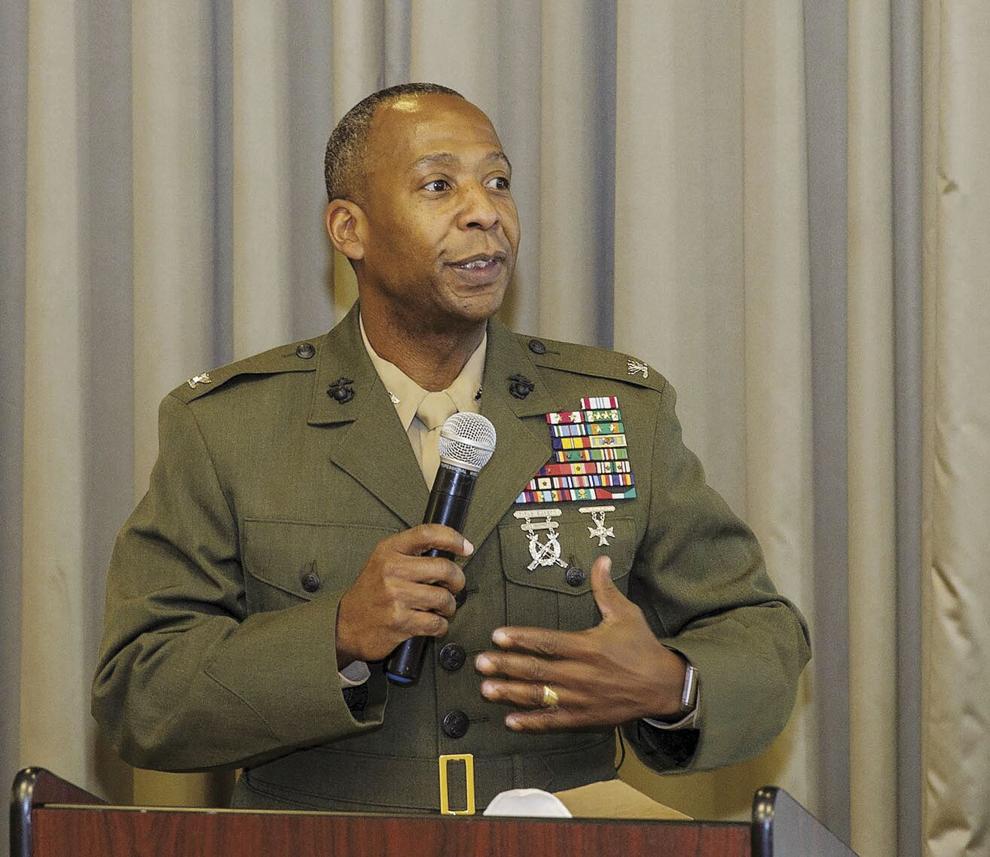 Brooks said he attended a high-level meeting on Aug. 23 about Afghans going to Camp Lejeune, N.C. Later that afternoon, Brooks said he got an email that "Quantico was selected," to which he replied, "for what?"
"You got the Afghan mission," he was told.
The next three weeks, Brooks said, was a wild ride for everyone involved, with 850 servicemen and women coming up from Camp Lejeune to build a city for the refugees at Camp Upshur.
"It just goes to prove that once the United States and [Department of Defense] make up their mind they're going to do something, we're going to do it. I was extremely happy to be a part of that," Brooks said.
He noted that since that time, "We've had 64 new Americans born here."
Perhaps they will someday serve in the military, joining the immigrants and children of immigrants who account for 13% of all veterans.