At Beville Middle School in Dale City on Thursday, "inclusivity" was the word of the day.
That was the crux of remarks given by Gov. Ralph Northam and Virginia Secretary of Education Atif Qarni following the release of a report by their Task Force on Culturally Inclusive School Meals and Calendars: be more inclusive in the cafeteria and on the calendar.
Released Thursday, the report itself makes a series of recommendations for the Virginia Department of Education: funding for school divisions to "implement culturally inclusive school meal practices," creating a tool divisions and individual schools can use to get a better picture of their student body's cultural make-up with regards to food, and helping to educate teachers and support staff about religious and cultural food customs.
"When schools acknowledge and celebrate diverse cultures, customs and cuisines, it strengthens the sense of belonging in school communities," Northam said Thursday at Beville. "I am pleased with the task force's work to identify ways to support healthy, compassionate learning environments for students."
The report also encourages individual divisions to gather "robust data'' on cultural and religious holiday observances among their student populations to better include them in their calendar. Last year, the Prince William County School Board voted unanimously to expand the cultures and religions it reflected, adding Jewish High Holy Days Rosh Hashanah and Yom Kippur, the Hindu Festival of Lights Diwali, and the Mulsim holiday Eid al-Fitr, which marks the end of Ramadan.
The task force is made up of 17 members, including Prince William schools Director of Food and Nutritional Services Adam Russo. He said one of the biggest things divisions can offer students is choice and customizability. For their visitors Thursday, Beville staff served a grain bowl with options like beef, beans, pico de gallo and more. Plantains were among the options for sides, a dish found in many Latin and Caribbean cuisines.
"It gives our students agency and choice to make a meal for them," Russo told InsideNoVa. "It's something that's accessible. It's also something that's accessible, that's a fairly easy lift for school divisions."
Of course, with federal guidelines mandating certain things be served with all school meals, no school division can tailor meals for everyone's cultural or religious background, especially a division as diverse as Prince William County's. But Russo said that, in some ways, the school's food services department works backward to make things more accessible by eliminating certain foods. For example, no peanuts or tree nuts are served in Prince William elementary schools to avoid accidental allergic reactions. No pork either, out of deference to Muslim and Jewish students.
One of the overarching goals of the task force and Russo is to simply get students to eat the meals that are offered to them, and making them appetizing is an easy way to do that. According to the Washington, D.C.-based non-profit Food Research and Action Center, low-income students who eat school meals have "significantly better diet quality" than those who don't, including lower rates of childhood obesity. And students perform worse academically and behaviorally when they're hungry. For picky eaters, it means familiarity can have wide-ranging impacts.
The report also encourages schools to make their communities feel welcomed through food, and offering something more familiar for parent events or other gatherings. Of course, what's familiar could differ school by school, but Russo says it can help certain communities feel more at ease interacting with the school system.
New Prince William schools Superintendent LaTanya McDade has spoken at length about prioritizing family and community engagement, and Russo says food is a great way to achieve that.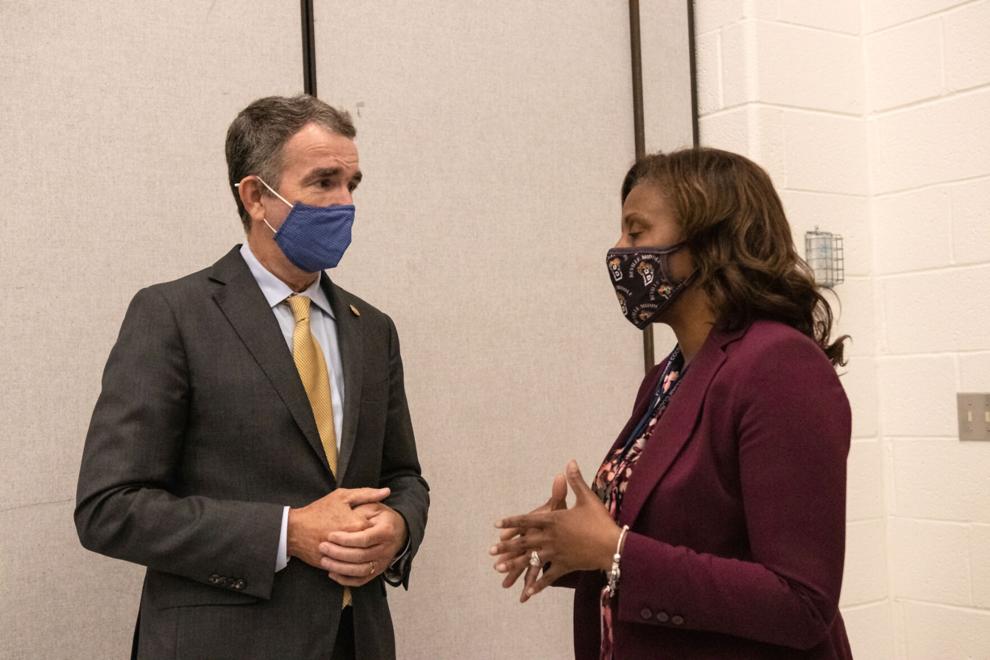 "Something familiar that makes our families feel welcome," he said. "If we're offering a back-to-school night in Yorkshire and we have the pupusa truck outside … that might be an experience that our families might be a bit more excited for, and it might take away some of the stigmas that our education process has."