After a number of service cuts aimed at low-performing commuter lines last month, OmniRide leadership says losses from the COVID-19 pandemic have still not severely affected operations, and that if Congress reaches a deal to help public-sector agencies, the system will be financially healthy going forward.
With a four-month operating reserve of about $13 million, funding from both the CARES Act and the state Department of Rail and Public Transportation, as well as the the ability to reduce service where ridership has fallen most due to the pandemic, OmniRide Executive Director Bob Schneider said the agency is being smart with its money and can, for now, avoid significant additional reductions in service or staffing.
But the system's finances are still uncertain because of a four- to five-month lag in one of its major funding sources – the gasoline taxes collected by localities that pay into the system, along with toll revenues from Interstate 66. In addition, projections for fuel consumption today compared with earlier in the pandemic have been slow to materialize.
Schneider says he expects to have more clarity next month. He noted that it's apparent more people are driving than in April or May, but by how much could be significant in knowing what the system needs to make up elsewhere.
The agency did, however, get some good news recently. Transurban, which operates the Interstate 395 toll lanes, recently confirmed to the Northern Virginia Transportation Commission that it will meet its annual $15 million obligation to the region's transit systems.
And in addition to the CARES Act funding received by the Potomac and Rappahannock Transportation Commission, which operates OmniRide, the Virginia Department of Rail & Public Transportation committed one month of operating revenue to the system when the pandemic was beginning.
Schneider said that money allows the agency to be as nimble as necessary, unburdened by the major fixed-route infrastructure maintained by the much-larger WMATA, which operates Metro.
As it has with service rollbacks and the suspension of three commuter bus routes whose daily ridership had fallen to single digits, the system can reduce service until it sees demand return to where it was, saving on fuel and labor costs.
"We're operating already at 85% of normal today," Schneider said. "So there's already, on our single most expensive thing we do, which is service on the street, 15% net savings."
Responding to the route changes last month, Prince William Board of County Supervisors member and PRTC Board Chair Margaret Franklin told InsideNoVa those kinds of adjustments were needed to keep the situation from becoming more "dire."
"In order to maintain a level of financial stability, cutting some of the routes that are not getting as much service makes the most sense," Franklin said. "We're going to do things like that until we get to a place where we have to make some more dire decisions. But right now we're fine, but we have to do things like that so we don't get to a red spot."
A concern facing transit providers everywhere is cutting so much service that it permanently discourages riders. Since changes at the start of the pandemic, OmniRide has maintained its local service levels, because the decline in commuter ridership has been much steeper.
Schneider said the agency specifically wants to avoid any significant reduction in commuter lines to the Pentagon and Foggy Bottom, because some of those jobs remain in-person and the expectation is most other employees will be back quickly once it's safe to return.
But even with the Pentagon reporting that 60% of its staff are working in-person (although not every day), ridership on the lines that serve it and downtown Washington are still only at about 17% of what they were before the pandemic, down to an average of 186 passengers a day.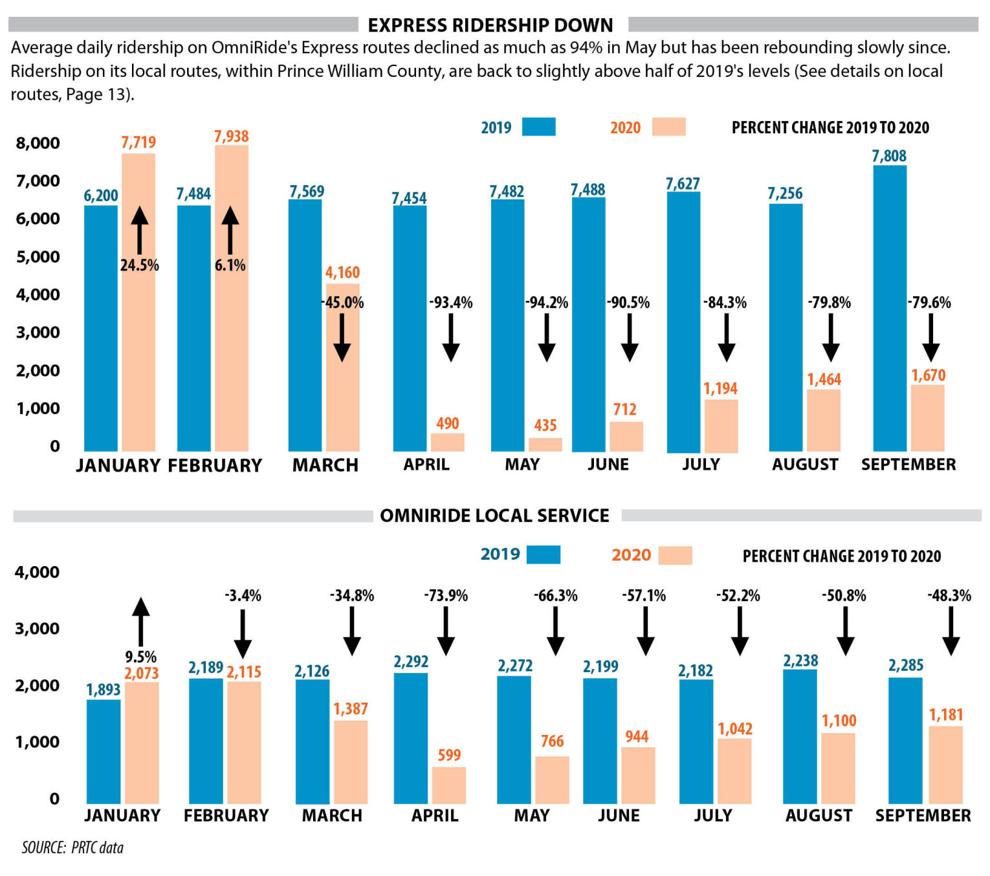 During the pandemic, the Pentagon has shifted to offering most employees free parking. "It's hard to compete with free parking at one of the biggest lots in the DMV," Schneider said.
For commuters such as Tom Phelps, who works for a federal contractor in Washington, the bus still makes sense. He moved from Fairfax County to Gainesville in the spring and now lives just a few minutes from the commuter lot on OmniRide's Gainesville-to-Washington line.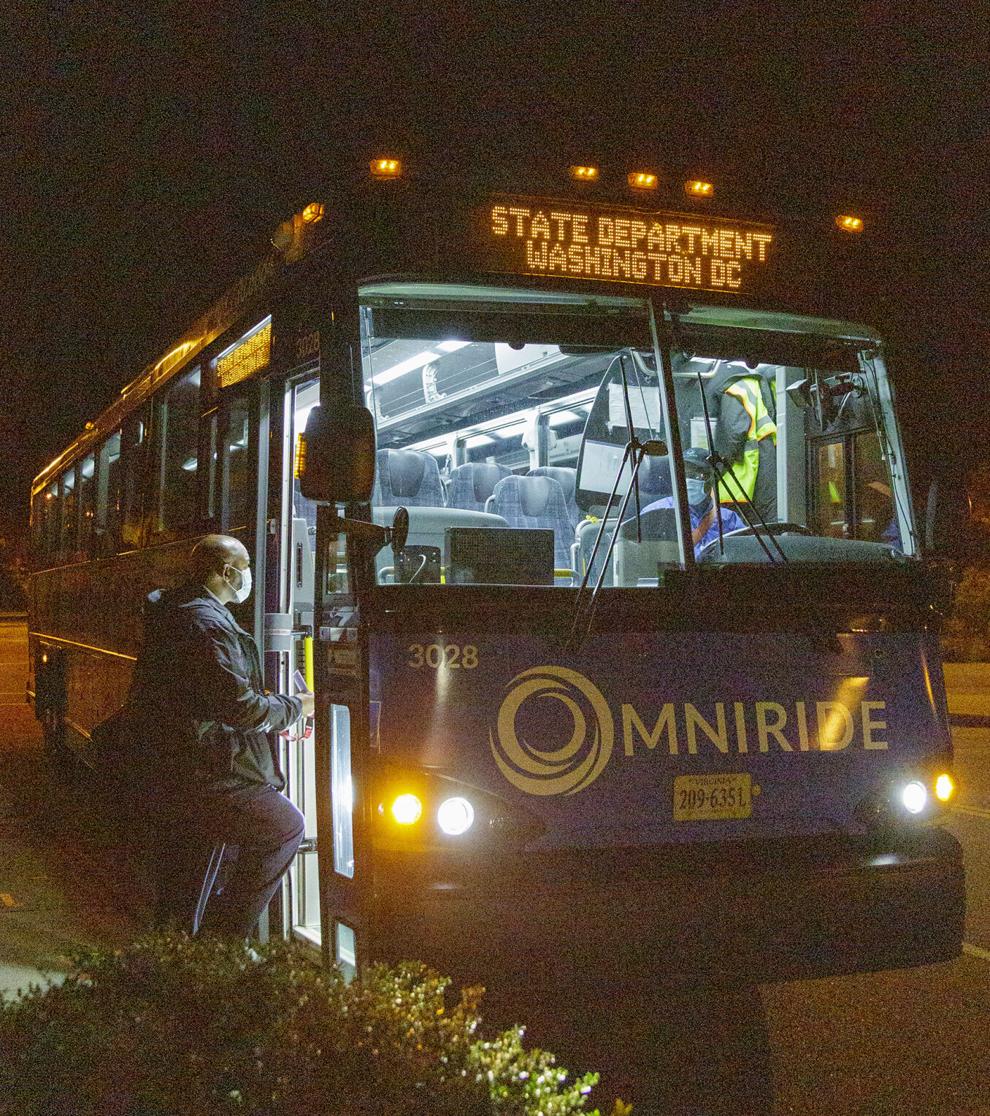 Phelps works in the office two to three times a week, and he prefers to have someone else do the driving. Most of the time, he feels like there's plenty of space to feel safe on the bus, and riders always wear their masks.
But, Phelps said, that could change if the schedule gets scaled back too much more, particularly on the return trip. Right now, only five buses are heading back to Virginia after 4 p.m. on weekdays.
"I don't leave work every day at the same time, so I want to have some flexibility," he said near the 7th and E streets stop downtown. "If I don't know there's a bus coming when I leave, that makes it tough, especially now."
Schneider says one of the agency's priorities is serving those kinds of riders, while maintaining service for those who rely on the local routes.
"Our focus is, right now, a lot of the people riding our services are going to the Pentagon. They're going to the state department; those are jobs that can't be worked from home. They're doing classified work, they're government contractors," he said.
Meanwhile, the local routes are mission-critical, Schneider added. "You're talking [commuting] to jobs, you're talking access to groceries, health access, a wide variety of services. And then commuter services can actually generate considerable revenue for us once we start seeing more ridership back."