The United Services Organization has always been about connecting service members to family and friends and offering an oasis away from the grind.
But with its newest facility on Marine Corps Base Quantico, the organization that began with entertaining soldiers and sailors overseas with stars such as Bob Hope is shifting toward something that may be more enticing for today's service members: video games.
Lisa Marie Riggins, executive director of the National Capital District USO, was beaming inside the bright facility during opening day ceremonies Feb. 15. The new center is next to the Firestone on Barnett Ave and across the street from six barracks and in the heart of Quantico, where more than 6,000 personnel work or study. Riggins referred to the new USO as "kind of a wonderful unicorn," a premiere gaming center and just the third USO on any Marine Corps base in the country.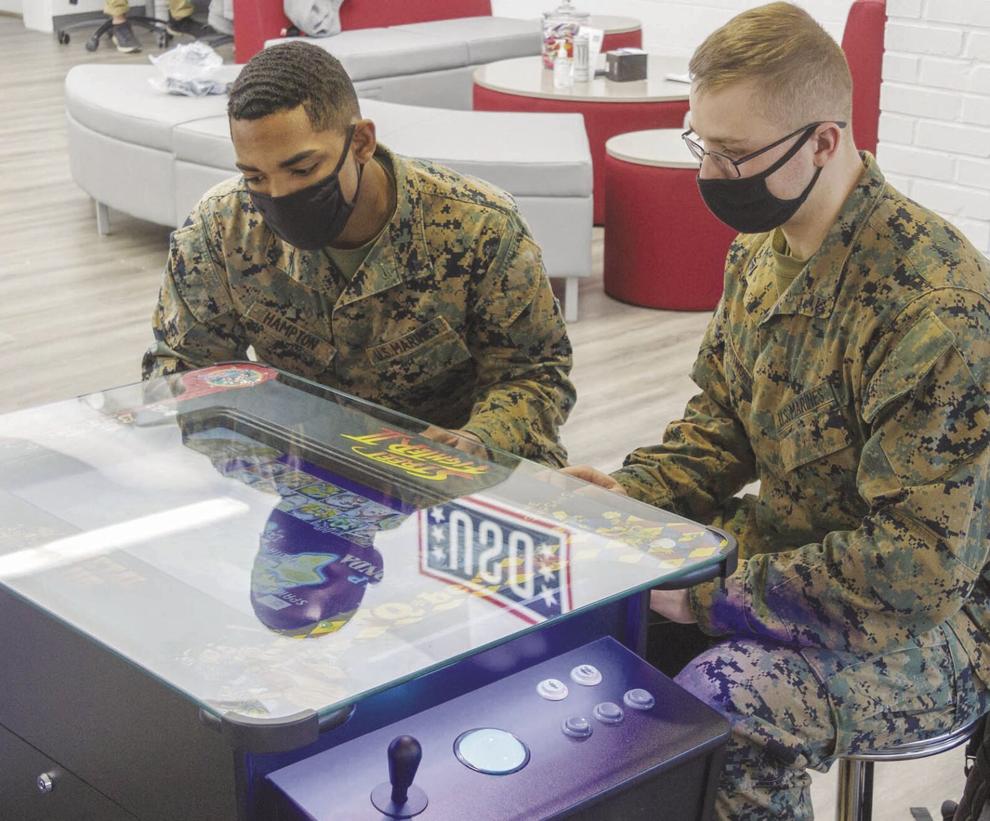 "The young service members and the Marines have indicated that gaming is how they connect; it's how they communicate, it's how they relax, it's how they compete to unwind, so we're here to serve that piece," Riggins said. "We've replaced Marilyn Monroe with a game console."
The center of the main room is occupied by more than a dozen shiny black workstations, with crisp 4K monitors and "USO" etched on the see-through side of each computer.
The USO was founded in 1941 as a place for troops to make phone calls home, Riggins said. Later it morphed into providing phone cards to absorb the long-distance costs.
"Now, it's gaming," she said, as service members can connect with battle buddies across the street or across the world to compete in Fortnite or NBA 2K.
Callum Fletcher, the USO's new director of global gaming operations, said the organization will soon extend beyond just offering consoles.
"To stay generationally relevant, we're pursuing gaming as a focus point. It's an opportunity for us to connect service members to family, home and country," Fletcher said, adding that other USO programs will be steered in that direction, including entertainment tours.
Gamers would rather hang out with Twitch streamers and other content creators than other entertainers, he added.
"We're looking at how we can engage gaming communities with our entertainment tours. So rather than taking a movie star or a musician, take one of these famous content creators and have them joining in and playing with the service members. That's something that they're never really going to experience elsewhere," Fletcher said. "But it's something that they can have that experience with the USO."
Riggins noted that USO has an obligation to remain relevant or recede. "We've got to follow them; they don't need to follow us," she said with a bright laugh.
Riggins was thrilled to open the second USO at Quantico, after opening a USO on the west side of the base, next to The Basic School, in 2020. She said the Marine Corps command is very aware that the Marines deserve morale and welfare support.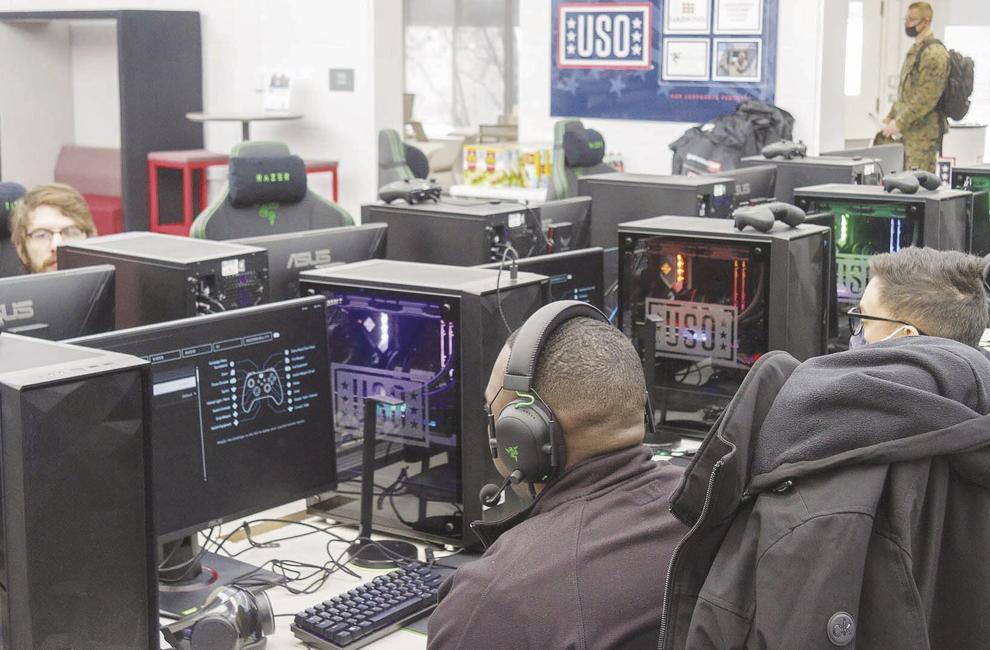 "They're willing to embrace new ways of providing that and give their Marines even more than they did before, and that's where the USO comes in," Riggins said.
Fletcher was busy preparing for the first Halo Infinite tournament with Marine Corps Community Services that evening, with 16 two-person teams competing for $1,200 in prizes.
Navy Petty Officer 2nd Class Patrick Marquez was huddled with his teammate for the night's tourney at a pair of computers. His partner, Marine Staff Sgt. Ian Mills, said their strategy was to stay together in-game and try to keep one of their opponents perpetually pinned down to create a two-on-one advantage.
"It's similar to what the Marine Corps does in its fire team systems – called 'buddy rushes' – so there's never movement without suppressive fire, so we're always going to be supporting each other's movements," Mills said. "It's taking real tactical warfighting strategy and applying it in video games."