Niyati Dhokai, a research associate professor at George Mason University's College of Visual and Performing Arts, has spent years helping veterans recovering from severe injuries that result in neuromuscular injuries. When she learned that Hylton Performing Arts Center and the university wanted to expand their services, she reached out to the veteran community.
Dhokai started several Veterans Day activities, which led to the Hylton Center's popular guitar workshop series and a visual art series as a means of healing. After organic conversations about community needs, workshops were developed for families and children as young as 9. 
"After we started the guitar series, about 20% attending were military kids and they loved to talk about their music," Dhokai said. "From that, we created a songwriting series, and the kids brought their own instruments." 
Many of those instruments were small, portable and decorated by the youngsters: ukuleles. Sensing the next opportunity, Dhokai established another workshop.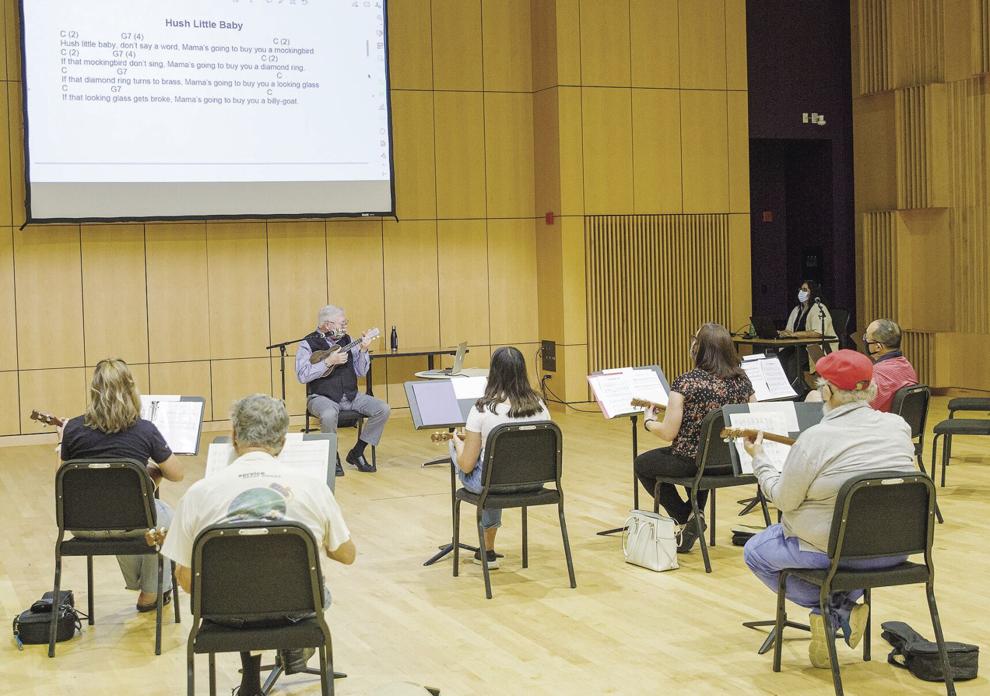 "The ukulele class has also become beloved by our community as well – it's intergenerational, so you'll have anyone from 9 to 90 that are participating together," Dhokai said. "It may be kids, service members, and young family or young veterans transitioning into the community and civilian jobs. Some are veterans that are older trying to check things off their bucket list. It's a neat vibrant community of people coming together."
The ukulele may not have been on 9-year-old Kara Ho's bucket list, but the Haymarket youngster said that her mom signed her up for the class. 
"I already know how to play," Ho said. "It's a good thing to add to my list of goals, and 'play lots of instruments' is one of them." 
Her mom, Laura Ho, signed up with her husband, Tung. 
"It was my husband's idea. We thought it was a good idea for us to do something as a family. We all like music, so I haven't played a string instrument like that before, and it reminds us of Hawaii," Laura Ho said.
Bonnie Higgins, an orchestra teacher with Prince William County Public Schools in Dumfries, also plays the violin in the Manassas Symphony Orchestra. When she saw a notice for the class, she took advantage of her son's military connection to register.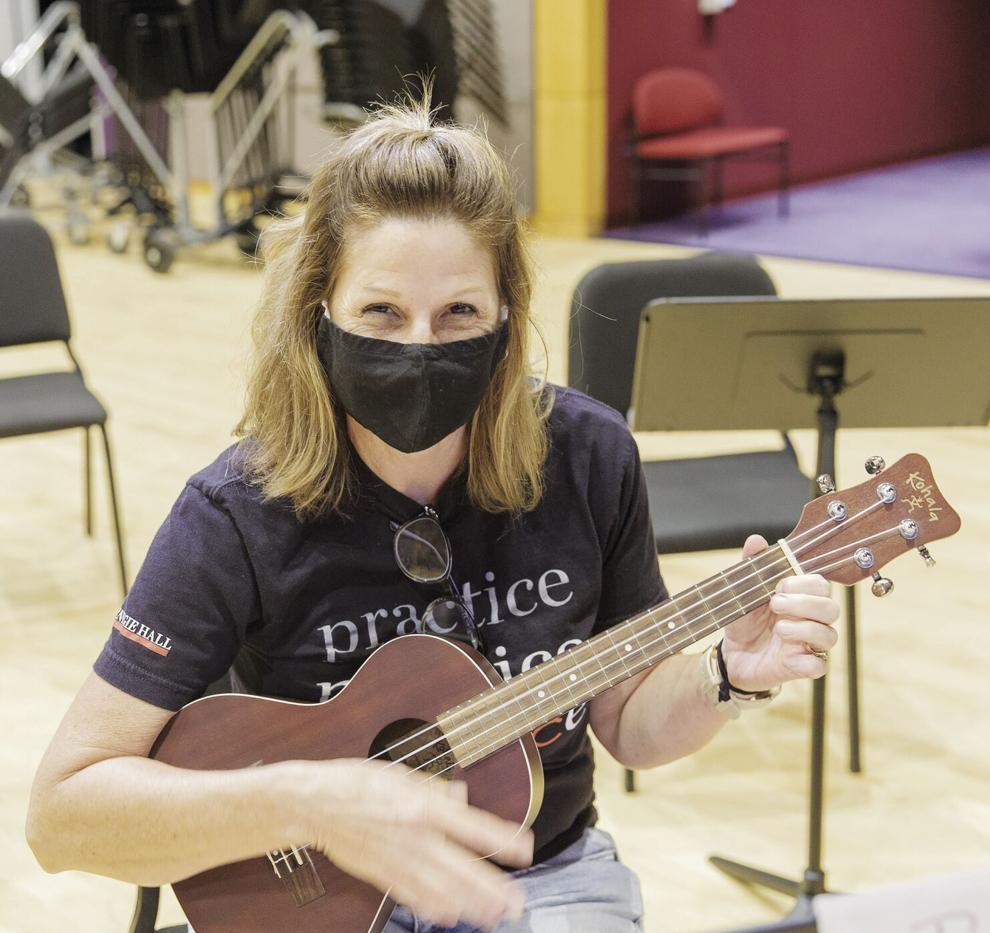 "I want to learn more and eventually teach ukulele. I have a son who is active-duty Navy, and my last music class cost $400, but this class is free. I'm just trying to pick up more string instruments. It's such an easy instrument, and great for kids because it's easier for them to reach the chords," Higgins said. "When they try to play guitar, they can get frustrated, but this is easy to learn. You can learn a lot of songs with just two chords."
Tyrone Payton is a young-at-heart 64 years and said playing the ukulele has been on his mind since grade school. 
"My third-grade teacher started teaching the class and back then, my family was poor and I couldn't buy one for class – I was devastated," Payton said. "I've spent six years in Hawaii and loved the ukulele then, and I bought a toy one about five years ago, and it sat in my bedroom the whole time until now. My wife said, 'They're offering a class, and I'm going to sign you up.'" 
And he added that he's glad she did. 
The workshops are free for service members, veterans and their families. On Nov. 14, the Hylton will celebrate veterans and the arts with a concert by The War and Treaty, which was named Americana Music Awards 2019 Emerging Act of the Year. The center's spring 2022 guitar workshop series begins Jan. 25, and a virtual arts class on collage and self-portraiture starts Jan. 26.
The veterans and the arts program has served over 10,000 individuals since its start in 2014. Dhokai realized it could not be hampered by the COVID lockdown, so she quickly pivoted to offering workshops online. 
"We were able to do what we promised, which meant a lot to us," she added.
Much of the urgency was the known potential health benefits of the arts, which involve pleasure and mastery and promote mindfulness and an appreciation of beauty, said Keith Renshaw, a professor in GMU's department of psychology and director of the Military, Veterans and Families Initiative. 
"The Veterans and the Arts Initiative has been such a boost to the veteran and military-connected community," Renshaw added. "When they found a way to keep it going, even in the midst of the pandemic, it has been able to be a bright spot for a lot of people who were struggling to manage day-to-day difficulties and isolation."