Finding housing and hiring teachers are among the challenges facing resettlement agencies and school administrators in Northern Virginia who are preparing to accommodate many of the over 1,100 Afghan refugees expected to be resettled in the state. 
The refugees are among nearly 50,000 currently living on eight military bases across the country, including Marine Corps Base Quantico in Prince William County, according to The New York Times.  Another 18,000 are on bases overseas in countries such as Germany, Qatar, Bahrain and Spain. 
And while it is not known how many refugees would be resettled in Northern Virginia, the Associated Press reported that Virginia as a whole could be responsible for resettling about 1,166 Afghans, a much higher number than most other states. 
Stephen Carattini, president and CEO of Arlington Catholic Charities, said that in the past two months his organization has resettled more than 200 Afghan refugees with Special Immigrant Visas (SIV) in Northern Virginia. The organization has offered support to thousands of refugees since 1974 and resettled more than 393 Afghan SIV holders this fiscal year to date. Carattini said it plans to almost double that number in the coming year.
However, Carattini noted it's impossible to know exactly how many refugees to expect.  
"We're still in a little bit of a calm before the storm," he said. "We're just now starting to see I think the initial arrivals, but we're still not sure of how many will be coming to Northern Virginia."
Currently refugee services are provided by six resettlement agencies across the state: Catholic Charities of the Diocese of Arlington, Commonwealth Catholic Charities, Church World Service, Ethiopian Community Development Council, International Rescue Committee and Lutheran Social Services.
Once refugees are cleared by the federal government, each of these agencies will oversee helping them find housing, educational opportunities, medical care and transportation. Volunteers and staff also give individuals and families a general overview of life in the United States and help them apply for government benefits, including health insurance and food assistance, if they are eligible. 
Carattini said there has been a generous outpouring of community support and donations in recent weeks and the organization's warehouses are full of items such as food, clothing and hygiene products. 
But some of the biggest challenges going forward, Carattini noted, will be finding housing, employment opportunities and access to professional services, especially for individuals who have been granted "humanitarian parole" status.
In contrast to SIV holders, who supported U.S. armed forces overseas in conflict zones, "parolees" are people who would under normal circumstances be prohibited from entering the United States but are allowed in the country for a period of time due to an emergency. But, legally, being granted "humanitarian parole" does not confer the same rights as refugee status. SIV holders receive much broader public benefits in contrast to "parolees," including cash assistance, food stamps, health insurance through Medicaid, and being put on a path to permanent legal residence. 
At the moment, Carattini said most "parolees" do not qualify for government housing and other benefits, such as Medicaid, which could change if Congress decides to take action.
But Carattini said that finding housing for refugees is a challenge no matter their status because it's difficult to convince landlords to rent to people who have no income, job or credit score. 
Access to healthcare also is crucial for these newly arrived refugees, Carattini noted, and his organization has been asking local medical practitioners if they would provide free health check-ups to "parolees" in particular. 
"There are still a lot of questions about what exact level of benefit and service will these parolees be given by the government," he said. "And we'll have to look at perhaps ways to either supplement that or offset that is a supplement that is necessary."
After many refugees started arriving at Dulles international Airport in late August, the Washington Post reported that hospitals in Fairfax County initially were overwhelmed with hundreds of refugees seeking emergency medical assistance.  
A spokesperson for the county said Fairfax has transported 245 refugees to hospitals at an estimated cost of $134,000 as of Sept. 20. The spokesperson noted the cost will be billed directly to the contractor supporting the federal operation.
On Sept. 13, Virginia Sens. Tim Kaine and Mark Warner penned a joint letter to the heads of the Department of Homeland Security and the Federal Emergency Management Agency asking for "increased coordination and improved communication with Virginia localities and institutions that are assisting with Operation Allies Welcome," specifically as it concerns military installations' medical capacity. 
Kaine and Warner noted in the letter that local hospital staff are already inundated with COVID-19 cases and inquired about the federal government's official policy regarding families receiving COVID-19 vaccinations, as well as what plans are in place for providing medical care if local hospitals and community health providers reach full capacity. 
In addition to increased hospital visits, local school districts, such as that in Fairfax, are also starting to see a wave of enrollment of Afghan refugees.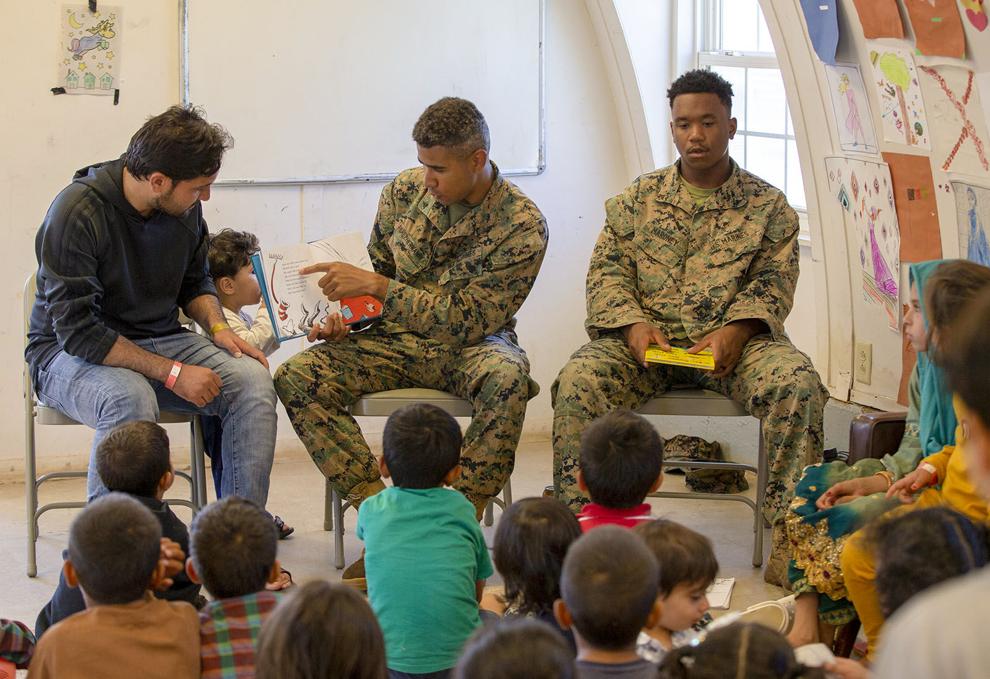 Meredith Hedrick, chair of the English for Speakers of Other Languages department at Annandale High School, said that within the past three weeks the school has enrolled 29 international students, six of whom were Afghan refugees. 
But Hedrick noted that Annandale has broad access to resources, which makes it easier to accommodate students and families' needs. And because Fairfax is accustomed to receiving dozens of refugees and immigrants every year, Hedrick said it's much easier for school staff to be flexible compared to other school districts.
"We've been at 136% capacity before," Hedrick said. "And luckily we're Fairfax County Public Schools, so if we need more desks we call up the warehouse."
In total, Fairfax had enrolled 82 Afghan refugees – 45 elementary, 14 middle and 23 high school students – as of Sept. 15.
Hedrick said she has no idea how many more Afghan refugees to expect, because it will depend on how many families wind up in Fairfax. 
To support Afghan families (and families in general) moving to the area, Annandale's Parent Teacher Association runs a food pantry, and school counselors and staff have a checklist of important school and non-school related matters they review with families to determine whether they need any additional resources.
"[Counselors will] determine their needs and then connect them with the correct resource," Hedrick said. "So, it could be registering for insurance, it could be…we have these vouchers for VisionWorks where they can get the eye exam plus the glasses. We have free and reduced lunch for example or food stamps, so we have a whole process and checklists, when we meet with families."
Hedrick noted there may be some initial challenges due to COVID and the current teacher shortage. 
"I've never done this in COVID, much less while there's a teacher shortage, but yes, in general, we are used to the ebbs and flows of immigration," Hedrick said. "And I'm very confident that we will get through this, but there is always some scrambling."