After more than four years, the Interstate 66 Express and Route 28 interchange is almost done.
Transportation officials, contractors and politicians held a ceremonial beam-signing Monday morning for the final support beam of the massive construction project that will take drivers from the forthcoming I-66 Outside the Beltway express lanes to Route 28 and vice versa.
On Tuesday, the beam was lifted into place with a single construction crane and bolt-securing workers, marking what the officials said was a significant moment in the final stretch of the $3.7 billion megaproject.
"This is a little bit of a nerdy kind of exercise, to celebrate the last beam, but [there are] 900 beams on this project, and this is the last one on the Route 28 interchange," Susan Shaw, VDOT's regional transportation director for Northern Virginia, said Monday.
That morning, silver Sharpies were passed around as dozens of officials and workers left their mark on the North Carolina-made beam.
It was also signed in memory of John Morse, the lead consultant for project management contractor ATCS. In June, Morse was killed by a drunk driver while walking near his Culpeper home.
The beam itself is part of the ramp that will take drivers from the westbound I-66 express lanes to Route 28 north. Thirteen new or reconstructed bridges have been built on the interchange, which officials say cost $300 million alone. Along with the bridges, four traffic signals were removed along the stretch of Route 28, making for a 15-mile corridor with no traffic lights. When the project is complete, the interchange will reconnect Braddock and Walney roads, providing direct access to and from the interstate.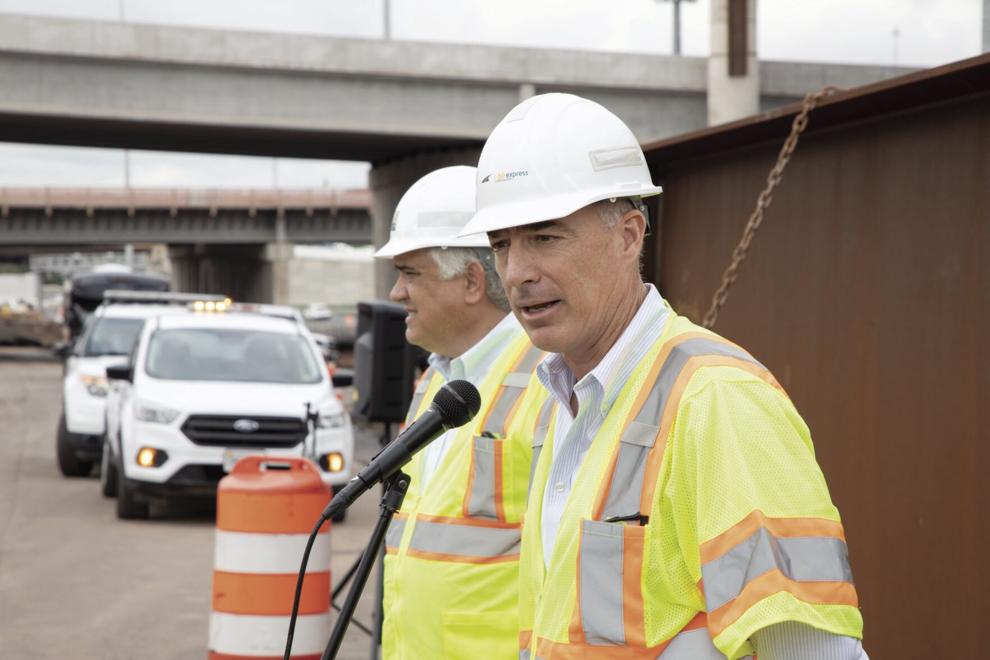 "Everybody knows this project is very challenging. In every single corner, there is something to be solved, an engineering solution needed," said Pablo Molla, CEO of FAM Construction, the design-build contractor for the project. "But in my opinion … this interchange is the biggest challenge of the whole corridor. The engineering challenge from the inception of the design … relocating utilities, handling all of this traffic, building the amount of bridges."
VDOT and I-66 Express Mobility Partners say the lanes are still scheduled for a December opening. About 1,000 workers are currently moving through roughly $30 million of work per month along the 22.5-mile project. When they are finally open, 63 bridges will have been constructed and 30 destroyed, with 80,000 tons of rebar used.
Shaw said that as certain stretches of the project are finished, roads will start to look and feel back to normal in some places. But that doesn't mean that drivers should speed up too much, as work will still be ongoing throughout, meaning that patterns will change, the interstate will narrow and detours will remain. The message on Monday to drivers was that the years-long disruptions were almost over, but still ongoing.
"People just really need to pay attention," Shaw told InsideNoVa.
The express lanes will run from Route 29 in Gainesville to Interstate 495 using variable pricing intended to keep traffic moving at 55 mph. They'll also be HOV-3 lanes, meaning access will be free for vehicles carrying three or more people and an EZPass Flex, as well as for all buses.
"These guys have been working 24/7 for many days and many years, and I really appreciate that," said Javier Gutierrez, CEO of I-66 Express Mobility Partners, the public-private project's concessionaire. "This is just a small milestone today. It's good to have, but we have a very intensive four months in front of us to really reach the ultimate goal that is opening at the end of the year."