For centuries, the barbershop has been a centerpiece of the Black community. It is the place where generations intersect and interact, and when Jeff Johnson was 13, he envisioned it as a tool for youth empowerment. 
Years later, after gathering the right team, Johnson turned his vision into a reality. 
Real Shop Talk Inc., founded in 2010, is a nonprofit that has been serving the young men of the Manassas area for 10 years. 
Through mentorship at Jaz Cutz Barbershop, owned and operated by Real Shop Talk's president, Jasmine Mitchell, and the organization's three pillars – Christ, confidence and character – local youth learn skills that will "enable them to transition effectively from adolescence to adulthood," according to the organization's vision statement. 
The mentors are well-established community members, including business owners, veterans and intelligence specialists, who impart their life experiences and knowledge to the next generation. 
"It brings together a wide variety of men, young and older gentlemen, with a wide range of life skills and experiences," Johnson said. "It puts us all in one space and allows us to build off each other."
William Garrison, a junior at Osbourn High School and a member of Real Shop Talk, has experienced exactly what Johnson described. Initially, he wasn't interested in joining the organization, but after experiencing what it had to offer, he gained a new career path. He decided to take after Mitchell and is now a barber in training. 
"I never wanted to be in the program, I kind of got forced by my mom, but it grew on me," Garrison said. "I realized that I might want to go do some barbering. I went and talked to Jaz [Jasmine Mitchell] about it, and I'm a barber in training. I got a pair of trimmers and clippers and I'm going to try to be one of the best barbers."
In addition to Real Shop Talk, a sister organization called Beauty Time serves the young women of the Manassas community in a similar manner. The group emphasizes education and healthy relationships through mentorship, along with three aspects of beauty: spiritual beauty (God and womanhood), internal beauty (mental health/self-esteem/goals), and external beauty (hygiene/physical health.)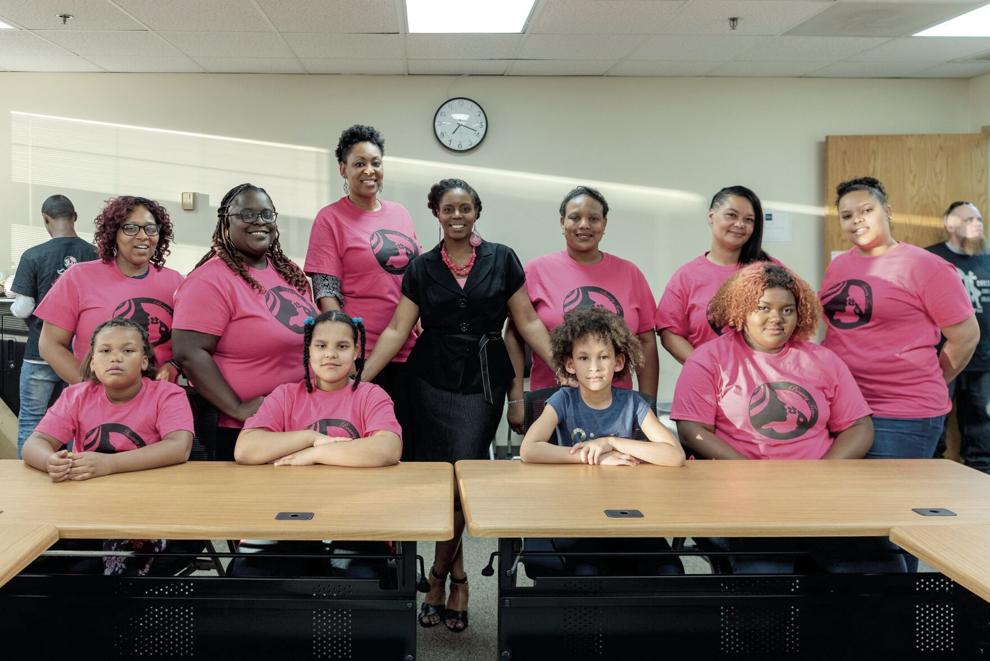 To promote the aforementioned values, the organizations participate in community service, church outings, workshops, and trips to theme parks.  They also hold monthly meetings where the youth can receive direct mentorship and participate in group discussions. 
The activities are all an attempt to put the organization's youth on the right track, and while participating in them is enriching, Real Shop Talk's mentors go a step even further to ensure the success and well-being of their mentees. 
"We've been to court cases to help parents either keep custody or to keep the girls out of the juvenile detention center," said Asha Watson, the executive director of Real Shop Talk Inc. and the president of Beauty Time. "We've given them the chance to do community service with us. I've written a lot of college recommendation letters; those are my favorite." 
As a result of the activities, mentorship and hard work put into the organizations' members, both Beauty Time and Real Shop Talk have seen a high percentage of their high school graduates go on to a secondary education. 
While that statistic includes many success stories, one of the most notable is of a young man who was rough around the edges and had been written off by many as a lost cause when he joined the program.  The mentors of Real Shop Talk, however, poured their time and resources into him and his future. In the end, he graduated from Osbourn High School and earned a college degree.  
"This story could have gone another direction," said Julian Purvis, Real Shop Talk's keeper of records. "Instead, this is a story talking about a young man who changed his life…. We were all able to pour into him not only from a financial, but from a mentoring, encouragement, and advisory perspective. … And now that is one of many success stories that we have of young men we have impacted that have come through this organization."