Christy MacNicoll Gray did the only thing she could think of when her son's parakeet escaped the house Wednesday, flew high up in a tree and wouldn't come down. She asked Facebook for help.
The Haymarket mom posted "a desperate long shot from a very sad family" in the group Western Prince William Chatter.
"Our parakeet got out of the house this afternoon and is sitting about 30 feet up in a tree too cold and afraid to fly down, calling to us and we can't get up to him," Gray wrote. "We've been out for hours and it's almost dark...Is there anyone out there in Haymarket who does power lines for a living or has the climbing skills to maybe help us get him down? Once it gets dark, he won't survive."
What ensued was a seven-hour community effort to get Manu the blue parakeet out of the tree before a winter storm descended. The ultimate hero of the tale? Johnny Curtis from Freedom Tree Service. 
"He came out at 1:30 a.m., prayed with us, climbed a 60-foot tree in arctic temperatures, and rescued my boy's little buddy!" Gray wrote. "No one in our house can believe we have him back safely, that so many people on here were so kind, that Adam Gizinski came out and lent his expertise, and that so many neighbors came by for moral support. Thank you to all of you for your prayers and to our Lord for sending his people to take good care of us!"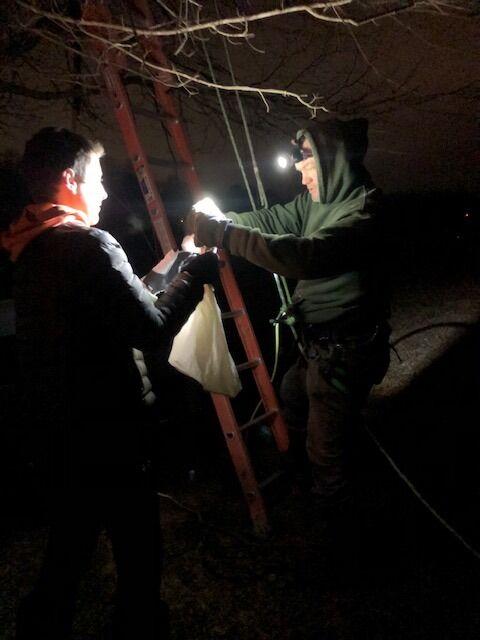 The Gray family got Manu free from Craigslist for their son, now 14, a little over year ago.
"My son calls him his 'quarantine buddy' because he got him right before it all started. Manu hangs out with all of us, but mostly lives in my son's bedroom with him, has his own gigantic potted tree where he spends his time when he's not adventuring, sits on my son's shoulder while he does virtual school, and loves to tears apart books in his room (that part I wouldn't have missed). All my son could talk about yesterday evening was how lonely it was going to be without him," Gray wrote.
As for Gray family hero Johnny Curtis, he's owner of Freedom Tree Service in Manassas and volunteers for a Christian student wrestler mentoring program called the Prince William FCA Wrestling Club. If you'd like to honor Curtis for rescuing Manu, Gray suggests donating to the wrestling club at http://www.fcawrestlingva.org/ and, of course, using Freedom Tree Service for your tree needs.