A 26-foot, $55,000 food truck is expected to be the key to fighting food insecurity locally and will hit the streets in Stafford as soon as soon as warmer weather arrives.
Stafford Food Security acquired the new truck after four sponsors stepped up to help pay $10,000 apiece for the vehicle, which boasts an 18-foot kitchen.
"The truck is going to be a major game-changer," said Stafford Food Security's executive director, Tim White, who founded the non-profit.
The truck's sponsors include Ebenezer United Methodist Church and Mount Ararat Baptist Church, both in Stafford; Sheehy Toyota of Stafford and Mary Washington Healthcare, which oversees Mary Washington Hospital in Fredericksburg and Stafford Hospital. 
White said he's hoping to obtain a fifth sponsor, because Stafford Food Security used $10,000 of its operating fund for the truck and another $5,000 to wrap the vehicle. The bright-red wrap reflects the organization's theme and mission – Hunger Strike Force – which seeks to take the fight against hunger to a new level. 
"If you're going to feed hundreds of people you've got to get ahead of the curve," White said. 
Stafford Food Security focuses on getting food to children in need, but where children are hungry, their families probably are, too, White added. "It's the kids who suffer.  I was one of these kids so I know what it's like to go hungry." 
The food truck will allow Stafford Food Security to prep and pre-cook instead of carting a grill and coolers around. Now, with warming ovens and a refrigerator on the truck, White said he can cook a greater variety of food, including chicken. 
Elhaj Custom Food Trucks of Manassas created the truck, which was white, while Core Prints of Fredericksburg wrapped it for the final touch. Community help through an Amazon Wish List provided kitchen equipment and supplies.
Now, the organization is holding a Facebook fundraiser to buy a walk-in freezer and a walk-in refrigerator for its headquarters. The appliances will cost $18,000, but labor is covered thanks to Kelly Electric Services of Stafford, White said.  The organization has had to turn away perishable donations because of not having enough space to refrigerate and freeze the food. 
Stafford Food Security brought in more than $200,000 in donations in 2020 as the COVID-19 pandemic changed life everywhere. That compared to $57,000 the previous year – and White is grateful for an "awesome community."
"Everything has gone through the roof because of COVID," he said. "We've almost quadrupled our revenue but spent it all." 
His organization fed 2,000 people a month in 2020 and hopes to double that number.
"I don't want to just be a food pantry," White said. "I want to get food to people."
Stafford Food Security's headquarters, on Deacon Road in south Stafford, debuted in February 2020, just before the pandemic. Before that, White used a single room as his warehouse in a church off Boscobel Road. 
White formed the organization in 2017 because he wanted to do something that really mattered, to help his community. The U.S. Marine Corps veteran held an office job, suffered from post-traumatic stress disorder and felt a sense of uselessness despite bright spots, including his faith and family.
He started Stafford Food Security with a meals-in-a-backpack program through one Stafford school in 2017, after pitching the idea to friend and Conway Elementary School Principal J.R. Raybold. 
White, whose wife, Amy White, works in education, said his idea was to fill backpacks with meals and resources for families of four. They'd be distributed at school by teachers who identified students in need.  The program soon grew from one school to 66 in Stafford, King George, Spotsylvania and Fredericksburg.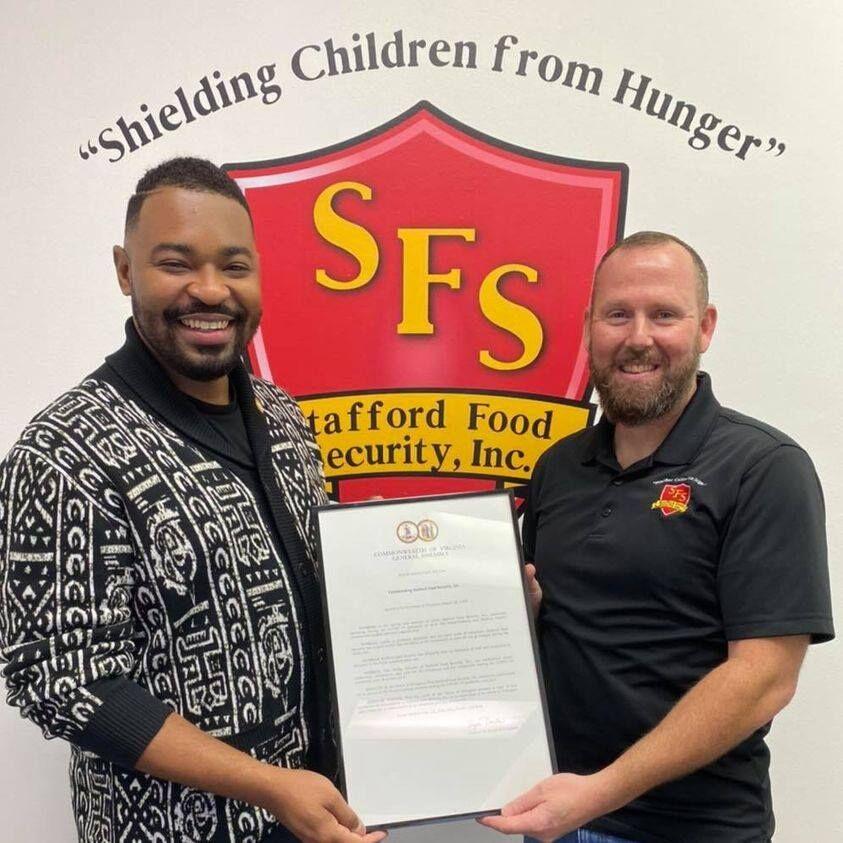 Stafford Food Security is different from most food pantry programs because traditional pantries require parental participation, which can be a challenge. White sought a way to get food to children who need it without barriers like income limitations or specific qualifications.
He used a bit of military intelligence, reasoning that the threat is hunger while the weakness was a passive distribution system.
"You can sit there and sulk or get out there and do something," White said. "I'm a big believer in giving back to the community. I come from a very dark childhood, and I want to break the cycle of poverty."
With his passion, one might guess Stafford Food Security is White's full-time job — but he actually runs the organization on the side when he's not in charge of a leadership academy at the Naval Surface Warfare Center in Dahlgren. 
After COVID-19 prevented students from returning to school in August, the organization restructured its backpack approach and began delivering shelf-stable foods to families in need. It held cookouts at schools and neighborhoods over the summer, knowing that many people struggling wouldn't ask for help.
Backpack meals were successful during a normal school year, White said, but in the summer when children weren't getting free or reduced lunches, a food truck became necessary. 
Stafford is one of the wealthiest counties in the nation, but people who live here struggle, too, White explained, so the response is all about hope, empowerment, community and education while shielding children from hunger.
"Hunger is not a disease," White said. "It's a symptom of a disease."
For that reason, the organization also provides education – from basic finances, job search and life skills to workshops that help teachers identify chronically hungry children.
White said his parents moved his family around a lot when he was a child. They didn't make good decisions and weren't good with finances, and he often went hungry, so he hopes to improve life for others while treating them with kindness.
He described one thank-you card from a woman whose family had no food. It wasn't just the food she was thankful for, but also how she was treated.  White hopes to make people feel at home, like they're family at a barbecue. 
"Pack the food with love," White said. "Let them know you care about them and that they matter."
Tracy Bell is a free-lance writer who lives in Stafford County.