Snow totals projections for the region fell in the latest forecast Monday afternoon, though the storm still looks like it will impact travel on Tuesday.
A winter storm warning is in effect for most of the region until Tuesday afternoon. The main threat from the snow storm would be impassable roadways, according to the weather service, as well as the potential for power outages.
In total, up to 8 inches of snow is expected to fall across the region, with heavier amounts north and west of the beltway. Winds are expected to gust up to 30 mph.
See: School closings, delays and cancelations for Monday evening
The Virginia Department of Transportation will be positioning 4,500 snow trucks and other equipment to begin clearing roadways as soon as more than 2 inches has fallen.
Stafford, Spotsylvania and Fredericksburg are under a winter storm watch, but should still expect enough snow to impact travel.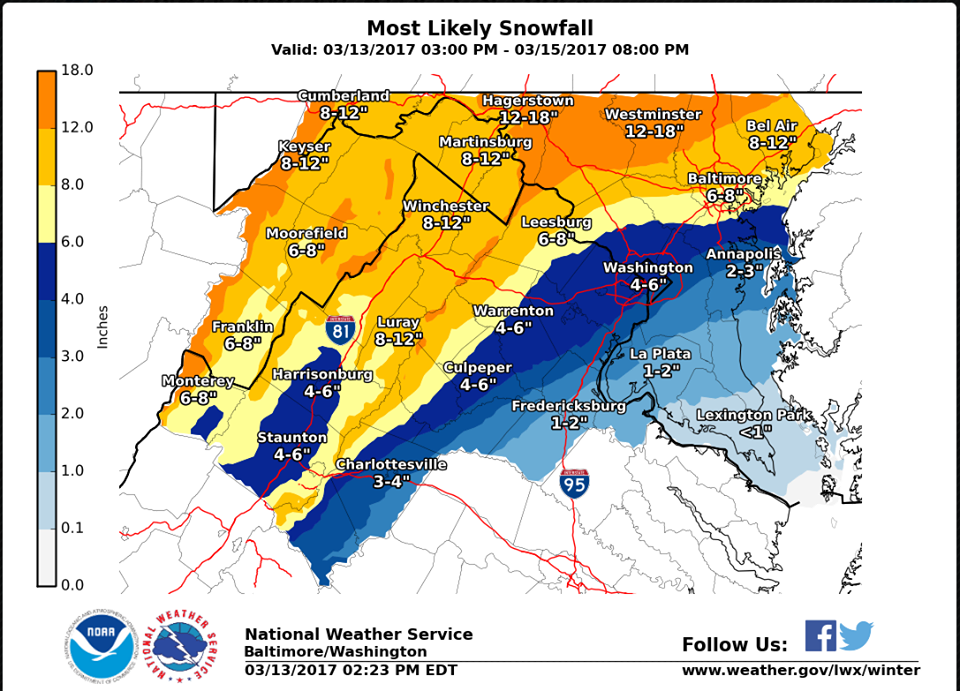 Here are 10 snowfall projections from Monday night through Tuesday across the region:
Arlington: 4.7 inches
Ashburn: 6.5 inches
Fairfax: 4.9 inches
Great Falls: 5.6 inches
Leesburg: 8.1 inches
Manassas: 4.6 inches
McLean: 6.5 inches
Stafford: 2.3 inches
Vienna: 4.8 inches
Woodbridge: 3.5 inches
All projections are as of 3 p.m. Monday from the National Weather Service
The City of Manassas has declared a snow emergency, limiting on-street parking along snow emergency routes.