Capital One kicks off the grand opening of its new performing arts and corporate event space in Tysons Corner this Friday with a performance by singer, songwriter and actor Josh Groban.
The 125,000-square-foot, four-story venue called Capital One Hall will serve as a corporate event center and nighttime culture events space located in the heart of the company's 24.5-acre headquarters campus in Mclean. 
During a media preview of the venue on Wednesday, Jon Griffith, managing director of the Capital One Hall, told InsideNoVa first and foremost the inspiration for the hall was driven by the desire to have a corporate event space the company and other area businesses could utilize.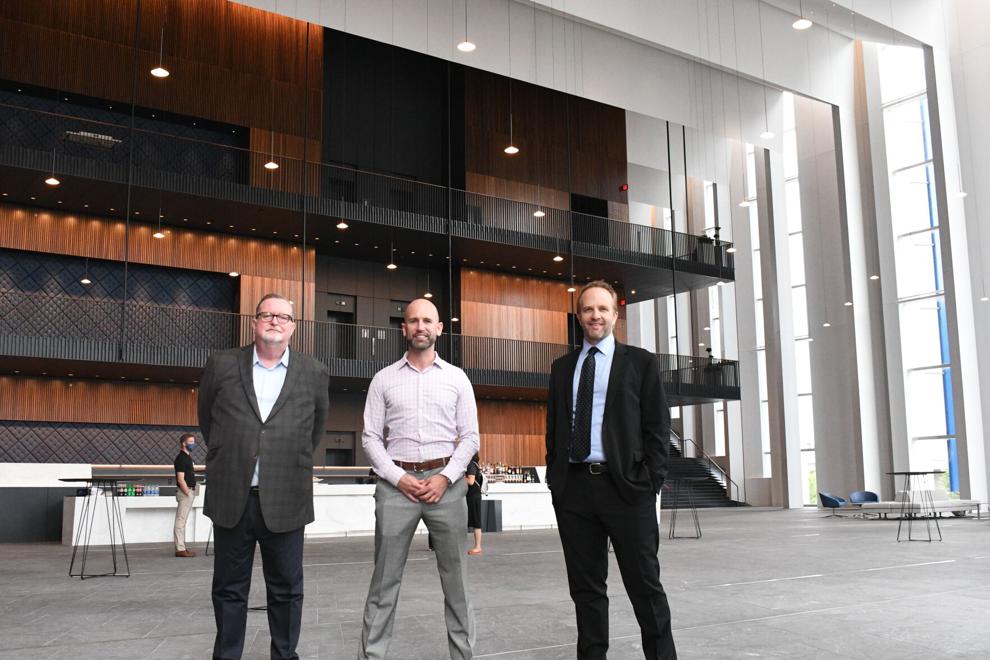 "So, we have about 10,500 associates in Tysons market, and really was driven by the need of having a diverse kind of multifaceted event space to accommodate a myriad of different types of corporate events, corporate meetings, etc.," he said.
But Griffith noted the space is not limited to just business, and over time the vision for the space broadened to host a range of large and small events, such as Broadway productions, concert tours, comedians, Fairfax County non-profit arts organizations, or even wedding receptions. 
"We really tried to design a space that… can kind of uniquely accommodate each of these different types of genres, acts or performances," Griffith said. 
When guests enter the building, they have the option to make their way up either a marble staircase, escalator or elevator which opens up to The Atrium -– a four-story space designed to be configured to fit 1,600 people standing or 500 people seated. And if guests want to get some fresh air and look out upon the surrounding campus there is also a terrace they can access from The Atrium which can accommodate up to 450 people standing or 180 people seated.
The venue also includes the Main Theater, a 1,600-seat proscenium performance hall, and the Vault, a 225-seat black box theater.
Scott Cryer, associate vice president and principal at HGA, the architecture firm responsible for designing Capital One Hall, told InsideNoVa his firm designed the Main Theater to be an intimate experience where guests would feel very close to the action on stage even if they are in the back row.
"There's not a bad seat in the house," he said. 
The Vault, Cryer noted, is a much smaller space that can be used to host lectures, small music concerts and other intimate events. 
Capital One Hall is located off Interstate 495 and just a block from the Silver Line's McLean Metro station. There is ample covered parking in a $10 paid garage on Capital One Drive North near Scotts Crossing Road.
Visitors over the age of 12 must provide proof of vaccination, the last dose of which was administered at least 14 days prior to entering Capital One Hall, or a COVID-19 negative test taken no more than 48 hours before entering Capital One Hall. 
Physical vaccine cards or a photo of one's card are both acceptable. The name on the card or negative test must match the name on one's photo ID. All attendees, including those under the age of 12, must wear protective masks regardless of vaccination status while inside Capital One Hall except when actively eating or drinking.
Temperatures will also be taken at the entrance.