The National Park Service and Federal Highway Administration have begun work to improve and preserve paved surfaces at Prince William Forest Park in Triangle.
The work will include patching or sealing and limited resurfacing on almost all roads and parking areas.
While the work is going on, the park service will temporarily limit access to some hiking trails, picnic areas and campgrounds for construction staging and work, and flaggers will periodically direct traffic.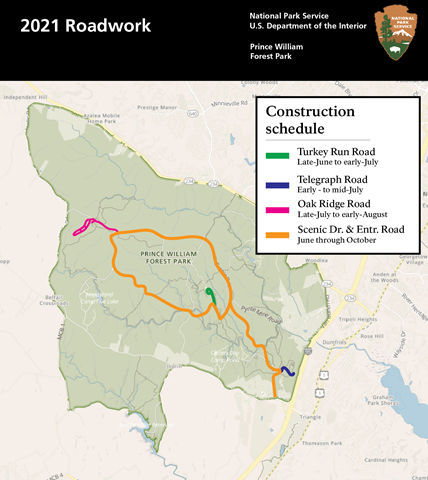 Campers should check Recreation.gov to see when campsites are available, and drivers and bikers should check the park website to see when access to roads, campgrounds or parking lots will change.
Short-term road closures will be needed for visitor and worker safety. Drivers, pedestrians, and bicyclists should not enter areas that are closed for construction.
Work should be complete by this fall.
"The work we're doing now is an investment in the future and will maintain the high quality of experiences visitors have in Price William Forest Park," said superintendent George Liffert. "These repairs will ensure the National Park Service continues to provide smooth roads to great hiking, camping and more for years to come."
The phased work is scheduled to happen at:
Turkey Run Road in late-June and early-July.
Telegraph Road in mid-July.
Oak Ridge Road in late-July and early-August.
Scenic Drive and the Park Entrance Road from June through October.
In 1936, the Chopawamsic Recreation Area opened its gates to house children's relief camps during the Great Depression. Renamed Prince William Forest Park in 1948, its fragrant woods and trickling streams have welcomed generations of campers, hikers, bikers, and nature lovers.