Sisters Cathy Hook and Miriam Riner were at Lubber Run Park in Arlington Friday to deliver a message.
Sure, they're Democrats who plan to vote for Terry McAuliffe in his gubernatorial race against Republican Glen Youngkin this fall. But their message was for President Joe Biden, who was appearing alongside McAuliffe in the president's first campaign event since taking office.
"We're here to support Terry McAuiffe, but we're also here to encourage Joe Biden to get on the For the People Act and make it a bigger priority. He's got to get it done," Hook said of the voting rights bill sitting idle in the U.S. Senate after being passed in the House of Representatives. "The right to vote is sacred and we're about to lose it ... the pressure has to get on. Who cares about the stupid filibuster?"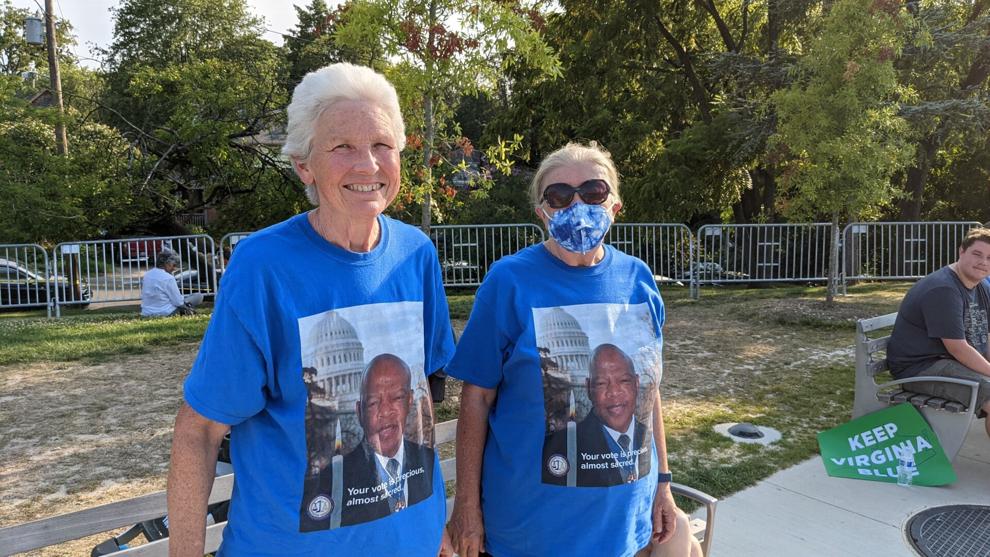 Waiting for Biden and McAuliffe to appear, the two said they had hoped to deliver that message with several handmade signs they'd prepared for the event. But in the hours leading up to Biden's appearance, attendees received an email saying that no signs would be allowed. "Terry for Virginia" and "Keep Virginia Blue" signs were available instead.
Several of the thousands of Virginians in attendance Friday told InsideNoVa that they were also there primarily to see Joe Biden, with McAuliffe the secondary draw.
Carol Chin said she was excited to see a sitting president in person.
"I'm interested in hearing Biden speak," she said, describing herself as an independent voter. "I'm leaning more towards Terry."
But the friendly crowd was receptive to McAuliffe's campaign pitch, cheering him on as he spoke ahead of Biden. He talked up his experience, and the change Virginia saw when the Governor's Mansion went from Republican Bob McDonnell to himself back in 2013.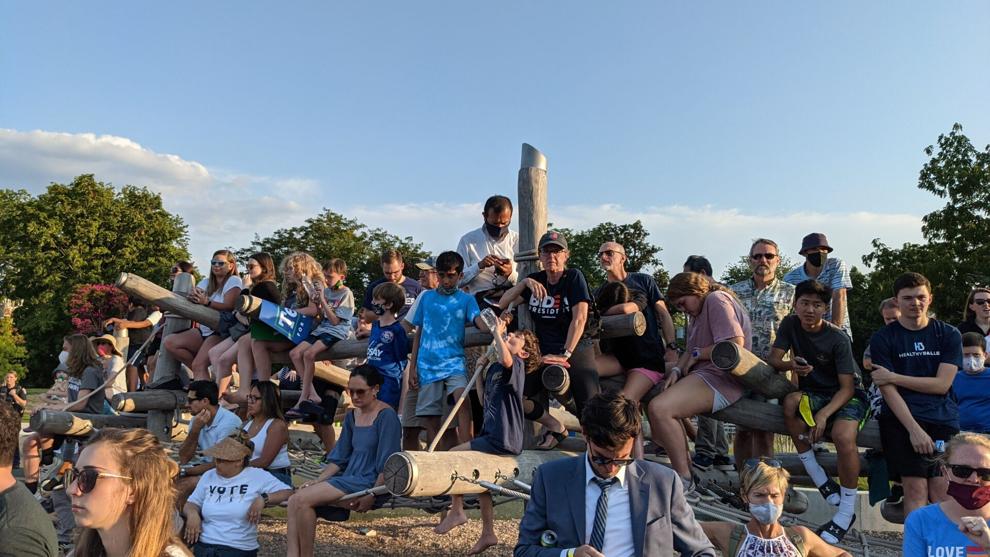 McAuliffe also made certain policy proposals, touting the 140 pages of his policy agenda that he's released to the public. They included paid sick leave for workers, a $15 minimum wage within his first three years in office, and a statewide average teacher salary above the nation's for the first time in Virginia's history.
Naturally, he also tried to tie Youngkin to former President Donald Trump.
"Donald Trump has endorsed him not once, not twice, but three times... they share the same agenda and you better believe that agenda is complete out of touch with Virginians," McAuliffe said.
Biden and McAuliffe have a history, and McAuliffe lent a hand to Biden during his 2020 campaign, becoming one of the first high-profile politicians to endorse Biden prior to Virginia's Super Tuesday primary. McAuliffe also appeared frequently on CNN as a political contributor during the presidential campaign. McAuliffe told the Washington Post that when he sealed up his second gubernatorial nomination in June, Biden quickly called to tell him that he was "all in." McAuliffe told Biden that he needed him to help campaign.
Biden joined McAuliffe on stage to excited applause from the crowd and spent most of his speaking time touting what his administration had already accomplished wth the American Rescue Plan Act this spring, and his outstanding agenda, particularly on infrastructure. He said that McAuliffe and he both agreed that if the wealth paid their fair share in taxes, working families could have a better chance at prosperity.
"Terry and I share the same basic truth, trickle-down economics never work. It's time to build the economy from the bottom-up and the middle-out," Biden said, also taking some time to link Youngkin and Trump, whom he beat in Virginia by more than 10 percentage points. "We have a lot in common. I ran against Donald Trump and so is Terry. And I whipped Donald Trump in Virginia and so will Terry. The guy Terry's running against is an acolyte of Donald Trump, for real."
Other speakers exhorted those in attendance to focus not just on McAuliffe and lieutenant governor nominee Del. Hala Ayala, but to contribute and volunteer for House of Delegates races as well. Democrats currently hold a 55-45 advantage in the chamber, with every seat up for election this fall.
Luke Forbes came from Fairfax to hear Biden speak, saying he needed no prodding to support down-ballot candidates.
"I wanted to get out of the house and I heard Joe Biden was coming," he told InsideNoVa, saying that some young people he knew were somewhat disappointed that McAuliffe was the nominee again, but that they were excited to protect legislative wins the Democrats had secured.
"I think [McAuliffe] is going to have a much easier time if we re-elect the Democratic majority in the General Assembly," Forbes said. "Young people are excited making sure we get stuff done, keeping the legalization of marijuana, making sure we get justice for people who were affected by silly tough-on-crime laws."