Prince William County's hotel and retail industries have generally survived the COVID-19 pandemic, economic development director Christina Winn told the Prince William Chamber of Commerce earlier this month.
"While it's not great, we're still kind of holding our own," Winn said during the chamber's annual economic development forum.
The county's hotel occupancy rate fell to 33% last April, but rebounded to over 50% for several months last fall. Winn noted that the county benefits from tourists looking for destinations outside of congested cities and that Prince William can offer parks, trails and other outdoor activities.
Taxable retail sales in the county fell by about 14% in the second quarter of 2020, compared with 2019, but were down only 2% in the third quarter, according to data Winn presented to the chamber.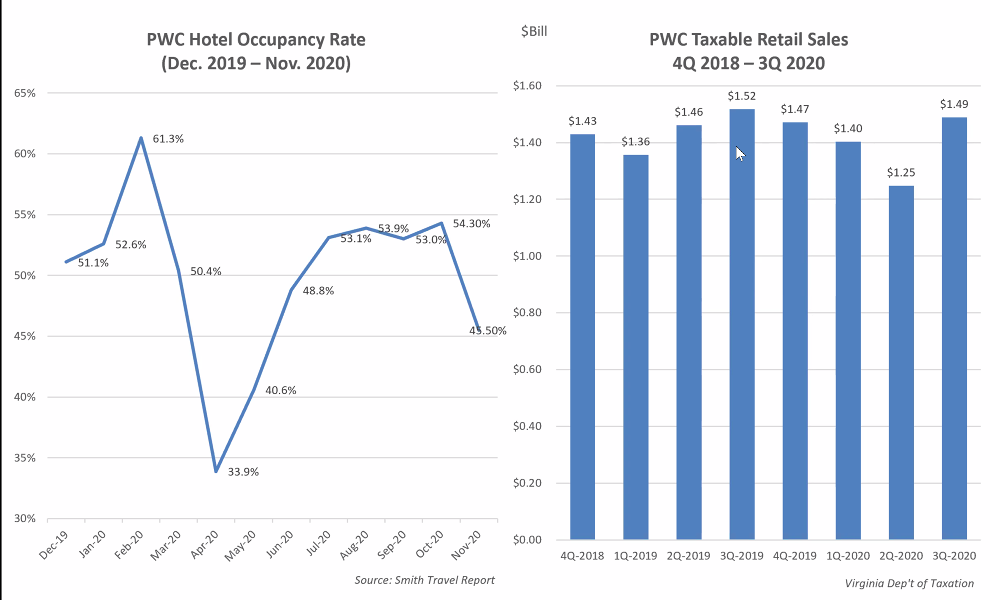 "The retail market is going to go through a lot of change in terms of innovation in how we shop and how we actually gather," she added. "Retailers are innovative in terms of how they're offering their product."
The county's vacancy rate for retail rental space increased just 0.4% in the third quarter of 2020, compared with 2019, and average rental rates actually increased.
More importantly, Winn noted, the county seems likely to benefit from a trend toward telecommuting and companies having fewer, smaller offices instead of one big office inside the Beltway.
"As their leases are expiring many of these businesses are thinking, 'Do I really need that much space?'" she added. "Maybe they have a small headquarters office inside the Beltway and then I'm going to have more of a collaboration office space out in the suburbs where my employees actually live."
The vacancy rate for office space in the county did increase 0.8% in the third quarter of 2020 but is only 7.8% overall. "I would hope we could see that market grow in Prince William," Winn said.
The vacancy rate for industrial space actually declined about 1.6% in the third quarter. Part of that is due to the growth in distribution centers, which have expanded during the pandemic.
Winn said the county's economic development department landed a record 40 new projects in 2020, including 29 new businesses, representing $2.3 billion in new capital investment, mostly in the area of data centers.
"That's really quite impressive in terms of how much these data centers are continuing to turn out in new tax revenue," she added.
The new projects added over 1,500 jobs to the county. "I don't believe that people need to be commuting," Winn said. "I want people to have a better quality of life."
Patrick Small, economic development director for the city of Manassas, also spoke during the forum. Small noted that the city's diversity has helped it survive the pandemic. "We are fortunate to have a high-tech, high-wage economic base in the city," he said.